10 Happy LGBT Movies
Without giving too much away, these films will make you feel absolutely gay.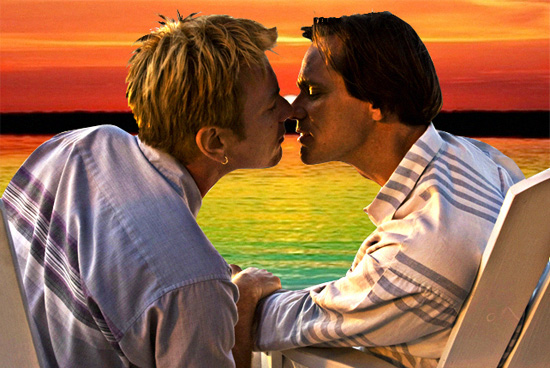 (SPOT.ph) If you're looking for a good cry, there's plenty of movies depicting the hardships of being queer that'll leave you dehydrated, curled up on the floor, and drinking water just so you can shed some more tears. Life is hard for members of the LGBT community and it seems like we're a long way away from a reality where we can fall in love with whomever, regardless of sex.
ADVERTISEMENT - CONTINUE READING BELOW
CONTINUE READING BELOW
Recommended Videos
This doesn't mean that advocates of equality are just going to sit there and wait, though. Au contraire, the rainbow flag is flying higher than ever and in celebration of Pride Month, we're listing LGBT films that have a more hopeful note. Check out the films that celebrate not just the community, but life and love itself.
Imagine Me & You (2005)
Ol Parker's lesbian love story is sweet and light, with discussions about unstoppable forces and immovable objects. Everyone in the movie is gorgeous (Lena Headey, Piper Perabo, and Matthew Goode), but more than that, it's refreshing to watch a romance between two women that doesn't involve too much tears and identity crises. Favorite line? "Am I gay? I'm ecstatic!"
Saving Face (2004)
It's not easy being gay and if you add to that a conservative Asian culture? Sounds like a recipe for a tragedy, but instead, Alice Wu penned and directed this quaint romance between Wilhelmina (or Wil for short) and Vivian. There's conflict, there's tension, there's hiding, but towards the end, there's a kiss on the dance floor and a middle finger to people who can't accept that love is love.
ADVERTISEMENT - CONTINUE READING BELOW
To Wong Foo, Thanks for Everything! Julie Newmar (1995)
They're No. 7 on our list of the Top 10 Fabulous Drag Queens and really, this movie was way ahead of its time. It's filled with music and love for all things queer beyond mere tolerance, with bonus tips from Wesley Snipes as Noxeema Jackson on how to be free and fabulous. Our trio of Drag Queens dance their way into the heart of a conservative community and the film ends on a high note of respect.
The Birdcage (1996)
Adapted from the play La Cage aux Folles, The Birdcage stars Robin Williams and Nathan Lane as the Goldmans, a couple in love who have nothing to hide...except for when their son needs them to maybe turn it down a bit in order to gain the favor of his fiancée's parents. If you look past the flamboyance and the hilarity, there's a texture to be enjoyed in the contrast between the "normal" couple and the odd one.
ADVERTISEMENT - CONTINUE READING BELOW
Ang Pagdadalaga ni Maximo Oliveros (2005)
Hold your horses. We're not saying this film is a comedy. What we are saying is that it's a story where our gay heroine, Maxi, holds her head up high just before the credits roll. She swims back to the safety of shoreline after sailing through her first heartbreak. Sometimes maintaining your integrity is a greater victory, because there's more to life than romance.
But I'm A Cheerleader (1999)
This Jamie Babbit cult classic suffers the same flaws as The Birdcage (playing on stereotypes), but it's still an enjoyable movie—if only for its campiness and the optimistic trajectory of the plot. In it, we follow cheerleader Megan, who is sent to a "straightness" camp because her friends, boyfriend, and family think she's a lesbian. She doesn't even know the fact for herself, but slowly, she begins to realize what she really wants in life and she even fights for it.
ADVERTISEMENT - CONTINUE READING BELOW
Love My Life (2006)
Adapted from the manga by Ebine Yamaji, there's little that happens in Love My Life and that's awesome. We have two cute leads, a happy romance, and their very ordinary life as a couple. It's a much-needed feel-good film for girls who like girls.
Zombadings 1: Patayin sa Shokot si Remington (2011)
We can hear you saying, "But he became straight in the end!" from a mile away. Yes, he did. Yes, it sounds problematic. No, it isn't. Zombadings' real message is staying true to who you are and the real enemy that died in the end was homophobia. What could be more happy than that?
I Love You, Phillip Morris (2009)
Our lead character, Steven Jay Russell, is not without unsavory traits and that's great. Everyone's a little nutty when it comes to love, making Russell's obsession for Phillip Morris all the more believable. It helps that Jim Carrey gives a heck of a performance and that it's based on an actual person who did, indeed, love Phillip Morris.
ADVERTISEMENT - CONTINUE READING BELOW
Zsazsa Zaturnnah: ZE Moveeh (2006)
"Tingnan mo, babae na ako!" sings Zsazsa as she fondles her own body, more than grateful that a rock from outer space has given her what she has always wanted...or so she thought. Ada's road to shedding the superhero persona and being happy with herself is infinitely touching. She didn't need the boobs and big, flaming red hair to be happy after all.
Load More Stories