MOVIE REVIEW: Entourage
It feels like one of the series' back-to-back episodes, but it goes downhill as soon as it starts.
(SPOT.ph) Director Doug Ellin returns to helm his bro-tastic franchise that's taken the entire male population of the world into a wild vortex of "living large" Hollywood lifestyle immersion. Ellin's male escapist series Entourage, much like the other (and way better) HBO hit series Sex and the City, finally gets the movie treatment and boy does it set the tone really high—but goes downhill as soon as it starts.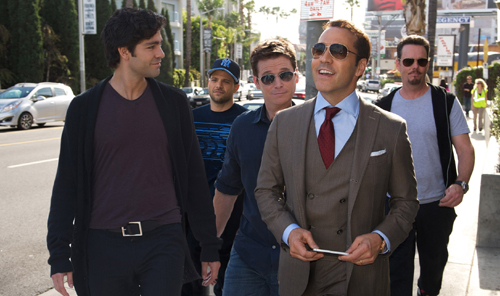 Entourage picks up where it left off four years ago with Hollywood pretty boy Vincent Chase (Adrian Grenier) taking a bold career move by strong-arming (sort of) his iconic, devilishly charming super agent Ari Gold (Jeremy Piven, who won a Golden Globe and three Emmys for his role in the series) to help him shell out a whopping US $100 million for a movie that will serve as his directorial debut. His band of brothers are back in the fold as well: the delightfully cute Eric "E" Murphy (Kevin Connolly), the clueless Hollywood afterthought and Vincent's older brother Johnny Drama (Kevin Dillon), and the used-to-be-really-fat Turtle (Jerry Ferrara) who is now actively pursuing a tequila empire and UFC Bantamweight champ Ronda Rousey.
ADVERTISEMENT - CONTINUE READING BELOW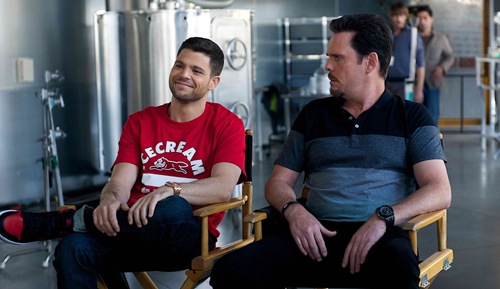 CONTINUE READING BELOW
Recommended Videos
As for Piven's Ari, he is now a studio chief who is going through marriage counselling to keep his suppressed rage in check. But of course, things wouldn't be interesting (or even remotely entertaining) if Ari doesn't show off his irresistible devil-in-a-three-piece-suit persona that comes out like an erupting volcano, would they? And that, unsurprisingly, is the only thing that makes Entourage bearable to sit through. Piven's scenes provide some of the genuine laughs in the film, which are quite rare as Ellin's main concern seems to be flogging our eyes with tits and asses and celebrity cameos that happen almost every five minutes.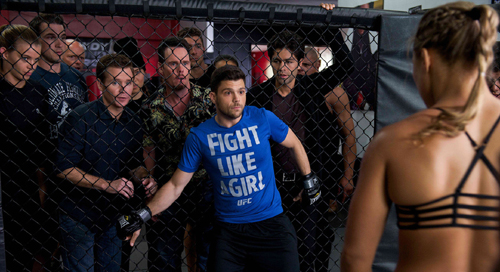 ADVERTISEMENT - CONTINUE READING BELOW
In hindsight, the cameos are pretty cute and can make you go "Oh, it's that dude from that movie" and so on, and make you feel slightly proud that you actually recognized the said celebrity. But as far as helping the premise or making the story more interesting, these surprising appearances only work independently, and are quite detached from the whole experience.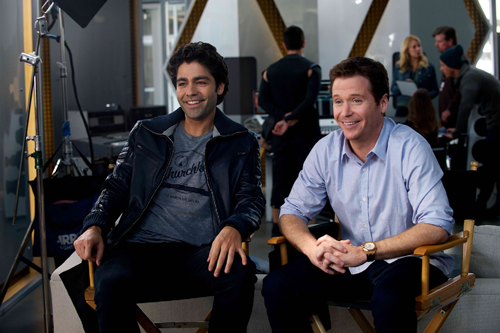 A notable element of the movie is Billy Bob Thornton (Monster's Ball, Sling Blade) who shares the screen almost entirely with the unrecognizably fat and bearded Haley Joel Osment (Sixth Sense, AI: Artificial Intelligence). Thornton and Osment play father-and-son tandem Lars and Travis McCredle, co-financiers of Vincent's movie and major pains in Ari's butt. Thornton shows us his authoritative, Texas-strong attitude, while Osment surprises the viewers with this rockabilly character that acts as an excellent villain in an otherwise measly fleshed out and weakly written story.
ADVERTISEMENT - CONTINUE READING BELOW
Sure, there are laughs here and there. But the humor never sticks as it dissipates as soon as it somehow reveals itself. And despite Piven's magnificent showmanship, together with the shining potential of Thornton and Osment's characters, the film lacks bone to be properly considered as the movie counterpart of a series that has had enough staying power to last eight seasons. Ultimately, Entourage feels like one of the series' back-to-back episodes—but not even a series finale.
RATING: 2 out of 5 spots
Entourage is out in theaters now. Photos courtesy of Warner Bros. Pictures.
---
Help us make Spot.ph better!
Take the short survey
Load More Stories