10 Cool Single Parents in Pinoy Movies
Two isn't always better than one.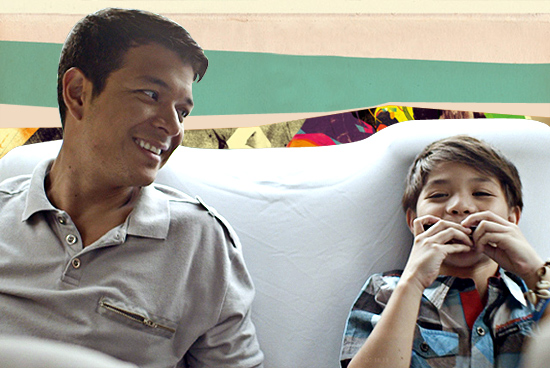 (SPOT.ph) Single parents are awesome. They juggle careers and take on the tough roles traditionally meant for two people. Mother's Day and Father's Day may be over, but that doesn't mean we can't recognize the cinematic parents who have gone to great lengths for their kids.
Melinda Uy in Mano Po 6: A Mother's Love (2009)
Played by: Sharon Cuneta
The aptly titled sixth installment of the Mano Po franchise tells the rags-to-riches story of Melinda. When her husband unexpectedly passes away, she and her four kids are forced to live with her cruel in-laws. Eventually, they manage to drive her away and take her children from her. Determined to reclaim her children someday, Melinda devotes herself to succeeding financially...all while watching them grow up from afar.
Why she's cool: Melinda goes through hell and back to reunite with her children. Along the way, she becomes one of the wealthiest businesswomen in the community. What could be cooler than that?
Albert Robles in Till There Was You (2003)
Played by: Piolo Pascual
One fateful day, Albert crosses paths with Joanna (Judy Ann Santos) on a bus. She accidentally leaves behind her photo. Over the years, his daughter comes to believe that the photo is that of her mother. Joanna bumps into the little girl years later, and Albert hires her to act as her mother. You can probably guess what happens next.
Why he's cool: Alright, so using some stranger's photo wasn't the wisest decision. Still, Albert just wanted his young daughter to have a tangible mother figure. We give him points for trying.
ADVERTISEMENT - CONTINUE READING BELOW
Ina Montecillo in Ang Tanging Ina (2003)
Played by: Ai-Ai delas Alas
It all starts when Ina meets the "man of her dreams." She has four children with him, until a random accident kills him. This cycle happens two more times until Ina ends up single with 12 kids.
Why she's cool: Ina is by no means perfect, but we commend her for her sheer determination to provide for her entire family. She does all sorts of jobs, including construction, selling pirated DVDS, and even stripping.
Coring Derecho in Ang Tatay Kong Nanay (1978)
Played by: Dolphy
CONTINUE READING BELOW
Recommended Videos
A gay beautician named Coring is left with a baby by his former partner (Philip Salvador). He raises Nonoy (Niño Muhlach) on his own while hiding his sexuality from him. Things change, however, when the boy's mother suddenly appears to claim her son.
Why he's cool: Not everyone has the guts to raise a child that isn't even theirs. Coring treats Nonoy like his own son and although he stays in the closet, he does it to protect him from criticism. Plus, he was even willing to give Nonoy back to his real mother so he could have a better life.
Lea Bustamante in Bata, Bata...Paano Ka Ginawa? (1998)
Played by: Vilma Santos
Lea is a volunteer for a women's rights organization, and a single mom raising two kids from two different fathers (Ariel Rivera and Albert Martinez). When they both seek to take them away from her, she finds herself fighting for the right to keep them.
ADVERTISEMENT - CONTINUE READING BELOW
Why she's cool: Being a women's rights activist is already cool in itself, and we love how fiercely independent she is. When the fathers of her two kids seek to take custody, she gives the latter the rare opportunity to choose for themselves...no pressure.
Andrea in Andrea, Paano Ba Maging Isang Ina? (1990)
Played by: Nora Aunor
Andrea and her comrade-slash-husband are both members of the New People's Army (NPA). She temporarily leaves her baby with her friend (Gina Alajar) as she investigates her husband's death in the hands of the military. Before she could return, she is detained and tortured by a group of military men. Presuming Andrea was killed, her friend ends up raising the child. Years later, Andrea returns to reclaim her child.
Why she's cool: Andrea manages to escape and go into hiding, but her situation as a wanted woman prevents her from returning to her son. When they reunite, she makes the tough but necessary sacrifice to let him go. Plus, we always admire someone so steadfast in their beliefs.
Moises in Transit (2013)
Played by: Ping Medina
Moises is a single father working as a caregiver in Israel. His life takes a sudden turn when the Israeli government announces plans to deport children of foreign workers. He decides to hide his four-year-old son from immigration by keeping him indoors.
Why he's cool: Any dad who goes through great (or in this case, extreme) lengths to protect his son is beyond cool in our book.
ADVERTISEMENT - CONTINUE READING BELOW
Auring in Miguelito: Batang Rebelde (1985)
Played by: Nida Blanca
Nida Blanca plays the estranged mother to Aga Muhlach's Miguelito, the son of the powerful town mayor (Eddie Garcia). It turns out, she's been imprisoned for 15 years after being framed by the mayor. When she is released, she seeks justice and reconciliation with her son.
Why she's cool: Nothing is cooler than a mother determined to be with her son.
Robert Lim in Alagwa (2012)
Played by: Jericho Rosales
Robert is a widower caring for his only son, Brian (Bugoy Cariño). The two live in Manila's Chinatown where he makes a meager living as a salesman. When his son is kidnapped, Robert sets out on a frantic manhunt to get him back.
Why he's cool: Robert's relationship with his son isn't the greatest, but his desperate manhunt through Chinatown's treacherous underworld is more than noteworthy.
Josie in Anak (2000)
Played by: Vilma Santos
Josie is a mother of three who decides to work in Hong Kong to make a better living. She ends up working for a wealthy employer who prevents her from taking a vacation or receiving mail (causing her to miss her husband's funeral). When she finally returns home, she is met with resentment from her children.
Why she's cool: There's no tearjerker like this movie. Josie's plight as an OFW struggling to reconnect with her kids will always hit us right in the feels. Her love and sacrifice is what ultimately makes her cool.
ADVERTISEMENT - CONTINUE READING BELOW
Share this story with your friends!
---
Help us make Spot.ph better!
Take the short survey
Load More Stories