Top 10 Most Unforgettable Shampoo Jingles From Pinoy TV
"Sumusunooo-ooo-ood..."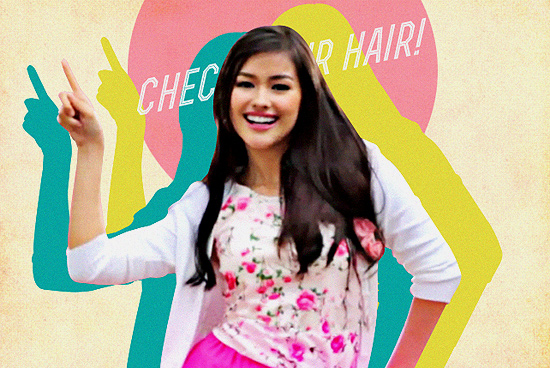 (SPOT.ph) The only thing more infectious than a tagline is the jingle that sometimes comes with it. In the case of shampoo TV commercials, it becomes a trifecta of catchiness with the added bonus of a dance move. Jingles and dance numbers come and go, but these 10 shampoo ads are forever.
ADVERTISEMENT - CONTINUE READING BELOW
CONTINUE READING BELOW
Recommended Videos
Also read:
SPOT.ph Top 10 Craziest Dance Moves in Commercials
10 Catchy Ad Jingles That are Probably Stuck in Your Head Right Now
PHOTOS: Vintage Print Ads Featuring Pinoy Celebs
10. "Until Then" by Lux
Unforgettable line: When I / See you again / I long to touch and stroke your long black hair
In the '90s, a shorter version of Side A's romantic ballad served as the song to Lux's Super Rich shampoo commercial starring Richard Gomez and Lucy Torres. They both starred in a series of five Lux commercials (including this one), but didn't get together until later.
9. "I Choose to Be Beautiful" by Cream Silk
Unforgettable line: I choo-ooose / I choose to be beautiful
Alright, let's state the obvious: Cream Silk technically isn't a shampoo. Still, this 2006 jingle was so infectious that we couldn't overlook it. The song was used for three different Cream Silk ads, as if to make sure everyone heard it at least once. (Spoiler: It worked.)
ADVERTISEMENT - CONTINUE READING BELOW
8. "Let Me" by Sunsilk
Unforgettable line: You turn my head / But instead / I feel so lonely
Sunsilk's ad for their Soft Touch shampoo was particularly memorable for the amusing concept of a girl doing everything she could just so her boyfriend wouldn't touch her hair. (She even shoves food into his mouth.) The song by Orange and Lemons was an added bonus.
7. "Check Your Hair" by Palmolive
Unforgettable line: Check your hair / Bango sa morning
Teen star Liza Soberano's Palmolive commercial is pretty recent, considering the other items on our list. We give it plenty of unforgettable points for making us hum to the melody after one listen. LSS? Check!
6. "Fresh and Bounce" by Palmolive
Unforgettable line: Balik freshness / Balik bounce, bounce
For Palmolive's 2005 commercial, they went the R&B route with a catchy tune from Maoui David. We dare you not to sing "Bounce, bounce" while watching the video.
ADVERTISEMENT - CONTINUE READING BELOW
5. "Cap" by Vaseline Shampoo
Unforgettable line: Does whistling count?
Yes, we know. There are no lyrics in this commercial, but hear us out. Vaseline Shampoo's "Cap" commercial first aired in 2004, and featured a little boy searching for the elusive owner of a lost but fragrant-smelling cap. It was almost impossible not to whistle after seeing it on TV!
4. "Walang Sabit" by Rejoice
Unforgettable line: Walang sabit / 'Di tulad ng iba
Sandara Park was just fresh off Star Circle Quest when she did Rejoice's LSS-inducing song, "Walang Sabit." Today, she's a member of Korean pop group 2Ne1 but we'll never forget those lyrics...or dance moves. (Also a notable mention? Kim Chiu's "Kering Keri.")
3. "Ang Gaan-Gaan ng Feeling" by Ivory
Unforgettable line: Ang gaan-gaan ng feeling / Ang gaan-gaan ng loob ko sa'yo
Back in the day, Geneva Cruz was the voice behind Ivory shampoo's catchy commercial featuring Bianca Araneta's light and bouncy hair. Recently, Palmolive aired their own version of the song starring Janella Salvador, where she sings "Magaan ang feeling."
ADVERTISEMENT - CONTINUE READING BELOW
2. "Haba ng Hair" by Rejoice
Unforgettable line: Haba ng hair / Nag-Rejoice ka ba girl?
It's been two years since Rejoice first introduced us to "Haba ng Hair," but we still remember that song like it was yesterday. Sure, it was catchy (and that melody will probably always stay with us), but it's nothing compared to...
1. "Sunod sa Galaw" by Rejoice
Unforgettable line: Sumusunoo-oood / Sa galaw mo
Oh, Jaboom Twins. You were the reason for all the LSS and endless hair flips. It was so popular that it actually started a mini-competition on Magandang Tanghali Bayan. The song was the Jaboom Twins' ticket to fame, not to mention the beginning of a string of song-and-dance combos in commercials.
Also read:
SPOT.ph Top 10 Craziest Dance Moves in Commercials
10 Catchy Ad Jingles That are Probably Stuck in Your Head Right Now
PHOTOS: Vintage Print Ads Featuring Pinoy Celebs
Load More Stories