10 Fresh Tunes to Listen to This July
Your playlist this month featuring Madonna, Demi Lovato, Miguel, Farewell Fair Weather, and more!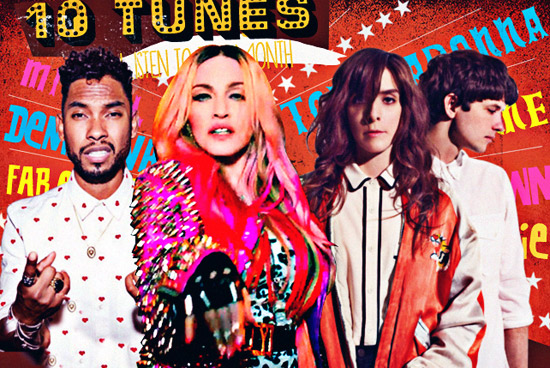 (SPOT.ph) Welcome July with tunes to get you going. Check out Madonna's new club ditty, Demi Lovato's flirtatious single, Miguel's three-track music video, Joy Williams' moving anthem, and Beach House's dream-pop release. We also have some local music featuring Julie Anne San Jose, Farewell Fair Weather, Asch featuring Clara Benin, The Edralins, and DJ Joey Santos. Happy listening!
Song: "Bitch I'm Madonna"
Artist: Madonna feat. Nicki Minaj
"Bitch I'm Madonna" was supposed to boost the streaming service Tidal. As a track, we've heard better, but club-goers can definitely dance to this while in a total state of inebriation. The music video? Let's just say that the remote transmissions of big names such as Beyoncé, Katy Perry, and Miley Cyrus (plus the green-screen appearance of collaborator Nicki Minaj) were a bit of a letdown.
Fun fact: Chris Rock, Rita Ora, and Alexander Wang were among those on set for the taping of the music video.
ADVERTISEMENT - CONTINUE READING BELOW
Song: "Tidal Wave"
Artist: Julie Anne San Jose
Young local talent Julie Anna San Jose parties with her international friends in her U.S.-shot music video for "Tidal Wave." Though known for her ability to hit the high notes, San Jose keeps it sexy, fun, and subdued in this pop track.
Fun fact: "Tidal Wave" is the first single from San Jose's new EP set for release this year.
Song: "Cool for Summer"
Artist: Demi Lovato
Demi Lovato gets sexy and bi-curious in her latest pop single. It's a way more playful release compared to her ballads, and we absolutely welcome it. She sounds cool, relaxed, and flirtatious. Sure, it kind of reminds us of Katy Perry's cheeky track "I Kissed a Girl," but "Cool for Summer" is, er, cool on its own.
CONTINUE READING BELOW
Recommended Videos
Fun fact: The track is Lovato's lead single from her forthcoming fifth studio album.
ADVERTISEMENT - CONTINUE READING BELOW
Song: "Beyond"
Artist: Farewell Fair Weather
The single's first few seconds will light up your face. We think it's a fitting tune for rainy afternoons indoors. "Beyond" delivers both youthful energy and mature sophistication as the band's influences—from jazz to rock to soul—take effect in the track.
Fun fact: Mic Manalo (vocals and guitar), Gani Palabyab (keys), Ethan Muriel (bass), Timothy Dadivas (drums), Kim Hue Jin (guitar) make up Farewell Fair Weather.
Song: "WILDHEART Chapter 1: Find What You Love and Let It Kill You"
Artist: Miguel
It's impossible to get enough of Miguel, and his 12-minute short film featuring the videos for his three songs "...going to hell," "Coffee," and "NWA" is a delight for fans. It starts off smooth with a bit of rock influence, then switches to sexy pillow talk, and ends with a tight collab with LA rapper Kurupt.
Fun fact: The three tracks are off Miguel's R&B album Wildheart.
ADVERTISEMENT - CONTINUE READING BELOW
Song: "Some Kind of Magic"
Artist: Asch feat. Clara Benin
We've said it before, but allow us to repeat it: Clara Benin is the next big act to watch for. Her signature soulful, airy vocals fit genres from folk to soul to electronic. In her latest collaboration with producer Asch, Benin whispers and croons through a relaxed, ambient backdrop.
Fun fact: Clara Benin's debut album is titled Human Eyes.
Song: "What a Good Woman Does"
Artist: Joy Williams
We're still aching over the 2014 breakup of The Civil Wars, but we're happy to hear from former contemporary Christian-pop singer Joy Williams nonetheless. "What a Good Woman Does" is a heartfelt, empowering, and inspiring track that highlights the songstress' sensibilities and vocal prowess.
Fun fact: "What a Good Woman Does" is off Joy Williams' fourth full-length solo album titled Venus.
Song: "Tiwala"
Artist: The Edralins
ADVERTISEMENT - CONTINUE READING BELOW
The Edralins' new indie-pop single is refreshing material that you'll love to play these rainy days. It's catchy, sentimental, bubbly, but still slightly edgy. The lo-fi quality makes it more endearing and reminds us of some good old Pinoy music.
Fun fact: The band hails from Baguio City.
Song: "Sparks"
Artist: Beach House
The entrancing and reverb-heavy track from the Baltimore-based dream-pop duo is a beauty. There's no denying vocalist Victoria Legrand's ability to evoke emotions with her vocal turns. Although the tune is louder, maybe even noisier, than what we're used to, we're left pleased.
Fun fact: The duo's new album, Depression Cherry, drops on August 28.
Song: "Siren's Call"
Artist: DJ Joey Santos feat. Lux Leigh
Count on DJ Joey Santos to get you dancing. With the help of Lux Leigh, the local DJ has created an explosive dance ditty that can get audiences in and out of the Manila underground music scene moving.
ADVERTISEMENT - CONTINUE READING BELOW
Fun fact: DJ Joey Santos is also an assistant editor for Digital DJ Tips, an online resource for DJs and those aspiring to be one.
Share this story with your friends!
---
Help us make Spot.ph better!
Take the short survey
Load More Stories