10 Radio-Friendly Movie Songs That Stuck
Aside from "Let it Go," which other songs are still stuck in our playlists?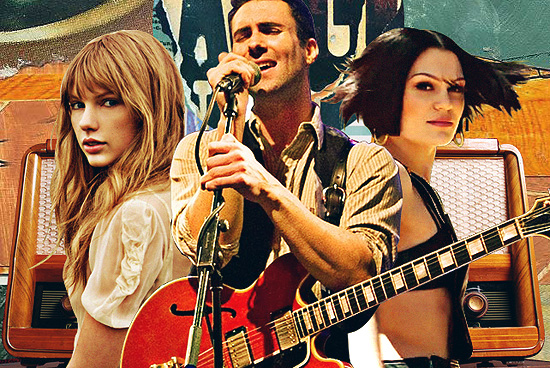 (SPOT.ph) Musical or not, soundtracks can make or break a film. No longer can we imagine watching movies in silence; today, an equally good (if not better) soundtrack is necessary for the complete viewing experience.
No need for us to ask if you remember "Let it Go" from Disney's Frozen, it's pretty much a given when you talk about the most memorable film songs of recent years. And though not composed of original tracks, Guardians of the Galaxy: Awesome Mix Vol. 1's carefully curated classics can really pump you up—the same as The LEGO Movie's "Everything is Awesome." But in some cases, although catchy, soundtracks can prove to be annoying especially when overplayed. Remember "A Thousand Years" by Christina Perri for The Twilight Saga: Breaking Dawn—Part 1?
Here are some of the most radio-friendly film songs since 2010. Happy listening!
ADVERTISEMENT - CONTINUE READING BELOW
Also read:
10 Favorite Soundtrack Songs
Top 10 Favorite Movie Soundtracks
10 LSS-Inducing Film Scores (2015 Edition)
Song: "Lost Stars"
Artist: Adam Levine
Movie: Begin Again (2013)
Best line: "But are we all lost stars trying to light up the dark?"
Why it works: You really can't expect anything less from John Carney, writer and director of Begin Again and our other musical film favorite, Once. For the former's soundtrack, Maroon 5 frontman Adam Levine croons in "Lost Stars." He does the song's poignant lyricism justice with his superb vocals, especially with that heartfelt falsetto. No wonder the track was nominated for Best Original Song at this year's Oscars.
Song: "The Moon Song"
Artist: Karen O
Movie: Her (2013)
Best lines: "I'm lying on the moon. My dear, I'll be there soon."
Why it works: Here's another Oscar-nominated original film song. "The Moon Song's" stripped-down arrangement captures the unassuming beauty of the film Her. Whether it's Scarlett Johansson and Joaquin Phoenix or Karen O and Ezra Koenig performing the tune, "The Moon Song" will always keep its raw and intimate feel.
Song: "Safe & Sound"
Artist: Taylor Swift feat. The Civil Wars
Movie: The Hunger Games, 2012
Best line: "Come morning light, you and I'll be safe and sound."
Why it works: Tay-Tay is still slaying; The Civil Wars is no more—a lot has happened since the release of this Hunger Games original track. No doubt the music and lyrics match the film's somber theme, but it's really Swift's breathy vocals that impresses the listener. The track's simplicity highlights the pop star's singing ability.
ADVERTISEMENT - CONTINUE READING BELOW
Song: "Flashlight"
Artist: Jessie J
Movie: Pitch Perfect 2 (2015)
Best lines: "Stuck in the dark, but you're my flashlight. You're getting me, getting me through the night."
Why it works: "Flashlight" isn't really astounding lyrics- or music-wise, but it has all the other ingredients that make it a hit: a smash movie, a powerful vocalist, and an easy-to-follow melody. Perhaps it's the song's plainness that makes it such an easy favorite.
Song: "A Real Hero"
Artist: College & Electric Youth
Movie: Drive (2011)
Best line: "A real human being and a real hero."
Why it works: Drive is a kick-ass movie with an equally kick-ass soundtrack. In it is "A Real Hero," an indie gem that matches the pace, vibe, and development of the film. We can't see the movie working without its ethereal, electro-pop soundtrack.
Song: "Stay Alive"
Artist: Jose Gonzalez
Movie: The Secret Life of Walter Mitty (2013)
Best line: "We'll do whatever just to stay alive."
Why it works: Swedish folk singer Jose Gonzalez gave more life to the 2013 movie version of The Secret Life of Walter Mitty. His relaxed vocals and the track's sobering and melancholic melodies really get to the heart of the story. His composition (created alongside singer-songwriter Ryan Adams) couldn't be a more fitting accompaniment to the movie.
Song: "Happy"
Artist: Pharrell Williams
Movie: Despicable Me 2 (2013)
Best lines: "Because I'm happy. Clap along if you feel like happiness is the truth."
ADVERTISEMENT - CONTINUE READING BELOW
Why it works: The award-winning song, written, produced, and performed by Pharrell Williams quickly became an anthem for its feel-good vibe, catchy sound, and universal theme. Being the lead track for the Despicable Me 2 movie soundtrack also helped propel the single to the top of the charts.
Song: "Love Me Like You Do"
Artist: Ellie Goulding
Movie: Fifty Shades of Grey (2015)
Best lines: "Love me like you do, lo-lo-love me like you do. Touch me like you do, to-to-touch me like you do."
Why it works: The movie adaptation of Fifty Shades of Grey failed to stimulate audiences, but it left a pretty LSS-inducing soundtrack. "Love Me Like You Do" sounds sultry, sensual, but still with a bit of sweetness and innocence. Somehow, the song seems to capture the story more than the actual film.
Song: "Boom Clap"
Artist: Charli XCX
Movie: The Fault in Our Stars (2014)
Best lines: "Boom! Clap! The sound of my heart. The beat goes on and on and on and on and—"
Why it works: The electro-pop hit resonates more with listeners and audiences because of just how well it fits the movie adaptation of John Green's The Fault in Our Stars. It's radio-friendly enough, but also features an alternative spunk that's very characteristic of British artist Charli XCX.
Song: "See You Again"
Artist: Wiz Khalifa feat. Charlie Puth
Movie: Furious 7 (2015)
Best line: "It's been a long day without you, my friend, and I'll tell you all about it when I see you again."
ADVERTISEMENT - CONTINUE READING BELOW
Why it works: The track's strength lies in its raw emotions and messaging, plus a touching piano melody. "See You Again" is off the Furious 7 soundtrack and serves as a tribute to the late Paul Walker. It touches not just Walker's fans, but also those who have experienced losing someone dear to them.
Also read:
10 Favorite Soundtrack Songs
Top 10 Favorite Movie Soundtracks
10 LSS-Inducing Film Scores (2015 Edition)
Load More Stories