10 Pinoy Movie Boyfriends We Want to Have
Reel boys we wish were real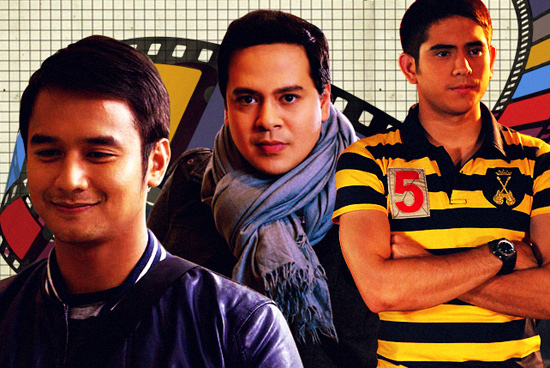 (SPOT.ph) There's a reason why Pinoy romance films do so well with their target audience; each one is practically an hour-and-a-half-long showcase of an ideal relationship with the ideal man. We'll be the first to say that it would be unfair to compare real to reel, but admit it—you've probably wished you could date one of the dreamy fictional leading men you see onscreen.
Did we miss anyone? Tell us your picks in the comments section below!
Miguel in Dahil Mahal Na Mahal Kita (1998)
Played by: Rico Yan
Why we'd date him: Rico Yan always played characters that were likeable in some way. He was the jeepney driver with a heart of gold in Mula sa Puso. In Got 2 Believe, he was a photographer cynical about love. In this movie, he was the quintessential boy next door. You know, the kind we'd be more than happy to take home to meet the folks. He's smart, well-mannered, and comes from a well-off family. (Oh, and he also helps manage the family business.) Okay, so he's a bit too uptight, but that doesn't mean you can't get him to relax and have a little fun.
ADVERTISEMENT - CONTINUE READING BELOW
Bogs in Paano na Kaya (2010)
Played by: Gerald Anderson
Why we'd date him: Here's a guy who's driven and ambitious, and who doesn't want that in a boyfriend? We watch the easy-go-lucky Bogs transform into a man determined to make something of himself. Yes, we swooned at his scenes with his best friend (played by Kim Chiu), but we swooned even more when he convinces a panel to back his business.
Albert in Till There Was You (2003)
Played by: Piolo Pascual
Why we'd date him: He's a doting family man! It's not easy being a single parent, so we give Albert a lot of credit for doing his best and raising a daughter all by himself. It's probably not the wisest decision to make a child believe some random woman is her mother, but he just wants what's best for her, as parents usually do.
CONTINUE READING BELOW
Recommended Videos
ADVERTISEMENT - CONTINUE READING BELOW
Jed in Kasal, Kasali, Kasalo (2006)
Played by: Ryan Agoncillo
Why we'd date him: A guy who loves you unconditionally even after the honeymoon phase is definitely a keeper. Jed and Angie (Judy Ann Santos) are opposites who fall in love and plan a surprise wedding. When the thrill of a new relationship is over, you get...well, a lot of trouble. We give Jed a lot of kudos for sticking by Angie through meddling parents and pregnancy mood swings.
Miggy in It Takes a Man and a Woman (2013)
Played by: John Lloyd Cruz
Why we'd date him: It's safe to say that Miggy is not without his flaws. Come to think of it, neither is his relationship with Laida, as portrayed in the highly successful movie trilogy. What we love about him is how he supports her in her career after she gets called back to New York. Instead of asking her to stay with him, he volunteers to make the big move with her. Plus, there's that kilig flash mob scene.
ADVERTISEMENT - CONTINUE READING BELOW
Cenon in Labs Kita, Okey Ka Lang?
Played by: Gio Alvarez
Why we'd date him: It's not always about the guy that gets the girl. Sometimes, the "other guy" is the one worth keeping. Take Cenon, for instance, the other guy in the Bujoy (Jolina Magdangal) and Ned (Marvin Agustin) love triangle. She might not be as bubbly or girly as Ned would probably want her to be, but Cenon likes her just the way she is.
Eric in Let the Love Begin (2005)
Played by: Richard Gutierrez
Why we'd date him: Why wouldn't we? After losing both of his parents, smart and hard-working Eric is left with his kind-hearted grandmother (their relationship will warm your cold heart). To support his studies and grandmother, he tirelessly works during the day as the school janitor. He attends night school as part of the school's scholarship program. This is a guy you'd be proud to call your significant other.
ADVERTISEMENT - CONTINUE READING BELOW
CJ in Four Sisters and a Wedding (2013)
Played by: Enchong Dee
Why we'd date him: It's not easy standing up to your family, but this is just what CJ did. He defends his fiancee (Angeline Quinto) after his four older sisters do everything in their power to stop the wedding. It's that kind of loyalty that makes for a swoon-worthy guy.
Anthony in That Thing Called Tadhana (2014)
Played by: JM de Guzman
Why we'd date him: Put simply, he's a great listener. Admit it: There are boys out there that never hear you out or never seem interested in what you think or have to say. Anthony is more than just the Good Samaritan who helps Mace (Angelica Panganiban) with her airline baggage. He humors her, and not once does he complain when she talks about her ex. (And she does. A lot.) Plus, he puts in so much effort to help her move on...even traveling miles with her!
ADVERTISEMENT - CONTINUE READING BELOW
Robert in Sana Dati (2013)
Played by: TJ Trinidad
Why we'd date him: Robert has everything going for him—looks, success, and a good family. Technically, he's the "other guy" in this scenario, but his love for Andrea (Lovi Poe) is so steadfast, so unconditional that you can't help but root for him...even just a little. He is the very definition of a good and decent man. Proof? Robert never forces, much less asks Andrea to choose him. He only hopes she does, and loves her just the same.
Share this story with your friends!
---
Help us make Spot.ph better!
Take the short survey
Load More Stories