Top 10 Epic Hair-Pulling Scenes From Pinoy TV and Movies
Scenes that made us clutch at our roots in fear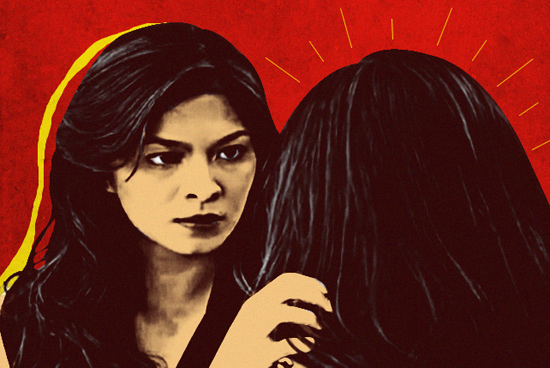 (SPOT.ph) Nothing says Pinoy drama more than a scene-stealing confrontation between two characters. It's so synonymous to the medium that you already know it's coming. The entire storyline has been leading to this moment and you wait for the showdown—the biting one-liners, the ominous music, and then...that sudden hair grab that makes you clutch at your roots. Sometimes, a good sabunutan scene is paired with a slap. Other times, there's some creative use of props. We round up the best scenes from Pinoy TV and movies.
ADVERTISEMENT - CONTINUE READING BELOW
Also read:
Top 10 Most Epic Dramatic Showdowns in Pinoy Movies
The Other Women: 10 Types of Movie Mistresses
10. Judy Ann Santos vs. Gladys Reyes in Mara Clara: The Movie (1996)
The plot: Judy Ann Santos and Gladys Reyes play Mara and Clara, respectively—two girls who were switched at birth. The kind-hearted Mara ends up working as a lowly maid in cruel Clara's wealthy household. A diary holds the key to the truth of their upbringing.
The scene: As Mara prepares to leave the Del Valle household, Clara's harsh and relentless taunting finally pushes the former to fight back. Unfortunately, this is when Clara's parents walk in.
CONTINUE READING BELOW
Recommended Videos
9. Nora Aunor vs. Raquel Montesa in Bona (1980)
The plot: This Lino Brocka film is a story of Bona's (Nora Aunor) unhealthy and irrational obsession with Gardo (Philip Salvador). She even leaves her comfortable upbringing to become a maid in Gardo's home in the slums, where she watches him bed one woman after another.
ADVERTISEMENT - CONTINUE READING BELOW
The scene: It's a short hair-pulling scene compared to the rest of the movies on this list, but we give Bona plenty of props for creativity. In the scene, Bona grabs Nancy (Raquel Montesa) by the hair as she beats her with a walis tingting before throwing her out on the streets.
8. Charito Solis vs. Lolita Rodriguez in Ina, Kapatid, Anak (1979)
The plot: The story revolves around the rivalry of two half-sisters, Emilia (Charito Solis) and Pura (Lolita Rodriguez). As children, Pura leaves the country to avoid seeing Emilia marry her boyfriend. Emilia, on the other hand, resents her sister for being the favored daughter. Pura returns 20 years later to see her ailing father, opening old wounds between the two sisters.
The scene: Emilia confronts Pura during their father's funeral. The whole scene is a slow burn; we watch Emilia scream insults while the stoic and restrained Pura stands there and takes it...until she can't anymore. You can already guess what happens next.
ADVERTISEMENT - CONTINUE READING BELOW
7. Kaya Abad vs. Erich Gonzales in Two Wives
The plot: Loosely based on the 2009 Korean drama of the same name, the story is about the marriage of Yvonne (Kaye Abad) and Victor (Jason Abalos). Their perfect family is torn apart after a single mother named Janine (Erich Gonzales) enters the picture.
The scene: An enraged Yvonne confronts Janine and threatens to break a bottle of vinegar over her head. (Funnily enough, she was carrying it in her purse.) When Victor arrives to defend his love for his mistress, Yvonne threatens to sue them both for concubinage. After Janine screams, "'Wag kang bitter!" to Yvonne, the latter lashes out.
6. Nora Aunor vs. Anita Linda in Bakit Bughaw Ang Langit? (1981)
The plot: Babette (Nora Aunor) is the oppressed, mistreated daughter of Sofia (Anita Linda). In exchange for clothes, the latter forces Babette to take care of the neighbor's mentally challenged son, Bobby (Dennis Roldan). As Babette gets to know him, she starts to fall in love with him. Word spreads and this causes a further divide between mother and daughter.
ADVERTISEMENT - CONTINUE READING BELOW
The scene: When Babette tells Sofia that she loves Bobby, this starts an epic shouting match with each of them hurling painful words against the other. ("Palibhasa walang nanliligaw sa'yo kaya kahit sira ulo, pinatulan mo!" being just one of them.) Sofia grabs Babette by the hair and throws her out of the house, where the neighbors are watching the fight unfold. At one point, Sofia even brandishes a knife in an attempt to kill her own daughter.
5. Sharon Cuneta vs. Bing Loyzaga in Tayong Dalawa (1992)
The plot: Carol (Sharon Cuneta) is an ambitious career woman whose life changes when she meets the carefree Tonchi (Gabby Concepcion). Their heated romance hits a snag when she crosses paths with Tonchi's ex, Naida (Bing Loyzaga).
The scene: Naida first storms into Carol's office, screaming expletives until she is forcibly dragged away...but it doesn't end there. The real nail-biting action begins around the 2:30 mark of the clip, where Naida attacks Carol in her own home. Naida grabs Carol by the hair and holds her over the edge of the balcony, in an attempt to strangle her to death.
ADVERTISEMENT - CONTINUE READING BELOW
4. Angelica Panganiban vs. Angel Locsin in One More Try (2012)
The plot: Grace (Angel Locsin) is a single mother willing to do whatever it takes to save her ailing son. When the latter's condition worsens, she is forced to contact his biological father, Edward (Dingdong Dantes). Although he's initially reluctant, his wife, Jacqueline (Angelica Panganiban) allows him to help. The reunion of Edward and Grace starts to affect and strain his marriage.
The scene: Talk about intense. Jacqueline practically scalps and drags Grace by the hair through a mall parking lot. Grace, by the way, is pregnant during the scene, making it all the more exciting. Or maybe terrifying. Both.
3. Angel Locsin vs. Maja Salvador in The Legal Wife
The plot: The story is pretty straightforward. Angel Locsin plays Monica, the "legal wife" of Adrian (played by Jericho Rosales). Maja Salvador is Nicole, the other woman who gets between them.
ADVERTISEMENT - CONTINUE READING BELOW
The scene: The hair-pulling scene is one of the most talked-about moments of the show, particularly because Maja was reportedly hurt during the brawl. After forgiving her husband about his affair, Monica is all set to start anew with him...at least until she learns he met with Nicole. Again. Their confrontation is chaotic and ends with a jaw-dropping revelation.
2. Marian Rivera vs. Katrina Halili in Marimar
The plot: The telenovela is the rags-to-riches story of Marimar (Marian Rivera), a naive and innocent young woman whose life is turned upside down when she falls for Sergio (Dingdong Dantes). Marimar's childhood friend, Angelika, is the jealous woman who will stop at nothing to ruin her relationship. After she successfully drives a wedge between Marimar and Sergio, Marimar leaves the small town and plots her revenge.
The scene: Stressful wedding preps can turn anyone into a bridezilla, but this scene just takes it to another level. When Angelika mocks Marimar, the latter lashes out. It's not just hair-pulling, mind you. Slaps are exchanged, faces are pushed into cakes, and mannequins and people are thrown across the room.
ADVERTISEMENT - CONTINUE READING BELOW
1. Marian Rivera vs. Glaiza de Castro in Temptation of Wife
The plot: The long-time friendship of Angeline (Marian Rivera) and Heidi (Glaiza de Castro) is tested when the latter has an affair with Angeline's husband, Marcel (Dennis Trillo). Their dramatic confrontation ends up with an accident that "kills" Angeline, but of course, she survives and returns with a new identity and a thirst for vengeance.
The scene: This hair-pulling showdown is something right out of a Mortal Kombat video game. They jump from chairs, tumble on the floor, strangle each other with dinner napkins, and stab each other with forks. It's so ridiculous and over-the-top, the hair-pulling is suddenly the last thing on your mind.
Also read:
Top 10 Most Epic Dramatic Showdowns in Pinoy Movies
The Other Women: 10 Types of Movie Mistresses
Share this story with your friends!
---
Help us make Spot.ph better!
Take the short survey
Load More Stories