10 More Films We're Excited to See in 2015
Lightsabers, secret agents, mockingjays...There are lots more movies to see this year.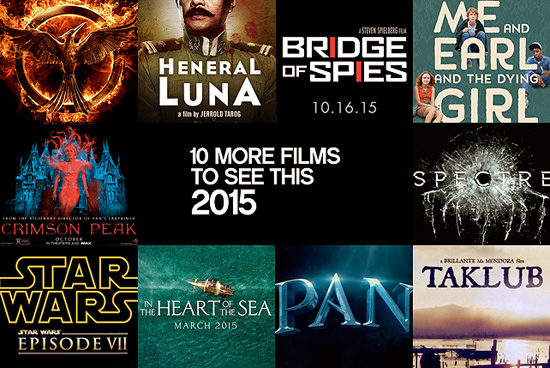 (SPOT.ph) It has already been an eventful 2015 in cinema. We said goodbye to a Furious family member, people made their appointments with Mr. Grey, the Avengers saved the day again, the Jurassic dinosaurs ruled the World once more, we even had a little date with Tadhana...and it's only August! There are a lot more films to see in the latter half of the year, and it's never too soon to mark your calendars. To help you, we're sending out some "Save the Date" cards for the films you should look forward to for the rest of 2015!
There are many other films to look out for, especially with numerous film festivals like Toronto and Telluride about to begin, and Oscar season starting. What films are you most excited for as we head into the last few months of the year?
NOTE: The release dates listed below are the known Philippine release dates, subject to change–films with unknown Philippine release dates were not qualified for the main list, but are written elsewhere with a note that the date listed is for U.S. cinemas.
AUGUST
1. Taklub
Release date: August 19
Directed by: Brillante Mendoza
Brillante Mendoza's Cannes Film Festival entry is finally hitting local theaters after opening for the 20th French Film Festival back in June. The film is a gritty ensemble drama about Typhoon Yolanda survivors, and stars Nora Aunor, Lou Veloso, and Julio Diaz. (Read our movie review for Taklub.)
Other notable August releases: Attack on Titan (Shinji Higuchi, August 12); The Man from UNCLE (Guy Ritchie, August 13); Inside Out (Pete Docter, August 19); Trainwreck (Judd Apatow, August 19); Vacation (John Francis Daley and Jonathan M. Goldstein, August 19), also the Cinemalaya Independent Film Festival will be held from August 7 to August 15
ADVERTISEMENT - CONTINUE READING BELOW
SEPTEMBER
2. Heneral Luna
Release date: September 9
Directed by: Jerrold Tarog
There are many tales about General Antonio Luna (John Arcilla)—how he was as a commander, and how his life came to an end. Sana Dati director Jerrold Tarog showcases the General's life during the Philippine-American war in this historical epic.
3. Me and Earl and the Dying Girl
Release date: September 16
Directed by: Alfonso Gomez-Rejon
Based on the best-selling novel of the same name, Me and Earl and the Dying Girl is a film about movies, life, and friendship. It begins when Greg (Thomas Mann) is asked to befriend Rachel (Olivia Cooke) after she is diagnosed with leukemia. It already has the cinephile stamp of approval, sweeping the top awards at the Sundance Film Festival in January.
CONTINUE READING BELOW
Recommended Videos
Other notable September releases: Regression (Alejandro Amenabar, September 2); Maze Runner: Scorch Trials (Wes Ball, September 9); Everest (Baltasar Kormákur, September 16); The Intern (Nancy Meyers, September 24)
OCTOBER
4. Pan
Release date: October 8
Directed by: Joe Wright

Atonement and Anna Karenina director Joe Wright takes his unique style to Neverland in this re-imagining of Peter's (Levi Miller) origin story, and how he becomes Pan. This new take on the familiar tale includes Tiger Lily (Rooney Mara), a young, pre-captain Hook (Garrett Hedlund), and a menacing Blackbeard (Hugh Jackman).
5. Bridge of Spies
Release date: October 14
Directed by: Steven Spielberg

Sure to be an intense and suspenseful outing, Steven Spielberg teams up with Tom Hanks (with a screenplay co-written by the Coen brothers) to tell this true-life story about a lawyer (Hanks) who finds himself in the middle of the Cold War, during which he must negotiate the release of a downed pilot in the Soviet Union.
ADVERTISEMENT - CONTINUE READING BELOW
6. Crimson Peak
Release date: October 14
Directed by: Guillermo del Toro
Pan's Labyrinth director Guillermo del Toro returns to the world of gothic horror just in time for Halloween. Edith (Mia Wasikowska) marries the mysterious Thomas (Tom Hiddleston), but then experiences nasty bumps in the night while living in an old, creepy mansion with her new husband and sister-in-law (Jessica Chastain).
Other notable October releases: The Martian (Ridley Scott, October 1); The Walk (Robert Zemeckis, October 7); Steve Jobs (Danny Boyle, October 9—U.S. release); Black Mass (Scott Cooper, October 21); Our Brand is Crisis (David Gordon Green, October 30—U.S. release)
NOVEMBER
7. Spectre
Release date: November 6
Directed by: Sam Mendes

James Bond (Daniel Craig, in his fourth appearance as 007) is back, picking up where Skyfall left off. A cryptic message leads Bond into discovering a sinister organization called SPECTRE, in which a member (Christoph Waltz) claims a chilling connection to Bond himself. Léa Seydoux, Monica Bellucci, Dave Bautista and Ralph Fiennes also star.
8. The Hunger Games: Mockingjay Part 2
Release date: November 19
Directed by: Francis Lawrence

Katniss Everdeen's story is coming to an end in epic fashion. The final part in The Hunger Games film series finds Katniss (Jennifer Lawrence) leading the final charge against President Snow (Donald Sutherland) as the rebels from District 13 face off against the Capitol in an all-out war.
Other notable November releases: By the Sea (Angelina Jolie, November 13—U.S. release); The Good Dinosaur (Peter Sohn, November 25); Victor Frankenstein (Paul McGuigan, November 25)
ADVERTISEMENT - CONTINUE READING BELOW
DECEMBER
9. In the Heart of the Sea
Release date: December 9
Directed by: Ron Howard

In this intense, effects-heavy biographical drama, a ship is attacked by a whale of mammoth size, leaving its crew to fend for their survival in this tale that inspired Herman Melville's classic novel Moby-Dick. The film stars Benjamin Walker, Cillian Murphy, with Thor and new-Spidey themselves, Chris Hemsworth and Tom Holland, as the ship's crew.
10. Star Wars Episode VII—The Force Awakens
Release date: December 17
Directed by: J.J. Abrams

Saving the best for last? The Star Wars franchise awakens once more. The plot of the film has been kept under wraps by the cast and crew, but the return to this epic space opera has the whole world buzzing. New faces (John Boyega, Daisy Ridley, Oscar Isaac) join past heroes (Harrison Ford, Carrie Fisher, Mark Hamill) in the biggest sequel of the year, set 30 years after Return of the Jedi.
Other notable December releases: Creed (Ryan Coogler, December 2); Midnight Special (Jeff Nichols, December 2); Sisters (Jason Moore, December 18—U.S. release); Carol (Todd Haynes, December 18—U.S. release); Joy (David O. Russell, December 25—U.S. release); The Hateful Eight (Quentin Tarantino, December 25—U.S. release); The Revenant (Alejandro G. Iñárritu, December 25—U.S.release)
Share this story with your friends!
---
Help us make Spot.ph better!
Take the short survey
Load More Stories