10 Fresh Tunes to Listen to This August
Your playlist this month featuring BANKS, Chvrches, Carly Rae Jepsen, Cheats, and more!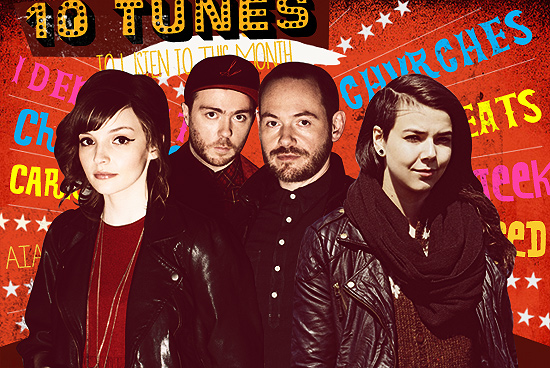 (SPOT.ph) Get your August going with the right set of tracks. We bring you Chet Faker and BANKS's cool collab, Chvrches' spunky lead single, Carly Rae Jepsen's '80s-inspired pop track, Of Monsters and Men's somber release, and Carlo Serrano's latest mashup featuring Kanye West and The Weeknd. For local music delights, we share the latest from Cheats, Identikit, Modulogeek, Ced Concepcion, and Diamond Heights.
Song: "1998"
Artist: Chet Faker feat. BANKS
Australian electronica artist Chet Faker teamed up with American songstress BANKS for a rework of his single "1998." The new lyrics and fresh harmonies on the second half featuring BANKS give the rework a whole new woozy yet dance-inducing effect.
Fun fact: This collaboration recently premiered on Zane Lowe's Beats 1 radio show.
Song: "Again, Professor Manny?"
Artist: Cheats
It's hard not to love Cheats for its relentless, youthful energy. The band's new single, "Again, Professor Manny?" is a high-energy indie-rock track with explosive drums and kick-ass guitars, balanced by sweet female vocals. The band's energy on stage during live performances has been successfully carried over to this gem of a recording.
Fun fact: Ely Buendia is producing the band's first album.
Song: "Leave a Trace"
Artist: Chvrches
The Scottish synthpop trio has released the first single from their forthcoming second album. In "Leave a Trace," frontwoman Lauren Mayberry sounds aggressive, energized, and ready to dodge the sophomore slump. The single features the Chvrches sound fans have come to love—gutsy, dark, but in the right places, light and endearing.
ADVERTISEMENT - CONTINUE READING BELOW
Fun fact: Chvrches' second album titled Every Open Eye drops on September 25.
Song: "Untitled"
Artist: Identikit
Identikit's "Untitled" sounds both haunting and comforting. Under three minutes, the band's new single leaves you wanting to hear more because it never seems to take off. Instead, it keeps a steady arrangement from start to finish.
Fun fact: Among the band's influences are Death Cab for Cutie, St. Vincent, Feist, Sonic Youth, and Radiohead.
Song: "Warm Blood"
Artist: Carly Rae Jepsen
Carly Rae Jepsen just shared another single from her new album. "Warm Blood" is an '80s-inspired synth-pop track with slightly breathy vocals and a fresh arrangement. It's a favorite so far from her other recently released singles.
Fun fact: Jepsen, via her Twitter account, promised to release a new track every week leading to the U.S. release of her album E•MO•TION on August 21.
Song: "Eksena"
Artist: Modulogeek
Electronica artist Modulogeek has remixed the well-loved Ang Bandang Shirley single "Di Na Babalik." The track balances pulsating electro beats with sugary but spunky pop-rock.
Fun fact: Modulogeek, under the label Number Line Records, is Joon Guillen.
Song: "Organs"
Artist: Of Monsters and Men
"Organs," compared to earlier Of Monsters and Men singles, is more somber and confessional. There are no jangly beats and no shouts of "hey" here, but the track is worth listening to for its soothing piano and highly emotional lyricism.
Fun fact: The band's co-vocalist and guitarist Nanna Bryndís Hilmarsdóttir stars in the lyric video directed by Addi Atlondres.
CONTINUE READING BELOW
Recommended Videos
Song: "Sunday"
Artist: Ced Concepcion
If this single is representative of Ced Concepcion's solo music, then you definitely have something to watch for. "Sunday" combines Pinoy rock energy with some '90s alt-rock feel.
Fun fact: "Sunday" is the first single off Ced Concepcion's first solo EP, Age Minus.
Song: "Feel Stronger" (Kanye West and The Weeknd mashup)
Artist: Carlos Serrano
Producer Carlos Serrano has shared a smooth mashup of Kanye West's "Stronger" and The Weeknd's "Can't Feel My Face." We love how the mashup expert has seamlessly woven together the two genres, creating a fun house party track.
Fun fact: Serrano is famous for his mashups that include Kanye West vs. Sam Smith, Adele vs. Daft Punk, and 2Pac vs. BANKS, among others.
Song: "Visions"
Artist: Diamond Heights
Here's a perfect track for your chill August nights. "Visions" is a smooth electro track with a slight sexiness that merits repeated play. The rhymes add more excitement to the addictive beats.
Fun fact: The track was co-produced by Nick Lazaro of Moonwlk, Birdforms, and Twin Lobster.
Share this story with your friends!
---
Help us make Spot.ph better!
Take the short survey
Load More Stories