10 TV Shows to Binge-Watch on a Rainy Day
Spend all day with a detective, a mole woman, or a blind vigilante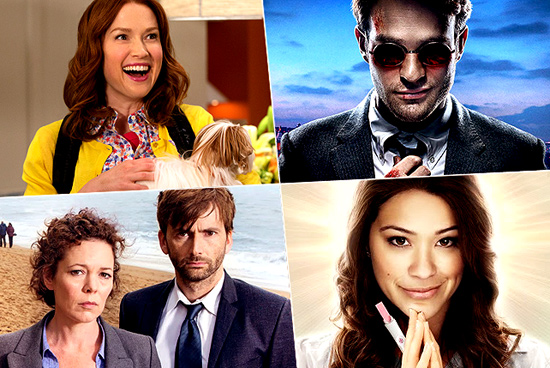 (SPOT.ph) We've all had that day when we get stuck at home because it's raining—whether it's because a thunderstorm has cancelled school, all the streets are flooded, or maybe it's a weekend and your plans have now been ruined. You've suddenly got a lot of free time, so why not entertain yourself with some good television? That's where this list comes in: 10 TV shows you can binge-watch in less than 24 hours (and really, you wouldn't be able to stop, anyway), each for a distinct rainy-day occasion.
Sherlock (2010 to present)
Episode Count: 9
Watch It When: You just want to stay in bed and disconnect from the rest of the world—lock the doors, turn off the phone, grab some hot tea, and curl up in a blanket
Cutting yourself off from the rainy world outside is the best way to really get into the intricate stories and characters a show has to offer. Sherlock is a British television show (thus the tea) that puts the most famous fictional detective Sherlock Holmes in the modern era. Having no distractions is important for crime dramas, so that one can follow along as Holmes (Benedict Cumberbatch) and John Watson (Martin Freeman) solve the most complicated cases.
Broadchurch (2013 to present)
Episode Count: 16
Watch It When: It looks so depressing outside, you want to cry
Sometimes the rain can just get you in a sad mood, and maybe you want to let the tears flow. Broadchurch is the show to do it. Another British import (don't even bother with its American remake, Gracepoint), Broadchurch begins with the murder of an 11-year-old boy (told you it was sad). What unfolds is the heartbreaking story of the boy's family, the detectives on the case, as well as the tight-knit small town community after the murder. As tragic as it is, the show is beautifully made, and it's best to keep a box of tissues by your side.
ADVERTISEMENT - CONTINUE READING BELOW
Unbreakable Kimmy Schmidt (2015 to present)
Episode Count: 13
Watch It When: The rain is getting you down and you just want to laugh your ass off
Maybe you want to cry tears of joy and not of sadness. Enter Kimmy Schmidt. This new comedy from Tina Fey stars Ellie Kemper, an optimistic, energetic, larger-than-life young woman who has just been rescued from a doomsday cult and moves to New York City to restart her life. The world Fey and her team have created for Kimmy is so colorful, happy, and absurd, the 13 episodes you spend in that world will leave you bright-eyed and bushy-tailed.
CONTINUE READING BELOW
Recommended Videos
Jane the Virgin (2014 to present)
Episode Count: 22
Watch It When: You want to cuddle with your significant other
Rain can sometimes be quite romantic, so there is no better new show for the cuddle weather than Jane the Virgin, a show about a girl who is accidentally artificially inseminated. Wait, what? Sure, the title and plot is a bit strange, and the show's distinct telenovela style will take some getting used to, but there's more to this show than that. Jane is about love, family, hard-work, religion, life lessons, but all done in a sweet, charming, truly genuine way. The show, lead by a wonderful Gina Rodriguez as Jane, is equal parts romantic, dramatic, and comedic—the perfect show to watch with someone special.
Penny Dreadful (2014 to present)
Episode Count: 18
Watch It When: Thunderbolt and lightning is very, very frightening
ADVERTISEMENT - CONTINUE READING BELOW
When a storm is raging outside, why wouldn't you want to scare yourself to match the mood? Penny Dreadful stands out from the many horror-dramas today with its gothic setting. Set in Victorian England, this macabre, hair-raising series blends vampires, werewolves, witches and demons, as well as iconic literary figures such as Dr. Frankenstein and his monster, characters from Dracula, and Dorian Gray to create the creepiest of atmospheres. It also includes a most frightening performance from Eva Green.
Daredevil (2015)
Episode Count: 13
Watch It When: The cloudy atmosphere outside sets a gloomy mood
It's not quite stormy, but the clouds are coming, and it just feels a little off—that's the perfect time to watch something dark and brooding like Marvel's new TV series, Daredevil. Tonally different from other components of the funnier Marvel cinematic or television universe, Daredevil reboots the origin tale of blind lawyer-slash-vigilante Matt Murdock a.k.a. Daredevil. The series is grittier, darker, and more serious than, say, Agents of SHIELD, but that's what makes it special—well that, and the artfully choreographed fight sequences that leave you speechless.
The Affair (2014 to present)
Episode Count: 10
Watch It When: You want to ponder some deep questions about life
Some rainy days, you just end up looking out the window thinking about some deep things: Am I on the right path? Is she worth it? What should I have for dinner? To go with your existential crises, watch The Affair. It is, as the title suggests, about an affair between people who are already married. What follows is an exploration of relationships, the differences between men and women, memories, and family told through different points of view. It's that kind of somber drama that makes you ask some very real, tough life questions.
ADVERTISEMENT - CONTINUE READING BELOW
MasterChef Junior (U.S.) (2013 to present)
Episode Count: Each season has 7 or 8 episodes
Watch It When: You need the inspiration to get up and make some food
Watch a season, any season, of the American version of MasterChef Junior, and be inspired. How can you not be when watching home cooks aged eight to 13 create unbelievable, mouthwatering dishes? What sets the U.S. version apart is noted hot-tempered chef Gordon Ramsay showing his "good side" as he interacts with the adorable prodigies. It's such a good-hearted, delightful show that even if you don't like kids, you're still going to love MasterChef Junior.
UnREAL (2015)
Episode Count: 10
Watch It When: You're ordering in or having junk food
Fine, you can't always make food so you order some pizza or grab a bag of chips. What goes best with junk food? Trashy television, but the good kind. UnREAL is set during the making of a dating-competition reality show, focusing on ruthless producers who will do anything to stir drama, and contestants learning to play the game both on- and off-screen. This dark, twisted guilty pleasure can be summarized in one line from the show: "Nobody here does anything to be nice. The quicker you learn that, the longer you'll survive."
Tanods (2015)
Episode Count: 12
Watch It When: You want some local flavor with your champorado
Enough of these foreign imports, and enjoy some local cuisine. Tanods from TV5's Digital branch is one of the few online shows we have here in the Philippines that is actually worth watching. About a group of barangay tanods and their day-to-day work, the show is akin to workplace comedies Parks and Recreation and Brooklyn Nine Nine both in humor and love of its characters.
ADVERTISEMENT - CONTINUE READING BELOW
Share this story with your friends!
---
Help us make Spot.ph better!
Take the short survey
Load More Stories