10 Perfect Songs for Every Manila Situation
Traffic? Flood? There's a song for everything.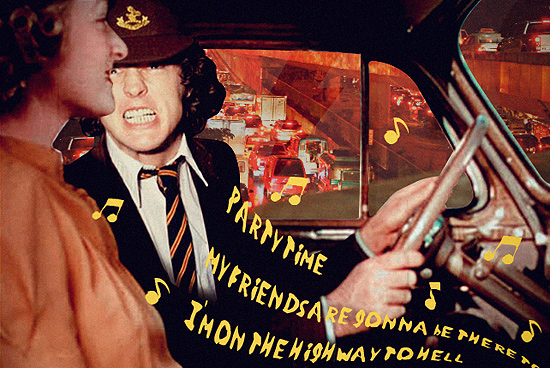 (SPOT.ph) Some people need a workout playlist to get pumped up at the gym. Other people have a carefully curated playlist for times they need to be productive. Don't stop there! Your everyday Manila experiences are colorful (or frustrating) enough to warrant their own music playlist. We found 10 songs perfect for every situation.
ADVERTISEMENT - CONTINUE READING BELOW
CONTINUE READING BELOW
Recommended Videos
Also read:
10 Songs for Your Workout Playlist
10 Songs for the Sizzling Summer Weather
10 Radio-Friendly Movie Songs That Stuck
"Highway to Hell" by AC/DC
Press "play" when...you're stuck in EDSA traffic again.
Is there anything more therapeutic for your anger than the guitar riffs of AC/DC?
"Hold On, We're Going Home" by Drake
Press "play" when...you're squeezing yourself deep into the MRT during rush hour.
It's 7 p.m., you're exhausted from work, and you're stuck between someone's armpits and another person's shoulder. Drake's popular hit will help soothe those frazzled nerves as you dream of...well, getting home in one piece. (Bonus: Arctic Monkeys' Radio 1 cover is a must-listen, too!)
"A Thousand Miles" by Vanessa Carlton
Press "play" when...it's a Sunday, and you're practically cruising!
Don't forget to bring a friend and sing along, White Chicks-style.
"Eye of the Tiger" by Survivor
Press "play" when...the escalators are down (again) and you have to climb that loooong flight of stairs.
ADVERTISEMENT - CONTINUE READING BELOW
Nothing pumps you up more than the song that played during Rocky Balboa's intense training. Remember to make that triumphant pose when you finally reach the top!
"All By Myself" by Celine Dion
Press "play" when...you're stranded because of the sudden flood.
The sad piano music is the perfect accompaniment to the dreary weather...and the hopeless feeling that you might be stuck there for hours.
"F**k You" by Lily Allen
Press "play" when...another bus cuts in front of you. Also optional: Blast it when you hear more maddening news about politics.
Best sung at the top of your lungs. Go ahead, let it out. We understand.
"Quit Playing Games (With My Heart)" by Backstreet Boys
Press "play" when...you're rejected by manong taxi driver. Again.
Kuya, please don't stop your taxi in front of me and give me hope, only to say no.
ADVERTISEMENT - CONTINUE READING BELOW
"Hot in Herre" by Nelly
Press "play" when...the sun is bearing down on you and you're all bundled up because you thought it would rain today.
It's a bit crude, yes, but nothing captures that deadly combination of stickiness and sweatiness more than this song.
"Money (That's What I Want)" by The Beatles
Press "play" when...your parking fee is more expensive than gas.
Sure, cars are an added convenience, but they have their own setbacks, too....especially in Manila. Increasing gas prices are bad enough, but the pain in your wallet only seems to get worse when you pay your parking fee. Every. Day.
"Wouldn't It Be Nice" by The Beach Boys
Press "play" when...you want to ask your crush out, pero taga-South siya.
Romance is hard when she lives on the other side of Manila.
Also read:
10 Songs for Your Workout Playlist
10 Songs for the Sizzling Summer Weather
10 Radio-Friendly Movie Songs That Stuck
ADVERTISEMENT - CONTINUE READING BELOW
Load More Stories