MOVIE REVIEW: Inside Out
It's Pixar at its very, very best.
(SPOT.ph) On paper, the premise of Disney-Pixar's Inside Out sounds risky—a tale of an 11-year-old girl and her emotions as characters in the story. Then again, perhaps we shouldn't expect any less from the studio that brought us a rat that cooks, monsters in your closet, and a house that flies with balloons. Their gamble paid off.
The ambitious plot revolves around two realities: the everyday life of Riley (voiced by Kaitlyn Dias), and the five emotions in her mind. Peppy and enthusiastic Joy (voiced by the perfectly cast Amy Poehler) is the leader of the group. The rest of her colleagues consist of the literally hot-headed and red-faced Anger (Lewis Black), scrawny and skittish Fear (Bill Hader), opinionated Disgust (Mindy Kaling), and moping, bespectacled Sadness (Phyllis Smith).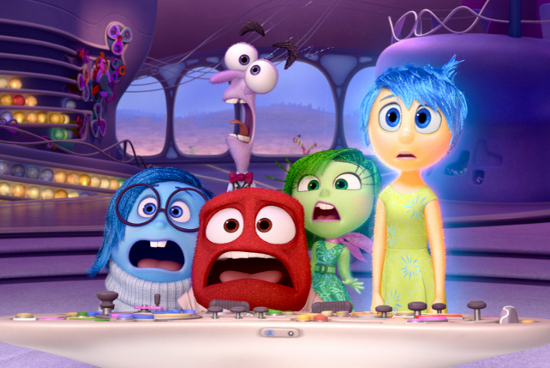 We see them squabble over a master control board; sometimes Joy leads, other times, we see Anger and Disgust taking over. More importantly, they protect Riley's memories, spheres that are color-coded by its dominant emotion. Her "Core Memories" are what power Riley's personality, represented as themed islands, like Honesty, Family, and her love for Hockey.
ADVERTISEMENT - CONTINUE READING BELOW
The plot kicks into gear when Riley's family moves to San Francisco, and she is forced to leave her friends and happy life in small-town Minnesota. It's here when things start to go awry at Headquarters. Joy and Sadness accidentally find themselves sucked out to the deep recesses of Riley's mind, leaving the other three emotions to take charge.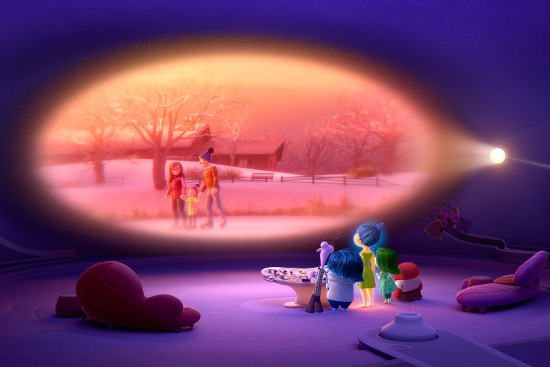 This is where Inside Out differs from its predecessors and other animated films. As creative and imaginative as directors Pete Docter and Ronnie Del Carmen get when they visualize how the mind works, the story is still rooted in reality. Nothing happens to Riley that doesn't happen in real life and yet, when we see what is inside her head, it's as though we are transported into another world.
Adults who watch the film will appreciate its cheeky execution, with mentions of repressed memories, a Train of Thought, Imagination Land, Long Term Memory, and the terrifying Subconscious. In a visually stunning moment, the film even explores the various stages of abstract thought.
CONTINUE READING BELOW
Recommended Videos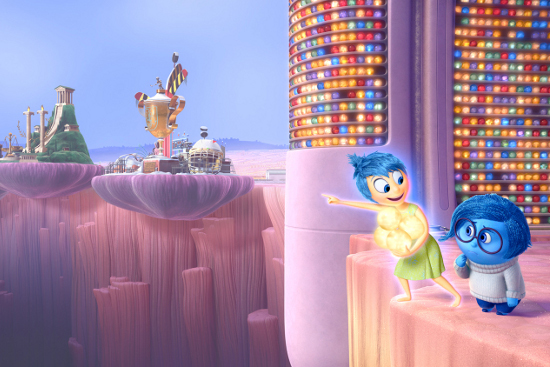 More than that, Inside Out deserves recognition for how it subtly presents depression. It's not portrayed as a sixth emotion but rather, an unstoppable force that is out of the emotions' control. There's no magical cure that will solve the problem, no frustrating side-comment that tells Riley to get over it and just "look at the bright side."
The film successfully drives home the point that ultimately, we have no control over our emotions. Instead, it is how we choose to act on them that makes the difference and sometimes, they can be so powerful that even that becomes a challenge. Perhaps, the most radical part of the film is the profound idea that Sadness is just as important and necessary as Joy...which will likely reduce even the toughest adult into a blubbering mess.
Few films are able to walk the line between childlike wonder and incredible complexity, and Inside Out emerges triumphant on both fronts. Come in for the creative, deceptively simple concept, then stay for the tugs at your heartstrings.
ADVERTISEMENT - CONTINUE READING BELOW
RATING: 5 out of 5 spots
Inside Out is now showing in theaters. Photos courtesy of Disney-Pixar.
Also read: 15 Minutes with Pete Docter and Ronnie Del Carmen, directors of Inside Out
Share this story with your friends!
---
Help us make Spot.ph better!
Take the short survey
Load More Stories