10 Fresh Tunes to Listen to This September
Your playlist this month featuring Taylor Swift, Justin Bieber, FKA Twigs, Mayonnaise, and more!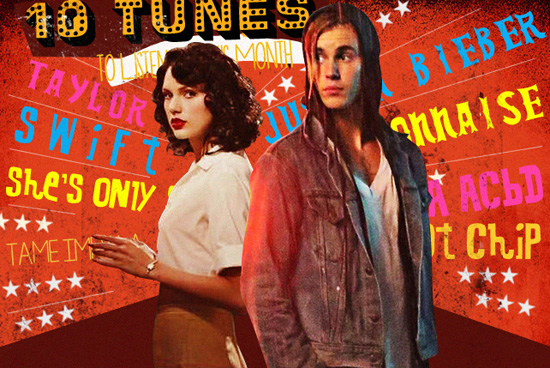 (SPOT.ph) It's the start of the BER months, but we're not playing Christmas songs just yet. For this month's music recommendations, we bring you Taylor Swift's dreamy ballad, Justin Bieber's comeback single, Tame Impala's psychedelic track, Hot Chip's synth-heavy release, and FKA Twigs' high-concept EP. For local delights, take a listen to Mayonnaise, She's Only Sixteen, Hana ACBD, Autotelic, and Maya's Anklet.
Song: "Wildest Dreams"
Artist: Taylor Swift
Taylor Swift has released a mellower single from her hit album 1989. "Wildest Dreams" is a, well, dreamy ballad with relaxed melodies, breathy vocals, and deep sighs. The softer release is a good break from her recent pop singles.
Fun fact: Taylor Swift unveiled her "Wildest Dreams" music video at the recent MTV Video Music Awards pre-show.
Song: "Tayo Na Lang Dalawa"
Artist: Mayonnaise
The guys of Mayonnaise are back at the studio to work on new material, but they've released a new music video for the acoustic version of their hit song "Tayo Na Lang Dalawa." There is so much sincerity in the lyricism, and the stripped-down version gives you more feels.
Fun fact:Tayo Na Lang Dalawa is also the title of the band's fifth studio album released in 2014.
Song: "What Do You Mean?"
Artist: Justin Bieber
Justin Bieber's comeback track actually isn't that bad. The vocals and lyrics reveal a more vulnerable side of the pop artist. The electronic arrangement features a smooth and rich groove, despite being rather minimalist compared to his past dance singles.
ADVERTISEMENT - CONTINUE READING BELOW
Fun fact: Justin Bieber collaborated with Skrillex and Diplo for this tune.
Song: "Just Another Face On the Wall"
Artist: She's Only Sixteen
The impressive breakup track clearly shows the band's indie- and garage-rock influences. It also delves into heartbreak and loss through melancholic lyricism.
Fun fact: The band's influences include Vampire Weekend, Radiohead, The Strokes, and Arctic Monkeys.
Song: "Let It Happen"
Artist: Tame Impala
Aussie indie rockers Tame Impala have released their music video for their single "Let It Happen." The track keeps the band's signature psychedelic sound with spot-on synths and entrancing vocals.
CONTINUE READING BELOW
Recommended Videos
Fun fact: "Let It Happen" is the band's first piece of new material in three years. It is from their newest album, Currents, released last month.
Song: "Second Best"
Artist: Hana ACBD
There's so much vulnerability and intimacy in Hana ACBD's "Second Best." The confessional track's relaxed sound is almost like a lullaby that can calm you with its poetry and beauty.
Fun fact: Hana ACBD mixes synthpop, trap, and RnB.
Song: "Started Right"
Artist: Hot Chip
Hot Chip has released the karaoke-inspired music video for their single "Started Right." The song is all you would expect a Hot Single number to be – absolutely synth-driven and dance-y.
Fun fact: "Started Right" is off the band's sixth album titled Why Make Sense?
Song: "Unstable"
Artist: Autotelic
Autotelic has released the music video for its single "Unstable." We love the song's smooth buildup, from a delicate beginning to a pop-rock explosion that brings the track to an abrupt end.
ADVERTISEMENT - CONTINUE READING BELOW
Fun fact: The track is part of a short film by AJ Orlina entitled Where the Light Settles, which will premiere on September 20 at the Cultural Center of the Philippines.
Song: "M3LL155X"
Artist: FKA Twigs
FKA Twigs's music may not be for everyone, but it's definitely worth listening to for the songstress' artistry and individuality. M3LL155X, a five-song EP with a 16-minute video is a masterpiece worth exploring. You might just end up loving her experimental music.
Fun fact: FKA Twigs is British singer, songwriter, producer, and dancer Tahliah Debrett Barnett.
Song: "Kung Alam Ko Lang"
Artist: Maya's Anklet
Regret is the theme of this Maya's Anklet single, but there's definitely no regret in listening to this somber pop-alternative track. It's predominantly subdued but bursts into a more aggressive tone, thanks to the emotional buildup.
Fun fact: The band is made up of Tricky Asperin (vocals, guitar), Josh Villena (guitar, vocals), Arvin Dumo (guitars), Miko Villena (bass), and Mark Villena (drums).
Share this story with your friends!
---
Help us make Spot.ph better!
Take the short survey
Load More Stories