10 Reasons Why Mistress Movies Need to Stop
Kabit, kerida, the other woman. We break down why these movies have got to go.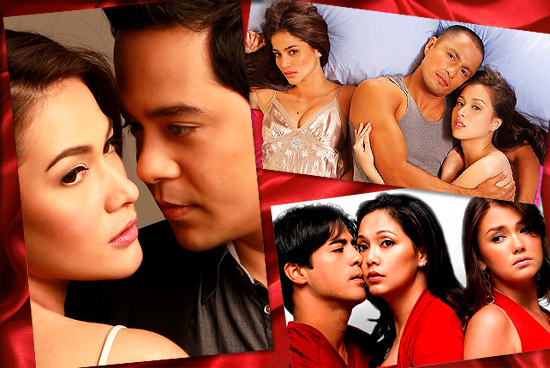 (SPOT.ph) For a country where a majority of people are tagged as devout Catholics, we sure have a lot of movies revolving around infidelity—so much so that we sigh with exasperation when we hear a new one is reportedly right around the corner. Is it a fascination for extramarital affairs that drives box office sales? Or maybe it's our love for dramatic showdown scenes that has studios steadily churning out new tales of adultery. Either way, we've seen enough, and here's why.
Minsan Lang Kitang Iibigin (1994)
The scenario: The close friendship between Terry (Maricel Soriano) and Melissa (Zsa Zsa Padilla) is tested when the latter falls in love with Dave (Gabby Concepcion), Terry's husband. The movie explores what happens when the scorned wife loses her sanity...and we get to see it all go down with their intense confrontation scene.
The WTF moment: You'd think a friendship that dates back years would mean more to someone. We almost don't blame Terry for grabbing that knife in a fit of rage...though we wish she could have let out some of that righteous anger at her husband, who is equally at fault.
ADVERTISEMENT - CONTINUE READING BELOW
The Mistress (2012)
The scenario: When JD (John Lloyd Cruz) meets Sari (Bea Alonzo) at a bookstore, he is instantly smitten. She's beautiful but distant, which only intrigues him more. He eventually learns that Sari is his father's mistress—and the reason for his mother's (Hilda Koronel) heartache and alcoholism.
The WTF moment: We appreciate The Mistress' efforts to deliver a complex take on an already overdone subject. Still, we couldn't help but cringe when despite learning Sari's secret, JD inexplicably finds ways to be in her life and eventually, falls in love with her. It simply doesn't make any sense, given his love for his mother and how he hates his father for his extramarital ways. Somehow, he finds it in himself to overlook the uncomfortable—but we just couldn't.
CONTINUE READING BELOW
Recommended Videos
No Other Woman (2011)
The scenario: Kara (Anne Curtis) is a fiery temptress who leads the restless Ram (Derek Ramsay) astray from his beautiful yet dutiful wife, Charmaine (Cristine Reyes). Kara promises a no-strings affair that doesn't work out as planned. She later falls in love with him and begs him not to leave her.
ADVERTISEMENT - CONTINUE READING BELOW
The WTF moment: It conveniently doesn't occur to Kara and Charmaine that the problem here is Ram, who just couldn't keep it in his pants for the woman that he says he loves. Instead, they humiliate themselves for him with quotable, passive-aggressive verbal spats. When that isn't enough, they escalate to public catfights.
Dapat Ka Bang Mahalin? (1984)
The scenario: Myrna (Sharon Cuneta) and Lito (Gabby Concepcion) are a young couple who enter marriage way too early. While Myrna understands that marrying young means she has to grow up fast, Lito simply doesn't. Instead, he turns to Glacilda (Chanda Romero) to escape his marital responsibilities, never mind that Myrna is alone and pregnant.
The WTF moment: Nothing magically patches up a broken marriage like a near-fatal accident. The cheating husband crawls back to his wife, who, of course, takes him back. Glacilda, who is now the scorned woman in this scenario, arranges for Myrna to get kidnapped. Lito comes to her rescue and ends up in the hospital, which conveniently gives Sharon Cuneta a sobbing monologue scene as she fervently prays for his return. Lito survives, Glacilda mysteriously disappears, and they live happily ever after. Really.
ADVERTISEMENT - CONTINUE READING BELOW
A Love Story (2007)
The scenario: A doctor named Joanna (Maricel Soriano) hooks up with a wealthy but unhappy man named Ian (Aga Muhlach), who is married to a much younger flight attendant named Karyn (Angelica Panganiban).
The WTF moment: Joanna is supposed to be a sympathetic character who finds new love with Ian after getting her heart broken. That being said, it still makes no sense that she would choose to have an affair with him when her ex-husband's philandering ways is the reason for all her heartache in the first place. Ian, on the other hand, justifies his infidelity because his wife is never home. When the time finally comes for him to choose between Joanna and Karyn, he still can't decide and it's up to the two women to make the decision for him. At this point, we just wish he ends up alone.
ADVERTISEMENT - CONTINUE READING BELOW
When the Love is Gone (2013)
The scenario: When Audrey (Alice Dixson) ventures into a new business, she suddenly has no time for her husband, Emman (Gabby Concepcion). The poor and neglected husband naturally seeks companionship with Cassie (Cristine Reyes).
The WTF moment: It doesn't take too long for Emman's secret affair to be revealed. This is enough for Audrey to concoct a bizarre proposition: Emman can continue his affair, as long as he splits time between Audrey and Cassie, and he makes sure to pretend everything is okay in front of his daughter. It's bewildering how Audrey would think it's a good idea, especially when she later tells him, "I'd rather na meron siyang isang ama na hindi niya inaasahan kaysa isang ama na inaasahan niya that always lies to her."
My Neighbor's Wife (2011)
The scenario: Bullet (Jake Cuenca) and Aaron (Dennis Trillo) are best friends who lead opposite lives. Bullet, who is married to the good-natured Jasmine (Carla Abellana), has the easy and wealthy life. Meanwhile, Aaron struggles to make ends meet, especially when his wife, Giselle (Lovi Poe) just wants to fit in with their high-society friends. A drunken night between Giselle and Bullet kicks off a series of passionate trysts that involve...well, everyone.
ADVERTISEMENT - CONTINUE READING BELOW
The WTF moment: This whole thing is like watching a convoluted Gossip Girl episode where everyone just sleeps with everyone. After a repentant Bullet and Giselle return to their spouses, it's the latter's turn to share a bed together. Eventually, things just spiral out of control and you're left wondering why these people were friends in the first place.
Nagbabagang Luha (1988)
The scenario: Alex (Gabby Concepcion) and Maita (Lorna Tolentino) are estranged exes. When Alex decides to take away their daughter to the States, Maita asks her sister, Cielo (Alice Dixson) to get her back. Alex confesses his true feelings for his ex-wife's sister, and they fall madly in love. Throw in Richard Gomez into the mix and you've got yourself a very complicated love square.
The WTF moment: We're not judging here, but we're still scratching our heads over how going for your sister's ex would be a good idea.
ADVERTISEMENT - CONTINUE READING BELOW
A Secret Affair (2012)
The scenario: In this movie, Anne Curtis plays Rafi, the wife of Derek Ramsay's Anton. On the eve of their wedding, Rafi gets cold feet and disappears. To nurse his broken heart, Anton sleeps with Sam (Andi Eigenmann), one of Rafi's friends. Rafi eventually returns with every intention of getting Anton back.
The WTF moment: Despite adding history between Anton and Sam, the film is just as revolutionary as its genre which only means...not very much. Rafi and Sam aren't afraid to physically assault each other for the man they love, while they let him sit back and do next to nothing. When it comes to the catty lines, the puns are overkill and you almost wish you were watching No Other Woman instead.
Etiquette for Mistresses (2015)
The scenario: Based on the controversial bestseller by Jullie Yap Daza, the film revolves around a group of friends who all happen to be mistresses (of different men, thankfully). When Kim Chiu's character befriends the group, they take her under their wing and teach her their ways.
ADVERTISEMENT - CONTINUE READING BELOW
The WTF moment: Similar to the book, the film throws in some "rules" on how to be a successful mistress. And although the cast says the film doesn't glorify or judge marital affairs, the trailer will probably make you feel otherwise.
Share this story with your friends!
---
Help us make Spot.ph better!
Take the short survey
Load More Stories