MOVIE REVIEW: The Intern
Robert De Niro is everyone's favorite grandpa-turned-intern in this crowd-pleasing dramedy.
(SPOT.ph) "Imagine having an intern with a lifetime of experience as opposed to somebody who spent the last four years of their life playing beer pong." Not only is this a line from the latest film of writer-director Nancy Meyers (It's Complicated; Something's Gotta Give), it also sounds like the logline for a cutesy sitcom that a writer would pitch to a TV network. Much of The Intern feels like you're watching different episodes of a workplace sitcom: It's familiar and likable, and has a ridiculously good cast, but it also means the storytelling feels disjointed. New, unrelated situations are often suddenly presented at each scene that characters must react to, leaving a thin line to connect the entire film. This falls on the shoulders of the film's cast, and they do a fantastic job with it.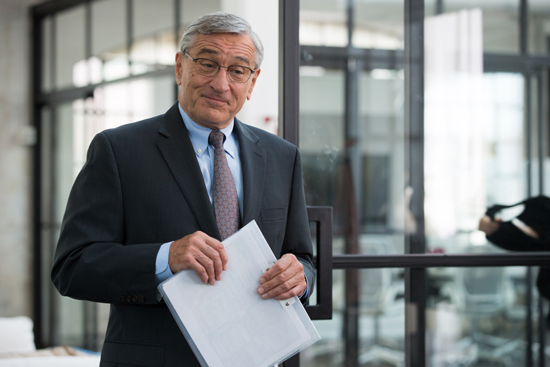 The Intern is about 70-year-old Ben Whittaker (an effortless Robert De Niro), a widower and retired phone book-manufacturer, who finds retirement isn't all that great. He keeps active—with Yoga, Tai Chi, learning Mandarin—but nothing keeps him too busy, until he finds a flyer about a new "senior interns" program where companies hire older people (ages 65 and up) as interns. He becomes an intern at an online fashion site called About the Fit, founded and run by the hands-on and hardworking Jules Ostin (Anne Hathaway).
ADVERTISEMENT - CONTINUE READING BELOW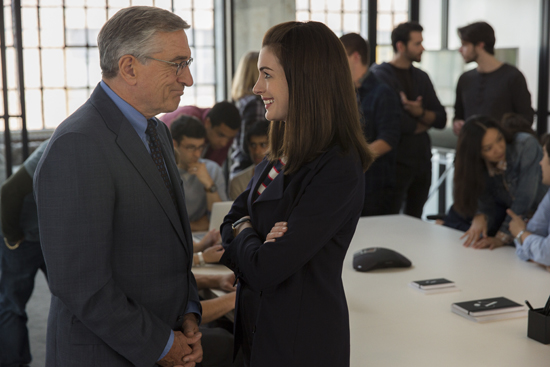 CONTINUE READING BELOW
Recommended Videos
Jules soon finds out that their investors do not feel that she is fit to continue running this too-fast-growing company and is asked to hire a CEO to help her out and essentially become her boss. It feels as if Ben has come at the perfect time in Jules' life. Ben and Jules form a bond between co-workers and friends that helps her as she makes some tough decisions.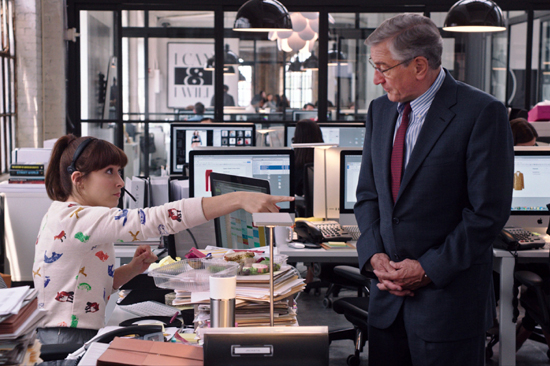 ADVERTISEMENT - CONTINUE READING BELOW
After Ben starts working at Jules' company, we begin to discover more things about their personal lives, as well as their work lives—often thrown as twists into the story that come out of nowhere and aren't built up at all. This style causes the film to work in a "this happens, and then this happens" structure instead of "this happens because that happened," which, again, makes it feel more like a string of TV episodes than one film, not that that's a bad thing (for example, a really random scene where Ben and the other interns have to break into a house looks like it's taken right out of The Office—but it's also one of the funniest parts). The one solid thing that really connects the film throughout is Jules and Ben's relationship, and the film wouldn't work as well with lesser actors.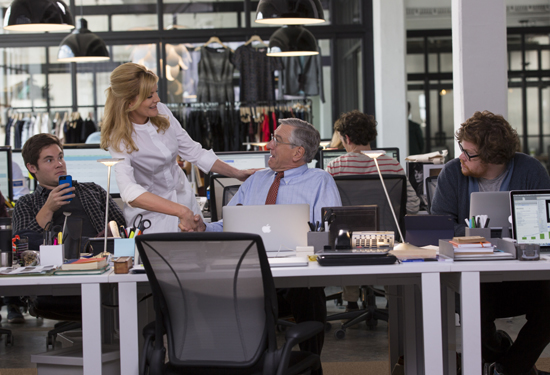 De Niro is great as a jovial, eager worker (though that his character is nearly pristine and perfect seems way too unbelievable), and Hathaway is even better as his cheery but overworked boss, almost imbibing the unbreakable spirit of her The Devil Wears Prada character (really, it feels like this film could be a sequel—think about it: Andrea has left Miranda to open her own online clothing shop). The supporting cast is solid as well, lead by the terrific Rene Russo as a love interest for Ben (and also the catalyst for a couple of typical Meyers off-color sex jokes). It's the cast that really has to do the heavy lifting to keep the pretty long two hours flowing and fun. Besides them, the impeccable production design definitely helps—from About the Fit's large Brooklyn office, to Jules' homey brownstone, everything is beautifully designed. It looks like everyone was living in a world designed by Pinterest, and one shouldn't expect anything less from a Nancy Meyers film.
ADVERTISEMENT - CONTINUE READING BELOW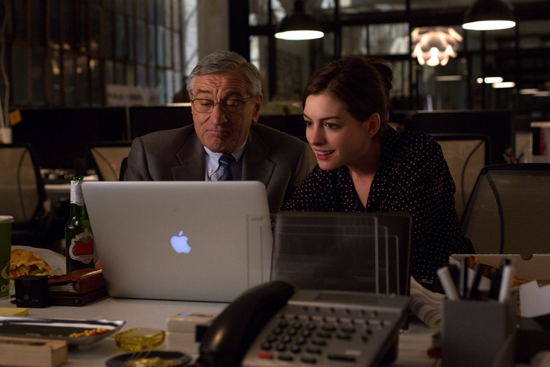 Meyers' script tries to deal with interesting themes like sexism in the workplace, as well as women choosing to pursue careers after having kids, but it never goes deep enough. Instead, the director chooses to fall back into territory that she is much more comfortable with, like relationships and family, which can be disappointing. However, maybe it doesn't need to dig deeper, as The Intern is charming, warm, inviting, and a total crowd-pleaser already, just like the good sitcom it appears to be.
RATING: 3.5 out of 5 spots
The Intern opens in cinemas today, September 24. Photos courtesy of Warner Bros. Pictures.
Share this story with your friends!
---
Help us make Spot.ph better!
Take the short survey
Load More Stories