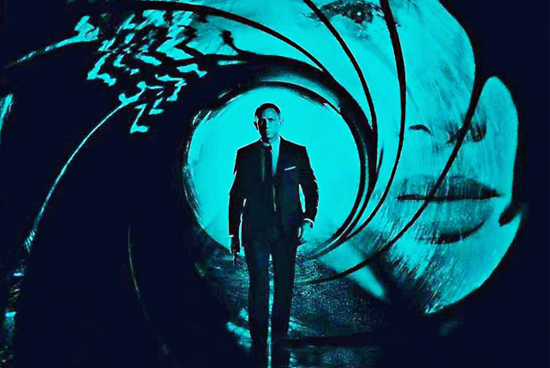 (SPOT.ph) As any well-meaning James Bond fan will tell you, the theme song is just as important to the movie as Bond's cars, gadgets, and beautiful women. Like the actors that portray its titular character, each song—when paired with its own unique opening credits—is reflective of its time, and sets the tone for the film and the current Bond. Sam Smith just released his theme song for Spectre, so we decided to look back at 10 of the best theme songs from the franchise.
10. "A View to Kill" by Duran Duran
The Bond film: A View to Kill (1985)
Perhaps no song and opening credits is as reflective of its time as this track from Duran Duran. The song is an unlikely yet successful mashup of old-school (courtesy of Bond composer John Barry) and '80s new wave music. The song also reached the top of the Billboard charts and was nominated for a Golden Globe.
ADVERTISEMENT - CONTINUE READING BELOW
9. "For Your Eyes Only" by Sheena Easton
The Bond film: For Your Eyes Only (1981)
Sheena Easton's take on a 007 theme song is noticeably more romantic, but its sweeping intro still has elements of the dramatic Bond music we know and love. Easton is the only artist who was featured performing during the film's
opening title sequence.
8. "You Only Live Twice" by Nancy Sinatra
The Bond film: You Only Live Twice (1967)
Folks who loved Matt Monro's smooth vocals on "From Russia with Love" (from the 1963 movie) might be disappointed that Frank Sinatra never sang for the franchise, but we have the next best thing: his daughter. Her silky and sultry voice evokes all the sex the Bond films love to peddle. It's not as edgy as other theme songs, but it holds its own.
7. "Thunderball" by Tom Jones
The Bond film: Thunderball (1965)
ADVERTISEMENT - CONTINUE READING BELOW
Recommended Videos
Tom Jones' booming voice is a perfect fit for the franchise, especially with that final note that was so high, he reportedly fainted after delivering it. His legendary crescendo almost didn't make the cut; Shirley Bassey and Dionne Warwick both performed songs that were rejected, and Jones was brought in at the last minute. It's a good thing, too, because the song is a great fit with Sean Connery's onscreen swag.
6. "You Know My Name" by Chris Cornell
The Bond film: Casino Royale (2006)
Soundgarden vocalist Chris Cornell's take on a Bond theme song sounds noticeably different. With Cornell's grittier voice and guitar riffs, it's a departure from the usual atmospheric instrumentals and vocal crescendos. When paired with the opening credits (no sexy silhouettes of women here), you can clearly tell that the song is meant to usher in a new era of Bond. (It did—Daniel Craig's take on 007 is both gritty and emotional.)
ADVERTISEMENT - CONTINUE READING BELOW
5. "The World is Not Enough" by Garbage
The Bond film: The World is Not Enough (1999)
The band might be an unconventional choice of artist, but the risk paid off. The song is one of the better themes from the Pierce Brosnan era, merging dark, musical elements of classic '60s Bond with the '90s sound of Shirley Manson and her band.
4. "Diamonds are Forever" by Shirley Bassey
The Bond film: Diamonds are Forever (1971)
We couldn't think of a better send-off for Sean Connery than with this show-stopping number from Shirley Bassey (it was his last, official Bond film). From her subtle vocals to the more explosive diva moments, it's the kind of Bond song that will stay with you after one listen. Here's more proof that the song is timeless: Kanye West sampled it for his hit song, "Diamonds from Sierra Leone" and it worked.
ADVERTISEMENT - CONTINUE READING BELOW
3. "GoldenEye" by Tina Turner
The Bond film: GoldenEye (1995)
If we could describe this song in one word, it would be gutsy. Written by Bono and The Edge, the song grabs your attention with the first few notes and holds onto it tight the moment Tina Turner starts singing. Her voice is the perfect mix of sensual, urgent, and elegant. The movie is widely considered as the best film in Pierce Brosnan's era and we get to see Sean Bean in one of his many, many turns as a villain that dies.
2. "Skyfall" by Adele
The Bond film: Skyfall (2012)
Adele definitely brought back the classic, old-fashioned Bond we love with her Oscar-winning song. From the slow build of the alluring piano keys to her powerhouse vocals, it's the perfect song to celebrate Bond's 50th anniversary onscreen. We dare you not to get chills once the dramatic chorus sets in. The fact that it was the theme song for Bond's origin story and one of the best films in the franchise is just icing on the cake.
ADVERTISEMENT - CONTINUE READING BELOW
1. "Goldfinger" by Shirley Bassey
The Bond film: Goldfinger (1964)
Bond girls may come and go, but Shirley Bassey is forever. She sang a total of three songs for the franchise but her best is, without a doubt, "Goldfinger," which set the standard for the many theme songs that would come later. Steady buildup to a powerful crescendo? Check. Smooth and atmospheric brass? Double check. Menacing song about the villain set to sexy opening credits? Check and check. This song is as quintessential James Bond as it gets.
Share this story with your friends!
---
Help us make Spot.ph better!
Take the short survey
Load More Stories