10 Things We Liked About FPJ's Ang Probinsyano
Coco Martin's return to TV looks very, very promising.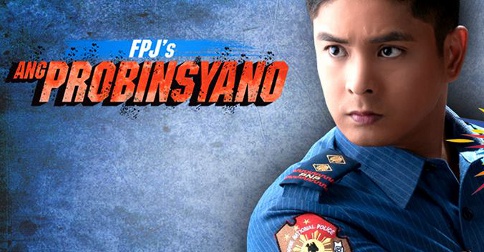 (SPOT.ph) Filipinos are no strangers to adaptations; from comic books to koreanovelas and Wattpad novels, we've probably seen every permutation possible. When it comes to film-to-TV adaptations, the tricky part is stretching two hours' worth of plot into five episodes per week. In the case of ABS-CBN's Ang Probinsyano, they also have to worry about the legacy they're trying to honor with their adaptation: Fernando Poe Jr's.
The premise more or less follows the plot of FPJ's 1997 film. The story revolves around a police officer named Ador de Leon, who is betrayed by a fellow cop and later, killed in a drug bust operation. His twin brother, Cardo, takes his identity to overthrow the drug syndicate and the corrupt policemen behind his death.
FPJ's Ang Probinsyano is a modern retelling of the film, and stars Coco Martin (his return to TV after his 2014 telenovela, Ikaw Lamang). The show premiered September 28 and although we can't yet tell how faithful it will be to the source material, we admit—we're very intrigued.
1. Coco injects his trademark good-natured disposition into his character.
If FPJ's Ador was a tough cop, Coco's take on the character would probably remind you of his other likeable, good-natured roles...and it works. Ador is inherently a good and decent person, which makes him an ideal candidate to be a policeman. (Oh, if only this happened in real life, too.) It grounds his character and makes the audience more invested in his story.
2. Still, Ador isn't any less of a badass.
ADVERTISEMENT - CONTINUE READING BELOW
Coco is given an ample amount of screen time to prove that he's a good fit for the role. His action sequences are thrilling, some of which involve stopping a bomber on a train full of commuters and saving an old woman from a jeepney teetering on the edge of a cliff.
3. His relationship with his grandmother will bring a tear to your eye.
No Pinoy teleserye is complete without some heartwarming family moments. In this case, it's Ador's scenes with his lola (played by Susan Roces). Their onscreen bond feels authentic, and will probably make you want to hug your own lola—stat. You'll probably also need some tissues when Ador is giving his valedictorian speech and he tearfully thanks her.
CONTINUE READING BELOW
Recommended Videos
4. There's a bit of romance, but it's not central to the story.
Although a love story is essential in any telenovela, it's refreshing to see that it's not going to take up a lot of unnecessary screen time. Ador's scenes with Carmen (Bela Padilla) are just enough to make viewers invested, without overshadowing the plot. In a TV landscape full of romances and love triangles, we welcome a nice change of pace. (On a sidenote, Maja Salvador's character has yet to make an appearance.)
5. The supporting cast is stellar.
Coco shines in his role, but his supporting cast deserves a nod, too. He is joined by the likes of Arjo Atayde (in a kontrabida role as Joaquin Tuazon), Albert Martinez, Jaime Fabregas, and Dennis Padilla. Oh, and we cannot emphasize enough how endearing Susan Roces is in her role.
ADVERTISEMENT - CONTINUE READING BELOW
6. The production value is top-notch.
Save for an awkward green-screen brawl atop a moving train, the show's production value is commendable. Think wide aerial shots, sweeping landscapes, and fast-paced editing. We especially love the scenes during Ador's time at the Philippine National Police Academy. From the grueling 45-day "breaking period" to the intense training, the show doesn't shy away from portraying the physical, emotional, and mental challenges cadets face. Our favorite scene? Their target practice, where cadets are tasked to shoot at two plastic bags being held by their fellow "mates" from a distance.
7. It won't shy away from showing police corruption.
It's a relief to know that the show won't be glorifying men in uniform to the point of being unrealistic. Instead, it will be showing the darker, greedier side to the police force, which will likely be an interesting dilemma for the decent and idealistic Ador once he joins the PNP.
8. No corny transition scenes or quotable quotes in sight.
Telenovelas are often full of syrupy lines and cheesy flashback transitions, but the show thankfully skips all that. There are a handful of quotes that talk about Ador going after his dream or serving the greater good, but nothing too sappy. We hope they'll keep this script going.
9. The show hints at similarities with the source material.
Ador seems to have been raised by his grandparents, but the show hints at his parents and brother, without delving into his family background just yet. This will undoubtedly make things interesting as the show progresses.
ADVERTISEMENT - CONTINUE READING BELOW
10. The FPJ voice over might just give you feels.
The opening credits honors men in uniform and Da King with an emotional voice over. It's a fitting tribute.
Share this story with your friends!
---
Help us make Spot.ph better!
Take the short survey
Load More Stories