(SPOT.ph) We're not exaggerating when we say The Martian is easily Ridley Scott's best film in a decade. It's a much-welcome comeback for the director, considering his last film, Exodus: Gods and Kings, was widely panned. In his 50 years in the business, he has written and rewritten the rules of the sci-fi genre and this film is no exception.
During a mission to Mars, astronaut Mark Watney (Matt Damon) is presumed dead after a violent storm hits the planet. He is left behind by his crew (Jessica Chastain, Michael Pena, Kate Mara, Sebastian Stan, Aksel Hennie) and must find a way to survive and contact his NASA colleagues on Earth. Damon is as charismatic as ever, playing a botanist with a lot of determination and self-deprecating humor. The script puts him through hell and back, from trying to grow food on a planet with no water (at least in this movie) to surgically stapling an open wound. Damon brings an admirable physicality to his role, anchoring the film as its optimistic, beating heart.
ADVERTISEMENT - CONTINUE READING BELOW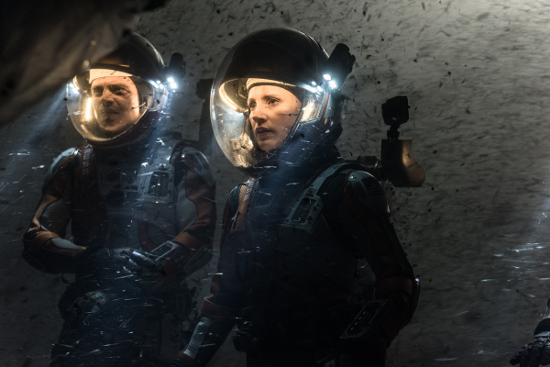 Meanwhile on Earth, NASA discovers that Mark is very much alive. The greatest and brightest minds decide to come together and find a way to bring him home. There are crisis meetings, hasty press conferences, eulogies, botched attempts at rescue, and moral dilemmas—all involving a lively and diverse ensemble cast that includes Jeff Daniels, Chiwetel Ejiofor, Kristen Wiig, Sean Bean, Benedict Wong, and Donald Glover.
Like its source material (a hit novel by Andy Weir of the same name), the film doesn't shy away from the extremely detailed technical and scientific jargon. While we can commend Scott's visual prowess and Damon's likeability, the true star is the script by Drew Goddard. It's easy to veer into conventional sci-fi melodrama, but instead, he seamlessly weaves wit, heart, humor, and tension into science that is awe-inspiring but not too simplistic.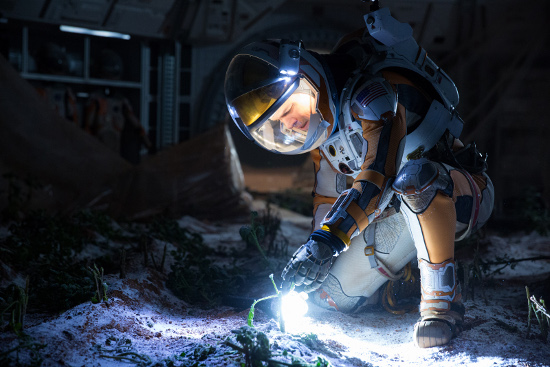 ADVERTISEMENT - CONTINUE READING BELOW
Meanwhile, cinematographer Dariusz Wolski beautifully transforms the Jordanian desert into the vast, red wasteland of Mars. It's a vivid contrast to the hurried, densely populated scenes back on Earth, highlighting just how dire Mark's situation is. Still, the film isn't perfect; the supporting cast (particularly Mark's crew) feels underused and at 141 minutes, is a bit lengthy.
Unlike so many films that tend to paint heroism as the doing of one brave man, the film balances Mark's brilliance with the collaboration of exceptional people behind him. If there is anything we must commend The Martian for, it's the film's unabashed love and appreciation for science. It's a fitting addition to the genre and perhaps, even one of its best.
RATING: 4.5 out of 5 spots
The Martian is now showing in theaters. Photos courtesy of 20th Century Fox.
Share this story with your friends!
---
Help us make Spot.ph better!
Take the short survey
More Videos You Can Watch
Load More Stories