10 Must-See International Films at QCinema 2015
From The Little Prince to the controversial Love 3D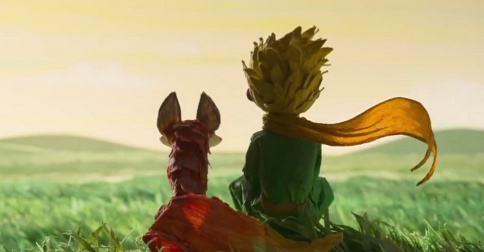 (SPOT.ph) October is already shaping up to be an awesome month for movie fans in Manila. The Quezon City International Film Festival, better known as QCinema, is back for its third year. They've expanded their lineups to 11 more categories, which include an LGBT section called Rainbow QC and even Special Children's Screenings.
The festival has a total of 60 films that will be screened from October 22 to 31 at Trinoma, Gateway Mall, and Robinsons Galleria cinemas. As always, you can expect a mix of foreign and local films, but we zero in on the international flicks you shouldn't miss.
Also read: 10 Filipino Films You Shouldn't Miss at QCinema 2015
The Little Prince
Director: Mark Osborne
Category: Special Children's Screenings
Kung Fu Panda director Mark Osborne brings the beloved French story by Antoine de Saint-Exupéry to animated life. The plot revolves around The Little Girl (Mackenzie Foy), who befriends her kind-hearted and eccentric neighbor, The Aviator (Jeff Bridges), He introduces her to the extraordinary and imaginative world of The Little Prince (Paul Rudd). The film also stars Rachel McAdams, Marion Cotillard, James Franco, and Benicio Del Toro.
Tale of Tales
Director: Matteo Garrone
Category: Screen International
Think of this film as fairytales for grown-ups. Based on three stories by 16th Century poet Giambattista Basile, it tells the interwoven tales of three neighboring kingdoms. The entertaining parables include a giant flea, a sex-addicted monarch (Vincent Cassel), and a fertility ritual involving a virgin.
The Summer of Sangaile - Trailer from MSP Film Society on Vimeo.
ADVERTISEMENT - CONTINUE READING BELOW
Summer of Sangaile
Director: Alante Kavaite
Category: Rainbow QC
This heartfelt, coming-of-age story revolves around the blossoming summer romance of two girls. One is the free-spirited Auste, and the other is the shy and withdrawn Sangaile who has dreams of becoming a stunt pilot but is crippled by her vertigo.
Love
Director: Gaspar Noe
Category: Director in Focus: Gaspar Noe
The French provocateur pushes the envelope with a controversial drama that features explicit sex...in 3D. Noe uses a fractured narrative to tell the story of a young film student and the two women in his life.
CONTINUE READING BELOW
Recommended Videos
Apocalypse Now
Director: Francis Ford Coppola
Category: Special Screening
This 1985 classic from legendary director Francis Ford Coppola is an epic film set during the Vietnam War. Captain Willard (Martin Sheen) is on a secret mission to find and terminate Colonel Kurtz (Marlon Brando), a once-promising officer who has gone rogue and insane. It won the Palme d'Or at Cannes Film Festival, was nominated for Best Picture at the Oscars, and is widely considered one of the greatest films ever made.
Tangerine
Director: Sean Baker
Category: Rainbow QC
A transgender female sex worker named Sin-Dee (Kitana Kiki Rodriguez) who has just finished a 28-day prison sentence meets up with her friend, who is also a trans sex worker. The latter tells Sin-Dee that her boyfriend and pimp has been cheating on her while she was away. Outraged, she storms through the city in search for the man who broke her heart.
ADVERTISEMENT - CONTINUE READING BELOW
Human
Director: Yann Arthus-Bertrand
Category: Special Screening
Filmmaker Yann Arthus-Bertrand spent three years collecting real-life, everyday stories from 2,000 people in 60 countries. The result? A poignant look at what it means to be human, struggles, triumphs, and all.
Irreversible
Director: Gaspar Noe
Category: Director in Focus: Gaspar Noe
This disturbing 2002 film tells the story of a woman's (Monica Bellucci) lover (Vincent Cassel) and her former boyfriend (Albert Dupontel) who take revenge after she is raped. You might need a strong stomach for this one: the savage, 11-minute rape scene is one of the most brutal rape scenes in the history of cinema.
After This Our Exile
Director: Patrick Tam
Category: Asian Cinerama
Shing (Aaron Kwok) is a deadbeat gambler whose marriage is falling apart. After his wife finally leaves him, Shing is left with nothing but his son, Lok-Yun (Goum Ian Iskandar), who somehow still manages to be loyal to his dad. He forces his son into thievery in hopes of paying back loansharks, while their father-son relationship hangs in the balance.
A Separation
Director: Asghar Farhadi
Category: Asian Cinerama
Iranian filmmaker Asghar Farhadi's highly acclaimed drama zeroes in on the crumbling marriage of Nader (Payman Maadi) and Simin (Leila Hatami). They must choose between leaving Iran or staying and caring for Nader's ailing father who suffers from Alzheimer's disease. In 2012, the movie won Best Foreign Language Film at the Oscars, becoming the first Iranian movie to do so. It was also nominated for Best Original Screenplay.
ADVERTISEMENT - CONTINUE READING BELOW
Visit QCinema's Facebook page for the full list of films, and updates on ticket prices and screening schedules.
Also read: 10 Filipino Films You Shouldn't Miss at QCinema 2015
Share this story with your friends!
---
Help us make Spot.ph better!
Take the short survey
Load More Stories