10 Fresh Tunes to Listen to This October
Get a load of good music by Disclosure, Lorde, Sam Smith, Armi Millare, Dong Abay, and more!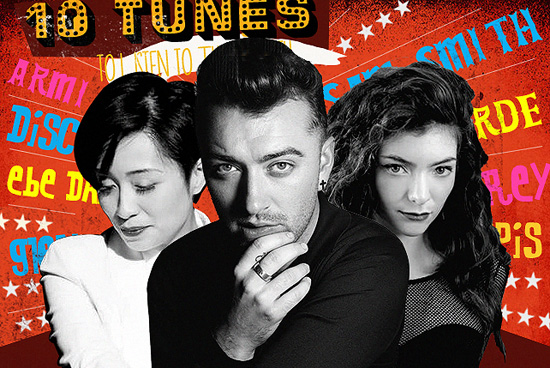 (SPOT.ph) This October, delight in listening to Disclosure and Lorde's cool collab, Sam Smith's chart-topping Bond track, Lana Del Rey's dreamy single, Ryan Adam's alt-rock Taylor Swift cover, and Glen Hansard's soulful solo masterpiece. We've got local tunes for your listening pleasure, too, including Armi Millare with Dong Abay, Ebe Dancel, Flying Ipis, Ourselves the Elves, and Lustbass featuring August Wahh. Happy listening!
Song: "Magnets"
Artist: Disclosure feat. Lorde
Electronic duo Disclosure (comprised of brothers Howard and Guy Lawrence) teamed up with "Royals" singer Lorde for "Magnets." The track, off Disclosure's sophomore album titled Caracal, starts with percussion loops before introducing Lorde's seductive vocals and bursting with hypnotic synths. It's not like the brothers' previous club anthems, but it's just as excellent (if not more).
Fun fact: Aside from Lorde, Disclosure also collaborated with Sam Smith, Miguel, and The Weeknd, to name a few, for Caracal.
Song: "Prometheus Unbound"
Artist: Armi Millare and Dong Abay
Two well-loved Filipino musicians come together to deliver the poignant "Prometheus Unbound." The steady arrangement, gentle vocals, and moving words bring to mind struggle, but at the same time hope and strength amidst adversity.
Fun fact: The classic poem "Prometheus Unbound" was written by renowned Filipino writer, poet, and journalist Jose F. Lacaba in 1973. The musical interpretation was done for Esquire magazine.
Song: "Writings on the Wall"
Artist: Sam Smith
British music superstar Sam Smith can do no wrong and further proves this with "Writings on the Wall," his theme for the upcoming Bond movie, Spectre. The monster ballad features jazzy piano, dramatic orchestra, and Smith's intense and emotional vocals. His signature high register during the chorus lends vulnerability, rawness, and honesty to the track. It's the kind of song that needs no embellishments or theatrics.
ADVERTISEMENT - CONTINUE READING BELOW
Fun fact: "Writings on the Wall" is the first Bond song to ever hit number one in the UK singles charts.
Song: "Kasayaw"
Artist: Ebe Dancel
Ebe Dancel needs no effort in exuding sincerity and warmth through his music. His endearing vocals, plus poetic lyricism, will always put the listener in a safe place. "Kasayaw" is a touching tribute that features strong vocals against a lovely folk-rock arrangement.
Fun fact: The track is part of Rock Ed Philippines' tribute to Apolinario Mabini.
Song: "Music to Watch Boys To"
Artist: Lana Del Rey
Stunning songstress Lana Del Rey recently released her dreamy new single "Music to Watch Boys To." It sounds somber, sexy, and otherworldly—not surprising coming from the American musician. The slow-paced music video is a fitting accompaniment to the tune, too.
CONTINUE READING BELOW
Recommended Videos
Fun fact: "Music to Watch To" is off Lana Del Rey's recently released third album, Honeymoon.
Song: "This Song is Not About You"
Artist: Flying Ipis
The first few seconds of the track, with its kick-ass guitar riff and infectious "doo-doo-doo-roo-doo," is indicative of an entirely satisfying piece. There's a bit of restraint in the angst of "This Song is Not About You," but it just proves you don't have to go all-out crazy to produce a rocking tune.
Fun fact: The all-female band is composed of Deng Garcia (vocals), Ymi Castel (guitar), Gaki Azurin, (drums), and Tanya Singh (bass).
Song: "Bad Blood" (Taylor Swift cover)
Artist: Ryan Adams
ADVERTISEMENT - CONTINUE READING BELOW
Alt-country rocker Ryan Adams unveiled his cover of Taylor Swift's "Bad Blood," and it's refreshingly beautiful. The stripped-down arrangement, free of the usual pop extravagances, allows the listener to actually appreciate the beauty in Swift's songwriting. Adams' slower version is ripe with rich strings and melancholic vocals.
Fun fact: Adams actually covered Swift's entire 1989 album, giving each song his own spin.
Song: "Longing For"
Artist: Ourselves the Elves
"Longing For" sounds dreamy, a fitting arrangement for the rather sentimental title. It's the kind of track you'd turn to on a gloomy and rainy day indoors as you contemplate your lost (or faraway) love.
Fun fact: Ourselves the Elves' Geography Lessons EP/DVD is out on October 10, and will include the band's second EP plus a DVD of Petersen Vargas' short film Lisyun Qng Geografia (for which the songs were written).
Song: "Her Mercy"
Artist: Glen Hansard
"Her Mercy" is a sweet revelation by the Irish musician Glen Hansard. The track starts off subdued and keeps a steady pace for a buildup that shifts the initially cathartic mood to a gospel-like explosion of horns and soulful vocals.
Fun fact: The single is off Hansard's new solo album Didn't He Ramble.
Song: "Spiritluvv"
Artist: Lustbass feat. August Wahh
Lustbass enlisted the help of songstress August Wahh for "Spiritluvv," a breezy, soulful, and sexy track with relaxing seaside sounds. It's an addictive and irresistible collab of which you'd wish you could hear more.
Fun fact: Lustbass has teamed up with American jazz-R&B artist Georgia Anne Muldrow and Malasimbo recordings to produce a track titled "Vital Transformation."
ADVERTISEMENT - CONTINUE READING BELOW
Share this story with your friends!
---
Help us make Spot.ph better!
Take the short survey
Load More Stories