MOVIE REVIEW: Pan
Hugh Jackman and new star Levi Miller have bright moments in this effects-heavy prequel to Peter Pan.
(SPOT.ph) Moments after Peter (Levi Miller) arrives for the first time in Neverland via a flying ship, he meets the larger-than-life pirate captain Blackbeard (Hugh Jackman) who is leading a band of rowdy pirates and thousands of laborers (mostly kids) in a spirited rendition of Nirvana's "Smells Like Teen Spirit." It is then that you know you're in for something different. This is just one bizarre choice in a film full of bizarre choices, making Pan feel like a film that people just kept throwing ideas at (Musical numbers! Giant birds! People that go 'poof!') and hoped a coherent, engaging story comes out of it. But despite the chaos that ensues scene after scene, director Joe Wright manages to sneak in some solid performances and a beautifully created Neverland.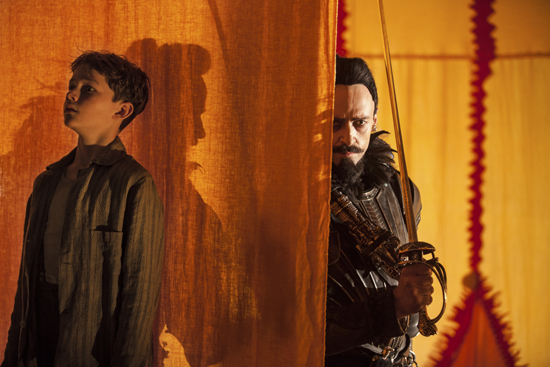 Pan is an original take from writer Jason Fuchs on the origin story of Peter Pan, using characters from J.M. Barrie's beloved novel. In this version, Peter is a mischievous and cheeky 12-year old boy left in a London orphanage by his mother, who he longs to find. One night, pirates take Peter and the other boys away, bringing them to a marvelous world full of fairies, warriors, and large crocodiles called Neverland, which is under the rule of the wicked Blackbeard. Blackbeard, who has run the fairies out of Neverland, uses the children to help find the remaining fairy dust, a magical crystal with life-altering abilities.
ADVERTISEMENT - CONTINUE READING BELOW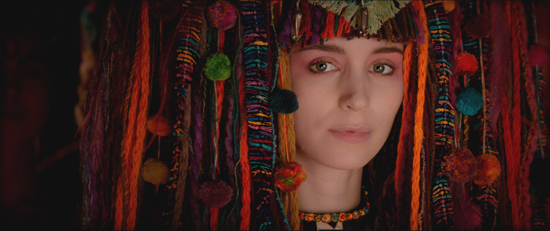 CONTINUE READING BELOW
Recommended Videos
After an altercation with other workers, Peter is brought to Blackbeard and is forced to walk the plank and take a certain-death plunge from high up in the air to the rocks below, but he shocks everyone by levitating just before falling to his death. Blackbeard takes Peter in and explains to him a prophecy that one day, a boy, born from the love of a fairy and a human, will come back to Neverland and overthrow Blackbeard to save the fairy kingdom: a boy who could fly. Knowing this, Peter escapes with the help of fellow miner James Hook (Garrett Hedlund) and they head towards a tribe of warriors led by Tiger Lily (an underused Rooney Mara), who are protectors of the fairy kingdom, and they all join forces to save Neverland from the clutches of Blackbeard.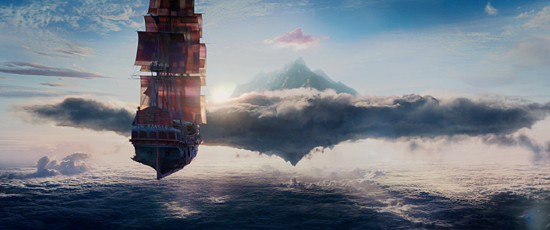 ADVERTISEMENT - CONTINUE READING BELOW
Peter's adventures in Neverland (from their daring escape from Blackbeard, to a triple-Cara Delevingne-mermaid and crocodile interlude, to the final showdown) are all very kid-friendly, as they include large, colorful, imaginative set-pieces, and are full of swashbuckling action paired with a rousing score. There is a lot to admire in the creation of Neverland: The visual effects, costume design, and production design teams did great work in bringing to life this realm that looks otherworldly at every turn.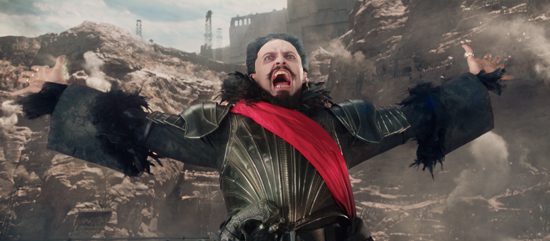 However, the film sometimes almost feels unnecessarily ambitious and grand, especially when by the time we find out Peter's destiny very early in the film, the rest of it is just going through the motions. The writing never dwells on more interesting story points or building relationships, instead jumping from set piece to set piece, adventure sequence to fight sequence haphazardly, choosing to stop at the most convenient of moments (like at a "Magic Tree" or when in "Magic Water") to spout some exposition. While action-filled stories can be exciting, the action has to be special, and in Pan, it doesn't feel unique.
ADVERTISEMENT - CONTINUE READING BELOW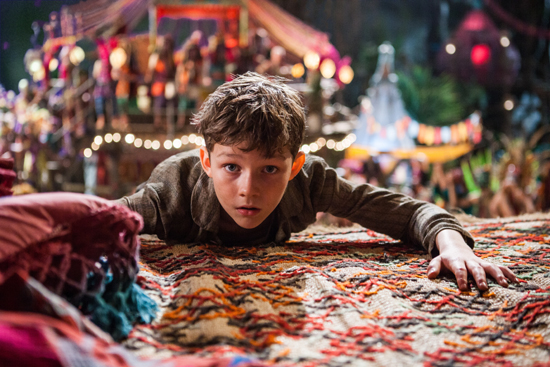 Joe Wright, director of Atonement and Anna Karenina, is extremely talented and he does some of his usual tricks here (the mix of diegetic sound with score, creative camera movements), but his style is ultimately swallowed up by the over-the-top approach to the story. Writer Fuchs does his best to create a new story, but characters are written poorly, especially Hook, who is only "Captain Hook" by name. If anyone stands out, it is Jackman's theatrical and deliciously evil performance as Blackbeard, and Miller's Peter. Young Levi Miller, who beat out 4,000 boys for his first major role in a feature film, appears in over 90% of the movie and carries a lot of weight on his tiny shoulders. Luckily, he does a wonderful job as the enthusiastic and emotional Peter, and like Atonement's Saoirse Ronan, is a great Joe Wright discovery. There is some magic to be seen in Pan, especially in its look and its cast, but as a story, it struggles to fly.
ADVERTISEMENT - CONTINUE READING BELOW
RATING: 3 out of 5 spots
Pan opens in cinemas today, October 8. Photos courtesy of Warner Bros. Pictures.
Share this story with your friends!
---
Help us make Spot.ph better!
Take the short survey
Load More Stories