MOVIE REVIEW: Black Mass
Johnny Depp proves that when in the right role, he is a mesmerizing revelation.
(SPOT.ph) For many moviegoers, Johnny Depp's uncanny ability to completely immerse himself into a role is nothing new. And yet, his latest biopic, Black Mass, feels as though this is the first time we're witnessing his transformation.
This time, he portrays the notorious gangster James "Whitey" Bulger, who terrorized the streets of Boston back in the '70s. He is no Michael Corleone; Bulger isn't born into his chaotic world. Instead, his rise to the top was a carefully conceived plot that involves turf wars between the Bulger-led Winter Hill Gang and the mafia-connected Angiulo family. In these violent streets, family and loyalty are everything—whether it's with his brother, Massachusetts State Senator Billy Bulger (Benedict Cumberbatch), or his childhood friend, John Connelly (Joel Edgerton).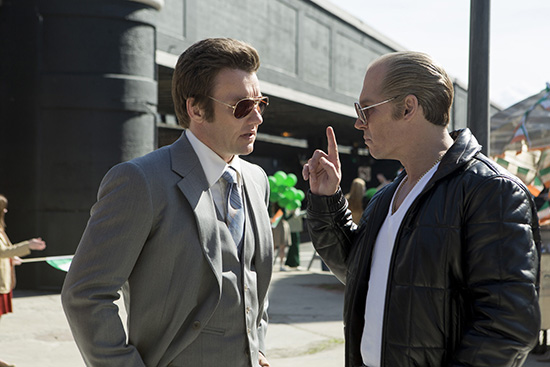 The latter is a rising star in the FBI and he concocts a plan that ultimately leads to his and the bureau's undoing. In order to take down the Angiulos, Connelly recruits Bulger to provide valuable intel about his rivals and in exchange, the former will provide immunity from prosecution. The plan backfires spectacularly; Bulger, who now has free rein to extort, murder, and peddle narcotics as much as he wants, soon takes control of the city.
ADVERTISEMENT - CONTINUE READING BELOW
The script by Mark Mallouk and Jez Butterworth largely hinges on the intricate ties between Bulger and Connolly who, despite leading contrasting lives, share parallel similarities. Edgerton is riveting as he plays an ambitious man whose ironclad loyalty to the steets leads to his downfall, slowly but steadily falling prey to the treacherous world of gangsters.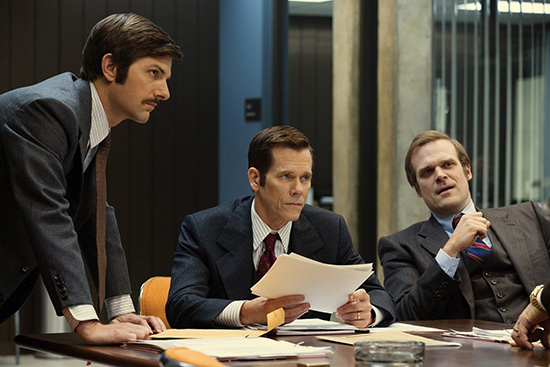 CONTINUE READING BELOW
Recommended Videos
Meanwhile, Bulger displays surprisingly tender facets, whether he is a devoted son to an elderly mother or a protective father to his young son. We quickly forget his human side once we see him toying with his friends and enemies, swiftly manipulating them into his will. Bulger is a ticking time bomb at every turn, with Depp effortlessly wielding so much restraint in calmer moments that a sudden dart of his eye or subtle twitch of his jaw would have audiences white-knuckled and transfixed on the screen. And when he finally erupts, his violent outburts are macabre and truly horrifying.
ADVERTISEMENT - CONTINUE READING BELOW
Both Depp and Edgerton are backed by a stellar supporting cast that includes Dakota Johnson, Kevin Bacon, Jesse Plemons, a scene-stealing Peter Sarsgaard, and a criminally underused Corey Stoll. The cast, alongside top-notch cinematography and production and costume design, manage to make the film look like it was set and made during the '70s. Director Scott Cooper's camerawork switches from carefully composed master shots that set the stage to lengthy close-ups that underscore the cast's individual, gripping performances. However, the film isn't perfect; the narrative's commendable build-up falters just when the FBI is closing in on Bulger, and clocking in at 122 minutes, it ends up feeling tedious.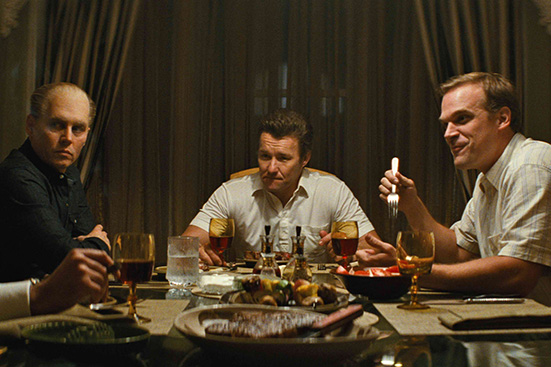 In many ways—intentional or otherwise—Black Mass plays out like an ode to its predecessors. One can see the similarities to Martin Scorsese's 2006 film, The Departed (a fictionalized version of Bulger played by Jack Nicholson), in terms of its expletive-filled dialogue and the depicted tight-knit community of South Boston. A tense dinner scene (which was almost entirely spoiled in the film's trailer) plays out like the infamous "Funny how?" sequence from Scorsese's 1990 gangster flick, Goodfellas.
ADVERTISEMENT - CONTINUE READING BELOW
Despite the similarities, Black Mass is deeply engrossing in its own right, earning its rightful place in a roster of gangster films and coaxing memorable performances that will linger with audiences long after the credits have rolled.
RATING: 4 out of 5 spots
Black Mass opens in theaters October 21. Photos courtesy of Warner Bros. Pictures.
Share this story with your friends!
---
Help us make Spot.ph better!
Take the short survey
Load More Stories