10 Fresh Tunes to Listen to This November
Enjoy the latest from Adele, Ariana Grande, The Neighbourhood, Bamboo, Yolanda Moon, and more!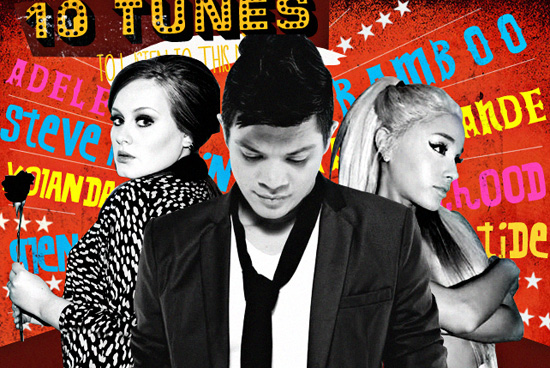 (SPOT.ph) November's already looking good, thanks to these fresh hot tracks. Go crazy over Adele's latest hit ballad, Ariana Grande's oddly likable pop ditty, The Neighbourhood's new sound, Dave Gahan and Soulsavers' successful collaboration, and Steve Martin and Edie Brickell's fun folk tune. For local music delights, listen to the newest from Bamboo, Yolanda Moon, Paolo Mallari, Moonwlk, and tide/edit.
Song: "Hello"
Artist: Adele
The whole of humanity rejoiced when the British singer and songwriter released her new single, "Hello," after a short hiatus. In this piano ballad, Adele's voice is still as powerful as ever, and her lyrics are still able to tug at our heartstrings. Her moving song has reportedly set a record for the most number of U.S. downloads sold (1.11 million) in just a week, along with other records set.
Fun fact: Adele's new album, 25, drops November 20.
Fast forward to 5:16 for the song
Song: "Firepower"
Artist: Bamboo
"Firepower" is a fitting opening track for Bamboo's new album. It's an energy-filled rock and roll ditty with some kick-ass guitar screeching. A music video for the single was just released, back-to-back with another new Bamboo song, "Nothing Like You."
Fun fact: "Firepower" is off Bamboo's new album titled Bless This Mess. His last album, No Water, No Moon, was released four years ago.
Song: "Focus"
Artist: Ariana Grande
We're not very fond of the male vocals in the chorus, but that aside, Ariana sounds and looks great in her new candy-colored music video. The claps and trumpets add an old-school feel to the ultra-pop ditty.
ADVERTISEMENT - CONTINUE READING BELOW
Fun fact: MTV reports that the male vocals belong to actor and singer Jamie Foxx.
Song: "Fely"
Artist: Yolanda Moon
The first few seconds of "Fely" will cradle you, thanks to its lullaby-like opening with some sonic touches here and there. The relaxed jazz-pop track doesn't need any explosive hooks; it's lovely just the way it is.
Fun fact: "Fely" is part of the official soundtrack for the movie "Old Skool," directed by Cia Hermosa-Jorge, starring Tessie Tomas, and showing at SM Cinemas nationwide starting November 4.
Song: "Wiped Out!"
Artist: The Neighbourhood
The California five-piece band that wowed us with their breakthrough hit "Sweater Weather" back in 2013 is back with a new album. The titular single "Wiped Out!" shows The Neighbourhood's attempt to redefine their sound, going into darker R&B, much slower tempo, and longer instrumentals. We give them A for effort, but we prefer their earlier releases.
CONTINUE READING BELOW
Recommended Videos
Fun fact: The band is composed of Jesse Rutherford (vocals), Jeremy Freedman (guitar), Zach Abels (guitar), Mikey Margott (bass), and Brandon Fried (drums).
Song: "I Can't"
Artist: Paolo Mallari
We're loving the bluesy new release of Paolo Mallari. "I Can't" has a classy and sexy sophistication and a fragile character to it. The soft backing vocals in the chorus put us in a relaxed state and make us want to take the wine out.
Fun fact: The singer-songwriter's influences include Bob Dylan, The Beatles, Neil Young, and John Mayer.
Song: "All of This and Nothing"
ADVERTISEMENT - CONTINUE READING BELOW
Artists: Dave Gahan and Soulsavers
Depeche Mode frontman Dave Gahan has teamed up once again with the British production duo Soulsavers for a new album. In it is the single "All of This and Nothing," featuring Gahan's recognizable baritone and Soulsaver's dark, gospel-influenced sound. The two acts obviously have chemistry as shown by the pleasing product of their combined musical sensibilities.
Fun fact: "All of This and Nothing" is from the second album Gahan has recorded with Soulsavers titled Angels & Ghosts, the first being 2012's The Light and the Dead See.
Song: "Prefer"
Artist: Moonwlk
The synth-pop duo is out with yet another explosive track. "Prefer" is an LSS-inducing electro release with an '80s touch. We can always count on Moonwlk to bring us some no-holds-barred music.
Fun fact: The Moonwlk duo is composed of Nick Lazaro and Gabbi Buencamino.
Song: "Won't Go Back"
Artists: Steve Martin and Edie Brickell
Steve Martin isn't just good with comedy; he's an exceptional banjo player, too. The Renaissance man's collab with singer-songwriter Edie Brickell is an endearing, playful folk tune that talks about moving forward and, well, as emphasized in the track, "never going back."
Fun fact: "Won't Go Back" is off the musical duo's second album titled So Familiar.
Song: "Eleven"
Artist: tide/edit
The track begins with an exciting rush and then slows down a bit; similar movements throughout the track show the band's love for changing tempos. The melodies are hard not to love, with guitars and percussion that bring us from one aural delight to another.
ADVERTISEMENT - CONTINUE READING BELOW
Fun fact: The band's upcoming second album is titled Lightfoot.
Share this story with your friends!
---
Help us make Spot.ph better!
Take the short survey
Load More Stories