MOVIE REVIEW: By The Sea
Though visually satisfying, Angelina Jolie Pitt's third directorial effort doesn't quite fly.
(SPOT.ph) Angelina Jolie Pitt's latest effort behind the cameras drifts away from wartime stories (In the Land of Blood and Honey and Unbroken) to depict the unraveling marriage of a married couple.
The plot plays out like an unsavory sequel to Mr. and Mrs. Smith. We see Roland (Brad Pitt) and Vanessa (Jolie Pitt) cruising through a French seaside town in a top-down convertible. Although the '70s glamour lasts, the initial impression of a happy marriage quickly fades. We immediately learn that they have been through something deeply traumatic to the point that it has rendered Roland an alcoholic, and the pill-popping Vanessa distant and unresponsive.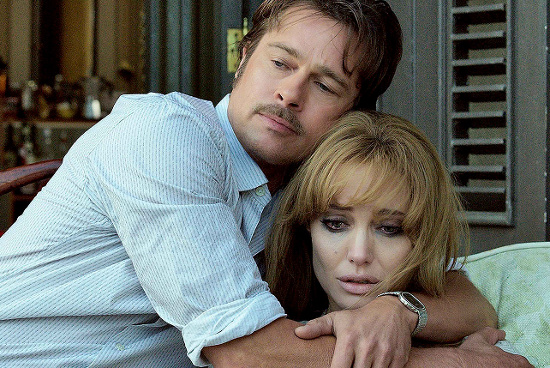 They check into a lavish, villa-style hotel and settle into a glacial, meandering rhythm of Roland trying to overcome a bad case of writer's block and drinking himself into a stupor, while Vanessa sullenly lounges on the balcony. Roland desperately wants to reconnect with his wife and the opportunity presents itself with the arrival of a honeymooning couple named Lea (Melanie Laurent) and Francois (Melvil Poupaud).
ADVERTISEMENT - CONTINUE READING BELOW
It is here where their routine dynamic takes an interesting, voyeuristic turn: Roland and Vanessa discover a small hole in the wall that allows them to spy into the newlyweds' room, prompting their first, real connection in some time. Vanessa vicariously lives through Lea and Francois, with the peephole serving as a bittersweet glimpse at their much-younger and happier selves. On the other hand, Roland no longer feels completely alienated from his wife as they bond over watching the intimacy of the younger couple.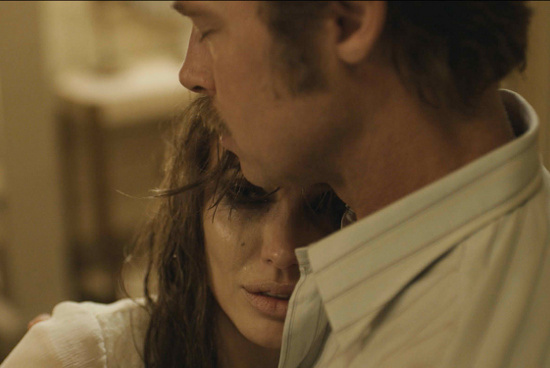 CONTINUE READING BELOW
Recommended Videos
Unfortunately, the film flat-lines into a mundane and repetitive cycle. Too much of the two-hour running time is wasted on long, picturesque shots of the cast and the scenic location, instead of allowing the audience to emotionally invest in the characters' story. It all feels too distant, even in dramatic or tender moments shared between them. Had the script (written by Jolie Pitt) fleshed out their marriage, their marital woes would have been more painful to watch, and the voyeurism plot more intriguing. By the time the script reveals the big reason behind their shared misery, it falls into a sad, cliched trap that feels less cathartic and more disappointing.
ADVERTISEMENT - CONTINUE READING BELOW
Jolie Pitt coaxes a commendable performance out of her husband, who spends half of the film speaking French and bringing some restraint and physicality to his otherwise thinly conceived role. Visually, director of photography Christian Berger drenches the stunning Malta backdrop with natural light, rendering exquisite shades of blue, beige, and ivory. Meanwhile, viewers with an eye for fashion will also love the costume design by Ellen Mirojnik.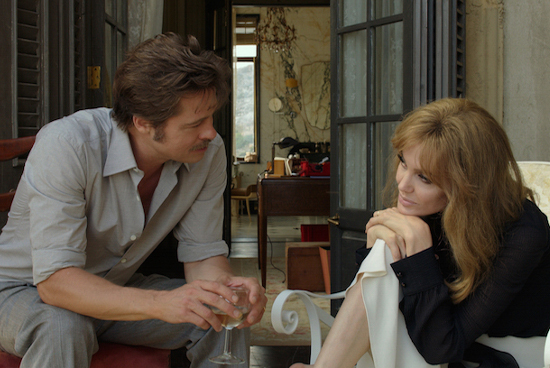 It's easy to dismiss By The Sea as another "vanity project," considering the premise and the level of star power behind it. You can, however, view it as self-aware, reflective film for the Jolie Pitts. Here is one of the most-recognized, high-profile celebrity couples in the world who probably know that people will be watching the movie hoping to find clues into their real-life marriage.
From that perspective, the concept of the peephole suddenly feels more deliberate: the scenes are filmed through the tiny and constrained hole in the wall so we only see as much as Roland and Vanessa do...which is not very much. The peephole is now the movie screen, in how we—as the audience and pop culture enthusiasts—spy on Brad and Angie. We, too, are limited by what the cameras and Brangelina allow us to see and once again, it's not much. That being said, is its concept enough to justify its flat and languid storytelling? Not quite.
ADVERTISEMENT - CONTINUE READING BELOW
RATING: 3 out of 5 spots
By The Sea opens at all Ayala Cinemas November 18. Photos courtesy of United International Pictures.
Share this story with your friends!
---
Help us make Spot.ph better!
Take the short survey
Load More Stories