10 Fresh Tunes to Listen to This December
Tunes to wrap up your 2015 courtesy of Adele, David Bowie, Johnoy Danao, Clara Benin, and more!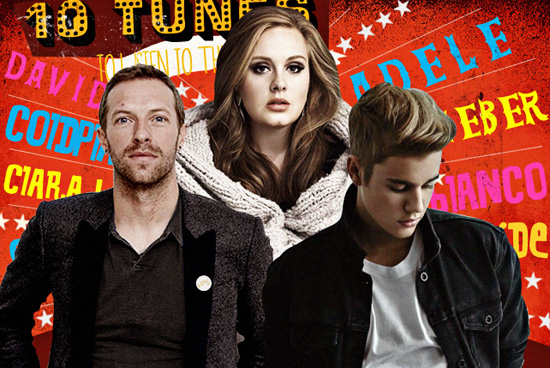 (SPOT.ph) 2015 in music is going out with a bang, what with the superb last-minute releases of some of your favorite artists. If you haven't yet, listen to Adele's nostalgic ballad, David Bowie's delightfully baffling single, Justin Bieber's minimalist heartbreak track, Coldplay's oddly likable dance ditty, and Grimes's sugary electro-pop number. Plus, the latest tracks from your local favorites: Johnoy Danao, Clara Benin, Rico Blanco, Musical O, and Oh, Flamingo!
Song: "When We Were Young"
Artist: Adele
Adele has achieved a lot at such a young age, and it seems to partly stem from her maturity when writing songs—that's aside from her potent vocals, of course. "When We Were Young," co-written with Canadian singer-songwriter Tobias Jesso Jr., is a nostalgic ballad that can make anyone listening look back at their past good times and fallouts.
Fun fact: Nielsen Music reported that 2.4 million copies of her album 25 were sold in its first four days in the U.S., another record set by the British songstress.
Song: "Right Time"
Artist: Johnoy Danao
You can always count on Johnoy Danao to create a heartfelt love song. "Right Time," aside from highlighting Danao's warm and soothing vocals, features a feel-good sound that starts with delicate guitars and then bursts into a lovely marriage of strings and percussion. Those violins are just as dreamy as the words of the song!
Fun fact: "Right Time" was especially written by Danao for TV host and singer Nikki Gil and businessman BJ Albert's wedding.
ADVERTISEMENT - CONTINUE READING BELOW
Song: "Blackstar"
Artist: David Bowie
Iconic artist David Bowie recently released his forthcoming album's title track, a 10-minute avant-garde composition with an enigmatic music video, to boot. The single shifts from an ethereal number with an entrancing drum pattern and accentuating saxophone, to a more relatable bluesy ballad with warped vocals, and ends with a sci-fi cinematic sound. Clearly, nobody but Bowie can pull something like this off.
Fun fact: Blackstar the album is set for release on January 8, 2016.
Song: "Riverchild"
Artist: Clara Benin
Clara Benin is making a name for herself in the local music scene with her incredible talent and knack for songwriting. "Riverchild" is a somber and contemplative track with intricate plucking and delicate vocals. Benin clearly needs no theatrics or gimmicks to draw attention to herself.
CONTINUE READING BELOW
Recommended Videos
Fun fact: Riverchild is also the title of Benin's recently released EP.
Song: "Love Yourself"
Artist: Justin Bieber
The minimalist, guitar-led single is indicative of Bieber's musical maturity. In "Love Yourself," the pop star addresses a no-good lover and sings his pain away. The song, along with other tracks in his new album Purpose, has been converting haters to Beliebers.
Fun fact: "Love Yourself" was co-written by Ed Sheeran.
Song: "Videoke Queen"
Artist: Rico Blanco
Rico Blanco is back with new music, one of which is "Videoke Queen," a single that brings back the musician's old sound. You can easily sing along and enjoy the truly Pinoy rock feel of the song.
ADVERTISEMENT - CONTINUE READING BELOW
Fun fact: Blanco's new album titled Dating Gawi, his first in three years, was released last November 27.
Song: "Adventure of a Lifetime"
Artist: Coldplay
Chris Martin and company are reimagined as dance-loving CGI apes in their new music video for "Adventure of a Lifetime" directed by Mat Whitecross and reminiscent of Stanley Kubrick's 2001: A Space Odyssey. The track features a new sound for the band, as they dabble in disco dance. Love or hate this direction, you can't deny that the ditty is pretty infectious and likable.
Fun fact: "Adventure of a Lifetime" is the first single off Coldplay's new album titled A Head Full Of Dreams, out December 4.
Song: "Lips"
Artist: Musical O
"Not dead but not living" are the words that will stick with you after listening to the latest from Musical O. The indie-rock track is held together by honest lyricism and superb guitar riffs, with melodies shifting like waves.
Fun fact: Musical O is composed of Marco Dinglasan (vocals and guitar), Chino Soliman (bass), Mario Consunji (guitar), Miggy Abesamis (drums), and Rap Soliman (guitar).
Song: "Flesh Without Blood"
Artist: Grimes
The eccentric artist's single "Flesh without Blood," off her new album Art Angels, is a radio-friendly mix of glittery pop and Grimes' signature electronic weirdness. Her whispery vocals are able to keep up with the guitar-powered electro-punk arrangement.
Fun fact: The music video for "Flesh Without Blood" features another piece of new music from Grimes titled "Life in the Vivid Dream."
ADVERTISEMENT - CONTINUE READING BELOW
Song: "Two Feet"
Artist: Oh, Flamingo
Oh, Flamingo is at it again, bringing you an indie-rock track that's so easy to love. The band has been making waves in the local music scene with their fresh and energetic sound. If you haven't heard them yet, "Two Feet" is a good place to start.
Fun fact: Oh, Flamingo recently won the Wanderband 2016 Space Battle and will be playing in the Wanderland Music and Arts Festival in 2016.
Share this story with your friends!
---
Help us make Spot.ph better!
Take the short survey
Load More Stories