MOVIE REVIEW: In the Heart of the Sea
Chris Hemsworth has a whale of a tale to tell in this seafaring epic that inspired the novel Moby-Dick.
(SPOT.ph) To steal a line from the SpongeBob theme song: If nautical nonsense be something you wish, this big-budget seafaring epic In the Heart of the Sea, from Ron Howard (A Beautiful Mind) might be the film for you. Nonsense might be taking it too far, as this high-seas action-adventure (that turns into survival tale) has a great cast, and a capable director at the helm who is no stranger to big adventure films (see: Apollo 13). Its deliberate slow pace and chaotic, almost messy structure (and tough-to-understand accents) detract more than help the story. The meat of this whale of a tale appears late in the second half of its two hour runtime, and saves the film from drowning in its own over-production. However, its eye-popping recreation of the destructive whale is worth going on the adventure, even if it takes a while for the film's ship to go somewhere new and exciting.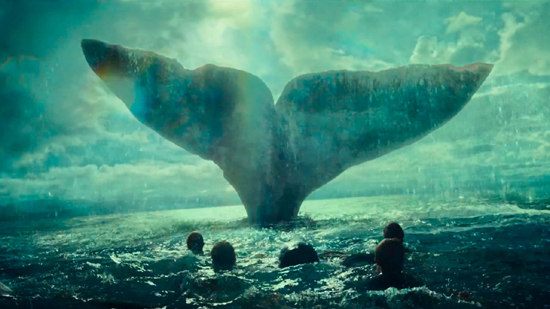 ADVERTISEMENT - CONTINUE READING BELOW
In the Heart of the Sea tells the story that inspired Herman Melville to pen the classic man-versus-whale novel Moby-Dick. The film itself, though, is based on Nathaniel Philbrick's non-fiction book that recounts the tale of The Essex, a doomed ship and its crew. The movie is set in 1820, a time when whaling (the catching and killing of whales for oil and other things) is all the rage in New England. Hardworking whaler Owen Chase (Chris Hemsworth) is promised that he will finally captain his own ship after several successful whaling expeditions, only to become First Mate under Captain George Pollard Jr. (Benjamin Walker), the inexperienced son of a whaling legend who was born into the business rather than for it. It isn't long before the two argue on clichéd topics like leadership, decision-making, and respect. Howard is no stranger to making this familiar encounter engaging—two opposite men who butt heads in close quarters (see: Rush; Frost/Nixon)—so it's odd there's nothing new or enthralling to Chase and Pollard's dynamic.
CONTINUE READING BELOW
Recommended Videos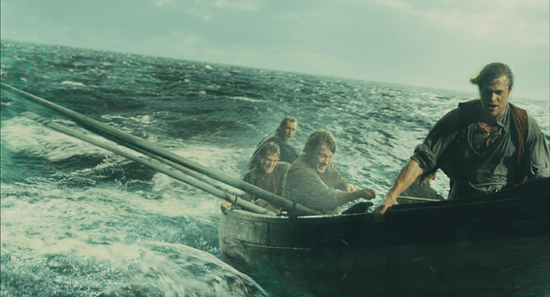 ADVERTISEMENT - CONTINUE READING BELOW
The Essex goes through the things most ships in movies go through—intense storms, fights between crew members—before they go through something really different, chaotic, and intense. The Essex is attacked by a mammoth whale even larger than the ship itself, and the film turns from your typical seafaring adventure into your typical lost-at-sea survival tale (Life of Pi and Unbroken are recent films that come to mind). We then see the awful things this crew has to do to survive.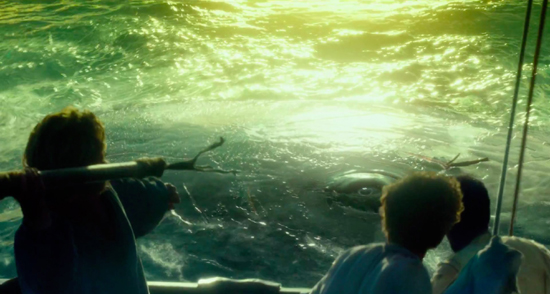 The film intercuts between a young Herman Melville (Ben Whishaw, who delivers a good performance) interviewing one of the survivors of the dreaded events (Brendan Gleeson, who's excellent) and the events on the ship. Even if it sometimes takes away from the excitement and the action, the execution of this old-fashioned storytelling structure is admirable mainly because of Gleeson, Whishaw, and lovely work from Michelle Fairley (better known as Catelyn Stark of Game of Thrones). Hemsworth does solid work as the rough and tough whale whisperer Owen, but it is Cillian Murphy as Second Mate Joy, and future-Spidey Tom Holland as a young version of Gleeson's character who are more interesting that it's a shame the film spends more time with the other cast (Frank Dillane is also one to watch). While good throughout, when Murphy and Holland are given tougher, better, more emotional material, they shine.
ADVERTISEMENT - CONTINUE READING BELOW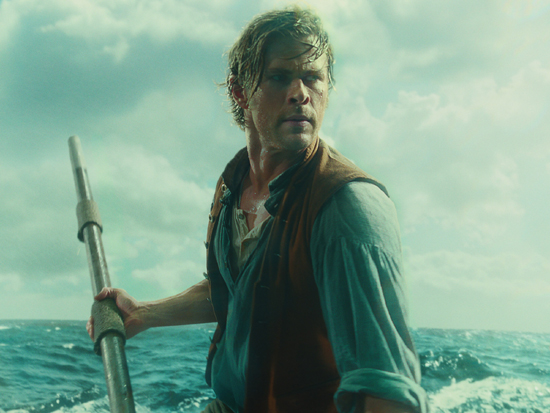 The second half of the film is much stronger as it gets deeper and darker into the heart of this story, and audiences will feel both seasick (in a good way, because in 3D this film will definitely turn your stomach like an Anchors Away ride) and quite satisfied as things come to an end, but the first half really struggles to be original and interesting. Howard and his team put a lot of effort and money into making the film look good (the production design, the whale, and the recreation of 1800s New England is spectacular, though some of the sky-and-sea CGI could use more work) that it forgets to be exciting or make you care for any of the characters. Walker's Captain is irritating from the get-go, Hemsworth's Chase is written to be stoic and humorless, and we don't spend enough time with the rest of the crew for us to care what happens to them. You kind of wonder why this cast would put themselves through week-long shoots soaking wet and insane weight loss.
ADVERTISEMENT - CONTINUE READING BELOW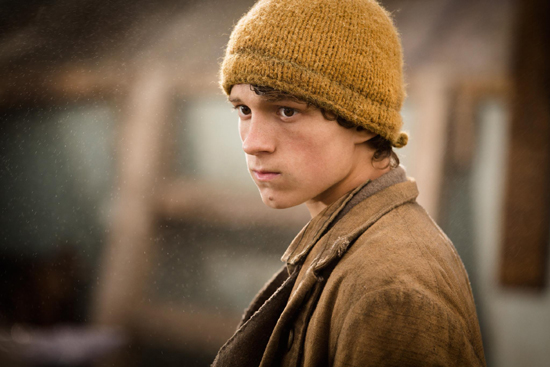 Melville's character in the film says that he's afraid to write Moby-Dick because it might not be as good as it should be, and Ron Howard must have been feeling this way while making the film. While he does some things right (and with cinematographer Anthony Dod Mantle, they pull off some really wonderful shots and cool camera placements), you do wonder if the film is as good as it should be (not quite). When we get to the survival part of the film, it does become more captivating, mainly because the whale and the crew's predicament add a new layer for the characters to discuss and dwell on. Howard and the cast get to swim deeper into their characters and their story, and manage to pull off some gut-punching sequences later on that are just enough to make the film's journey worth it.
RATING: 3 out of 5 spots
ADVERTISEMENT - CONTINUE READING BELOW
In the Heart of the Sea is out in theaters on Thursday, December 3. Photos courtesy of Warner Bros. Pictures.
---
Help us make Spot.ph better!
Take the short survey
Load More Stories