25 Best Local Movies of 2015
From commercial releases to under-the-radar indie gems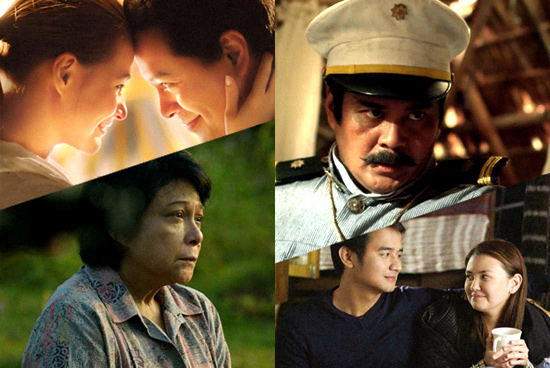 (SPOT.ph) The Pinoy movie landscape, like any other industry, isn't perfect—but there are, of course, notable exceptions. There are films that transport us to another world, capture our imaginations, and stay with viewers long after the credits have rolled.
This year is no exception. We witnessed the steady rise of local film festivals that gave Filipino filmmakers the platform to tell their stories. Romance was also in the air, but there were a handful of films that stood out from the pack, giving us a chance to watch our own love stories (or rather, cinematic versions of it) unfold on the big screen. No matter the genre, these 25 films deserve recognition—whether it's their unique storytelling, powerful acting, or simply, their effortless ability to make audiences laugh and cry.
This list focuses on films released in local cinemas within 2015. As of writing, MMFF 2015 entries have not been released in theaters.
That Thing Called Tadhana
Director: Antoinette Jadaone
Release date: February 2015 (commercial release)
How could we forget the movie that kickstarted the hugot craze? Tadhana told the story of Mace (Angelica Panganiban), a heartbroken girl who meets Anthony (JM de Guzman) at the airport. They quickly form a friendship that sets off an impromptu adventure to Sagada. Along the way, Mace and Anthony's thoughful and relatable musings on love, loss, and moving on spoke to the "feels" of Filipino audiences...even to this day.
Bambanti
Director: Zig Dulay
Release date: March 2015 (Sinag Maynila entry)
Set in the rural province of Isabela, Bambanti takes on the tricky topics of social class and prejudice when the son of a household help is accused of stealing the employer's gold watch. The gripping, tension-filled drama stars Alessandra de Rossi, Shamaine Buencamino, and Julio Diaz.
ADVERTISEMENT - CONTINUE READING BELOW
Imbisibol
Director: Lawrence Fajardo
Release date: March 2015 (Sinag Maynila entry)
In this gritty drama, Allen Dizon, Ces Quesada, and JM de Guzman portray undocumented Filipino workers trying to support themselves as they evade authorities in Japan. This Sinag Maynila entry swept all of the major awards from the festival, including Best Picture, Best Director, Best Actor, and Best Actress. It was also screened at this year's Toronto International Film Festival.
Swap
Director: Remton Siega Zuasola
Release date: March 2015 (Sinag Maynila entry)
A young father is torn between solving a crime and committing another when his only son is kidnapped and the criminals demand him to kidnap another child in exchange. The folks behind the film takes the crime genre to the next level through its filmmaking, shooting the entire movie in a single take. Dionne Monsanto, Mon Confiado, and Matt Daclan star.
CONTINUE READING BELOW
Recommended Videos
You're My Boss
Director: Antoinette Jadaone
Release date: April 2015 (commercial release)
We'll be the first to say that You're My Boss looks and feels like a local rom-com. You've got the quirky meet-cute (in an elevator), two central characters who are sheer opposites (played by Toni Gonzaga and Coco Martin), and a ridiculous situation (Toni plays the boss who ends up pretending to be Coco's assistant). That being said, the film plays these usual elements to its advantage, giving audiences a feel-good romance that knows its target audience, but at the same time, doesn't overdose on the saccharine stuff. It's just a lot of fun...and that's okay, too!
ADVERTISEMENT - CONTINUE READING BELOW
Read more about You're My Boss.
Kid Kulafu
Director: Paul Soriano
Release date: April 2015 (commercial release)
Buboy Villar turns in a memorable performance as the young Manny Pacquiao, who discovers his natural talent for boxing and embarks on a grueling journey from the amateur circuits to the big city. The actor took home the Best Achievement in Acting award at this year's Guam International Film Festival.
The Breakup Playlist
Director: Dan Villegas
Release date: July 2015 (commercial release)
Unlike most romance films, Dan Villegas' take on the genre doesn't begin with boy-meets-girl. Instead, the movie opens with a breakup—a heart-wrenching one, at that. Its non-linear narrative allows devastating emotions to take center stage, punctuated with the easy chemistry of Trixie (Sarah Geronimo), a law student-turned singer, and Gino (Piolo Pascual), a musician who recruits her into his band.
Read more about The Breakup Playlist.
Mula Sa Kung Ano Ang Noon
Director: Lav Diaz
Release date: August 2015 (commercial release)
Lav Diaz's five-hour epic recounts the mysterious events that befall a small and remote village during the era of Ferdinand Marcos. The film won a handful of trophies from the 2015 Gawad Urian Awards, including Best Picture, Best Director, and Best Screenplay. On the international front, it won its fair share of recognition, including the Junior Jury Award, Don Quixote Award, FIPRESCI Prize, and the prestigious Golden Leopard (Best Film) at the 66th Locarno International Film Festival.
Silong
Director: Jeffrey Hidalgo and Roy Sevilla Ho
ADVERTISEMENT - CONTINUE READING BELOW
Release date: August 2015 (Cinemalaya premiere)
The cryptic Silong starts off like a promise of romance between two lost characters: Miguel (Piolo Pascual), a doctor grieving over the death of his wife, and Valerie (Rhian Ramos), a mysterious woman who takes shelter in the former's home after he finds her battered and bruised on the street. It steers away from melodrama, and enters into creepy and thrilling territory—effectively leaving audiences stunned at the plot twist.
Anatomiya ng Pag-Ibig
Director: Multiple directors
Release date: August 2015 (Cinemalaya screening)
Based on the Palanca-winning stage play by Allan Lopez, this 12-act anthology film enlists the help of 13 young filmmakers to portray the tragic love stories of different people. Each filmmaker injects their own personal styles and aesthetic into a series of tales told in different genres.
Above the Clouds
Director: Pepe Diokno
Release date: August 2015 (Cinemalaya premiere)
Written and directed by Pepe Diokno, the family drama revolves around the orphaned Andy (Ruru Madrid), who goes on a hiking trip with his estranged grandfather (Pepe Smith). Together, they embark on an emotional journey as they come to terms with their loss. The film, which earned rave reviews during its screening at this year's Berlin International Film Festival, is an honest portrayal of grief and abandonment. Come in for the picturesque shots of Mt. Pulag, stay for the emotional performances.
Heneral Luna
Director: Jerrold Tarog
Release date: September 2015 (commercial release)
Who could have predicted that this historical biopic that was originally pulled out due to initially poor box-office response could make such an epic cinematic comeback? Social media uproar quickly led to packed cinemas left and right until the film's earnings reached well over their projected breakeven point of P200 million. The film, which revolves around General Antonio Luna (John Arcilla) was met with overwhelmingly positive critical reception, even internationally where it was screened. It was submitted for consideration in the respective Foreign Film categories of both the Golden Globes and the Academy Awards.
ADVERTISEMENT - CONTINUE READING BELOW
Read more about Heneral Luna.
Taklub
Director: Brillante Mendoza
Release date: September 2015 (commercial release)
Brillante Mendoza returns to the silver screen with a gritty ensemble drama that revolves around the intersecting lives of Typhoon Yolanda survivors, including Babeth (Nora Aunor), Renato (Lou Veloso), and Larry (Julio Diaz). Despite vividly portraying the aftermath of the storm, the film largely focuses on the emotional devastation upon the grieving survivors. The film was screened at the Un Certain Regard section of the 68th Cannes Film Festival, where it won the Ecumenical Jury Prize-Special Mention.
Read more about Taklub.
Ex With Benefits
Director: Gino M. Santos
Release date: September 2015 (commercial release)
Don't let the title fool you! While the plot does involve the, ahem, very physical reunion of exes Adam (Derek Ramsay) and Arki (Coleen Garcia), it is less of the "benefits" and more of an insightful exploration of pain and how it drives and motivates individuals. Garcia, in particular, surprises with an emotional depth to her performance that goes beyond her played-up good looks.
Read more about Ex With Benefits.
Apocalypse Child
Director: Mario Cornejo
Release date: October 2015 (QCinema entry)
This intriguing character-driven drama tells the story of a free-spirited surfing instructor named Ford (Sid Lucero), whose birth is shrouded in a local urban legend that he is an illegitimate child of legendary director Francis Ford Coppola (who filmed Apocalypse Now in Baler). His quaint lifestyle is shattered when his former childhood friend and now a hotshot congressman returns, quickly reopening old wounds. The film's powerful cast performances is matched with breathtaking cinematography, earning it multiple awards at the QCinema festival, including the Best Picture and Best Director prizes.
ADVERTISEMENT - CONTINUE READING BELOW
Iisa
Director: Chuck Gutierrez
Release date: October 2015 (QCinema entry)
Director Chuck Gutierrez paints a heartbreaking picture of a conflict-ridden town that is devastated by a typhoon. It is up to a group of rebels to restore and rebuilt a community that has already been torn apart by war and forgotten by the government. The film's stunning visuals is further bolstered by a talented cast that includes Angeli Bayani, Rio Locsin, Mon Confiado, and Jess Mendoza.
Anino sa Likod ng Buwan
Director: Jun Robles Lana
Release date: October 2015 (QCinema screening)
LJ Reyes, Luis Alandy, and Anthony Falcon all turn in compelling performances in Jun Lana's thriller. The film follows the tale of a married couple (Reyes and Falcon) whose unconventional friendship with a soldier (Alandy) escalates into a harrowing series of events that all take place in one night. It's a solid film backed by out-of-the-box filmmaking, as the story unfolds in a single, uninterrupted sequence with smooth camerawork that only heightens the tension between its characters. Since its release, the film has won a number of awards, including the International Critics Prize from FIPRESCI (International Federation of Film Critics).
Matangtubig
Director: Jet Leyco
Release date: October 2015 (QCinema entry)
It's safe to say that this is no ordinary local horror film (think a chilling atmosphere and suspenseful build-up). The discovery of a dead girl's body sends a quaint rural town into an uproar, launching a media spectacle that slowly exposes the town's secrets. Director Jet Leyco makes full use of horror-thriller elements like visually dark lighting and paranoia to instill fear and dread into audiences.
ADVERTISEMENT - CONTINUE READING BELOW
Sleepless
Director: Prime Cruz
Release date: October 2015 (QCinema entry)
This film centers on the off-beat romance between two insomniacs (played by Glaiza de Castro and Dominic Roco), whose conversations take place while the rest of the Metro sleeps. The film dials down on the heavy melodrama Filipino audiences are so used to, and instead, focuses on insightful dialogue that doesn't feel forced nor dragging. Its score by BP Valenzuela is also worth a mention, adding a good dose of emotion and honesty.
Water Lemon
Director: Lemuel Lorca
Release date: October 2015 (QCinema entry)
This earnest and poignant QCinema entry revolves around Filemon (Jun-Jun Quintana) a man who has Asperger's Syndrome, and his frustration towards his local community who refuses to hear out his environmental concerns. Meanwhile, the other folks of their small, coastal town are also colorful characters on their own, all suffering from loneliness and longing to see a world beyond their shores.
Hamog
Director: Ralston Jover
Release date: November 2015 (Cinema One Originals entry)
Hamog is a tale of the marginalized, zeroing in on four street children who also double as petty criminals to survive. Each one has their own story to tell, but the film primarily focuses on Rashid (who purposely rejects a comfortable life to live on the streets) and Jinky (whose encounter with one of their victims kicks off the rest of the film).
A Second Chance
Director: Cathy Garcia-Molina
Release date: November 2015 (commercial release)
ADVERTISEMENT - CONTINUE READING BELOW
Sequels are tricky: It has to appease fans both new and old, stay true to the original, but at the same time, bring something new to the table. A Second Chance, the sequel to Star Cinema's beloved One More Chance, achieves this on all fronts.
The plot primarily takes place eight years after the first film—Popoy (John Lloyd Cruz) and Basha (Bea Alonzo) are now married but as usual, things aren't as smooth-sailing as they had hoped. It's a harsh yet poignant look at the realities of marriage and adulthood (something that will speak to fans who have seen the film when they were much younger). By the way, the film has earned well over P300 million in the local box-office, and doing just as well internationally!
Read more about A Second Chance.
Manang Biring
Director: Carl Papa
Release date: November 2015 (Cinema One Originals entry)
This film swept most of the major awards in this year's Cinema One Originals for a reason. It revolves around a feisty but terminally ill old lady (Erlinda Villalobos) who has learned to accept her fate. One day, she receives a letter from her estranged daughter who promises to visit for Christmas. This leads her to go to great lengths to prolong her life. Its heartfelt portrayal of cancer is notable, but what really blows us away is its filmmaking technique. The movie was shot than painstakingly redrawn frame by frame—a first in our country and will undoubtedly stay with audiences long after the film is over.
ADVERTISEMENT - CONTINUE READING BELOW
Baka Siguro Yata
Director: Joel Ferrer
Release date: November 2015 (Cinema One Originals entry)
This ensemble comedy tells the intertwined love stories of three generations: Carlo (Dino Pastrano) and Melissa (Bangs Garcia), whose one-night stand ends in a pregnancy; Adrian (Ricky Davao) and Remy (Cherie Gil), long-separated parents who rekindle their relationship behind their respective partners' backs; and Myka (Katrina Legaspi) and Jinno (Boo Gabunada) who are trying to decide when to have sex for the first time. It's a charming, on-point comedy that will have viewers smiling and even singing all throughout the film.
Tandem
Director: King Palisoc
Release date: December 2015 (MMFF New Wave entry)
This crime drama has JM de Guzman and Nico Antonio playing brothers and thieving motorcycle tandem bike riders. Family is a strong theme here, coupled with gripping action sequences, a noir filmmaking style, and thrumming music a la Ryan Gosling's Drive (2011). The film has been screened at international film festivals in Vancouver, Montreal, and Cairo. It will make its European premiere in 2016.
Read more about Tandem.
---
Help us make Spot.ph better!
Take the short survey
Load More Stories