MOVIE REVIEW: Creed
Michael B. Jordan and Sylvester Stallone are electric in this excellent Rocky spin-off
(SPOT.ph) It was 1976, and an Italian-American man who talks with a bit of a slur by the name of Sylvester Stallone was taking Hollywood by storm in a film that critics and cinephiles alike would say rewrote and redefined a sports drama film. Rocky would go on to spawn five successful sequels under the Rocky banner, all of which were written by Stallone himself, four of which he directed.
Nine years after the sixth installment (Rocky Balboa in 2006), Stallone doesn't hang up the gloves, he simply passes them on to a pair of up-and-comers—actor Michael B. Jordan and director Ryan Coogler—both of whom train and fight the good fight to deliver an excellent sports drama in its own right. This new film, Creed, a sequel-slash-spin-off, is a terrific addition to the Rocky series, but also a wonderful film that stands above the competition all on its own. Coogler and co-writer Aaron Covington (Stallone hangs up the writing for the first time) try to keep the need to have seen previous Rocky films to a minimum and instead, build on ideas like love (both family and in relationships), struggles of broken families, being in the shadow of your great relative, finding father figures, and other things that many people will find relatable.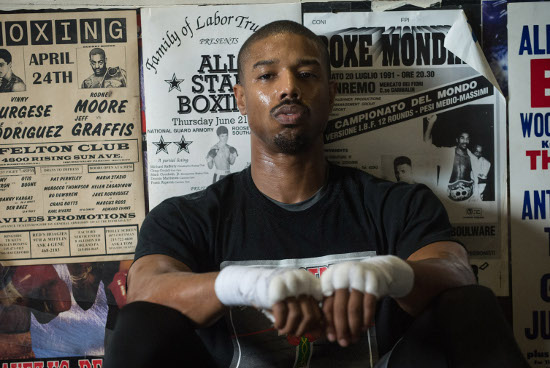 ADVERTISEMENT - CONTINUE READING BELOW
We open Creed at a juvenile detention center where a young Adonis Johnson, a troubled and angry boy who's lost his mother and never met his father, meets Mary Anne Creed (an endearing Phylicia Rashad), the wife of his late father, who takes him in. As the son of one of the most famous boxers to ever fight, Apollo Creed (Rocky's opponent-turned-friend in the first few films), Adonis lives a comfortable life. Unlike most boxing films (including Rocky itself) that rely on the "rags-to-riches" story where fighters come from the street, Adonis—going by Donnie—is rich, lives in a mansion, drives a Mustang, and works at a high-paying job, but he wants to be a professional boxer, no matter the consequences of brain damage, or the fact that (30-year-old spoiler alert!) his father died in the ring.
CONTINUE READING BELOW
Recommended Videos
Self-taught through watching old videos of his father, Donnie spends nights joining Mexico bouts, and sets off to train at his father's gym only to be shunned. Against his step-mom's wishes, he moves to Philadelphia in search of his father's great rival and friend, Rocky Balboa. Once in Philly, Donnie trains at Rocky's old gym, in hopes of drawing Rocky out of his restaurant-owning retirement. While reluctant, Rocky eventually agrees to train Donnie. Cue the training montages of Donnie with Rocky and a few familiar faces by his side.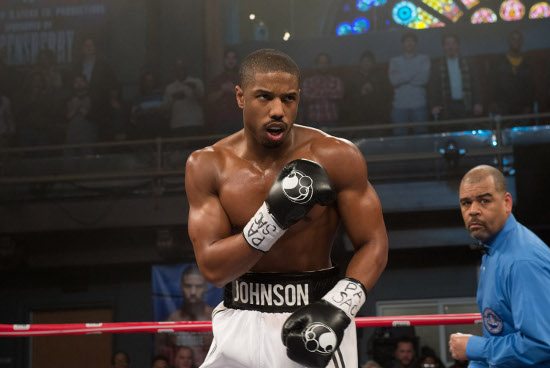 ADVERTISEMENT - CONTINUE READING BELOW
As a sports drama story, you kind of know what to expect. There will be battles, there will be setbacks, there will be personal life drama that threatens to hamper Donnie's growth as a boxer, all leading up to a major fight with the big bad. Had Creed done the lazy thing and followed this, it would have been a mess, but under the watchful of eye of Coogler (who's only previous film is the powerful and heartbreaking Fruitvale Station), it becomes extraordinary. Coogler knows when to take down the schmaltz and larger-than-life of it all, keeping things smart, grounded and sincere, and letting its emotional beats hit the audience right in the gut. It's also always moving, full of buzzing energy.
No frame is wasted as there is always something happening. There is always something for your eye to look at, for your ear to listen to, for your mind to digest. People are talking, music is booming, background actors are always moving in and out of frame, characters are always fiddling with something, the camera is always right in the action, there's a non-stop energy to every single frame, a true testament to the talent of the 29-year-old director to keep the energy high not just for his characters but for the audience.
One of the greatest sequences in cinema this year is an extended single take of one of Creed's first professional fights. It's one entire shot of one fight, including corner talks, round breaks, and every single punch, and it is jaw-dropping and stunning. Coogler treats the fight like a brutal dance, elegantly weaving the camera in, out, between, through and around the two fighters, as well as the spectators, all in one take. Shot by an excellent director of photography in Maryse Alberti, it is the centerpiece of Creed in a film that is full of remarkable direction and cinematography (like the classic Rocky training montages and one with dirtbikes that is another highlight).
ADVERTISEMENT - CONTINUE READING BELOW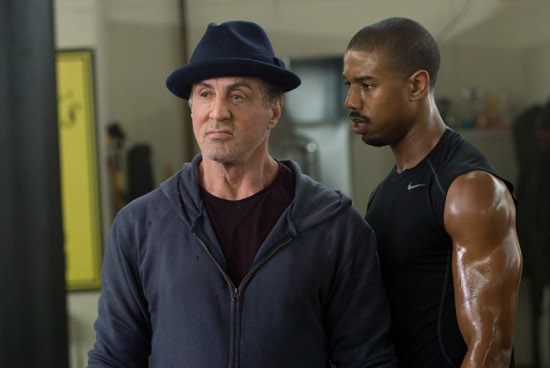 The film feels heartfelt and profound through the way it's shot, but credit also goes to the actors. Electric and engaging, a star is born in Michael B. Jordan as Donnie. While he's done great work before, he is magnetic here: a true superstar on the rise (and shedding away the last bits of that awful Fantastic Four reboot). Stallone is the great surprise. He's always been good in this role, but given material from a different writer, it's like watching a new Sly. He's as compelling than ever and gives a beautiful, touching performance as the aging ex-boxing star. Also terrific is the winsome and captivating Tessa Thompson as Bianca, a musican who enters Donnie's life. If there's anything to nitpick about the film, it's that sometimes the score can be a bit overbearing in the quieter scenes (but sensational during the training montages), and the "big bad" of the film, a British fighter played by professional boxer Tony Bellew is underwritten, but these are small bruises on an otherwise perfect face.
ADVERTISEMENT - CONTINUE READING BELOW
Creed is an exciting piece of explosive cinema. It is genuine and powerful, and absolutely cheer-worthy—the markings of not just a great sports drama, but a great drama in itself. Handled by talented hands not just in its crew but in its cast as well, it climbs new, even higher steps than some of the other sports films and Rocky films before it. This is a fresh take on an old story; it follows along but also bends and twists the mold of a sports genre film without ever forgetting the spirit of what makes them so great.
RATING: 5 out of 5 spots
Creed is now showing in theaters. Photos courtesy of Warner Bros. Pictures.
---
Help us make Spot.ph better!
Take the short survey
Load More Stories