MOVIE REVIEW: Star Wars: The Force Awakens
A formidable franchise entry that is every bit nostalgic as it is daring and new
(SPOT.ph) Sequels are a tricky subject, especially in a franchise-heavy industry where expectations are always raised exponentially higher with every new follow-up. The weight rests especially heavier on the shoulders of director J.J. Abrams, who must wrestle with the daunting responsibility of marrying new and old...and he does. Spectacularly and brilliantly so.
Set 30 years after the events of 1983's Return of the Jedi, a new military organization has risen from the ashes of the defeated Empire in the form of the First Order. Everyone from the Resistance to the First Order is hellbent on finding Luke Skywalker (Mark Hamill), who has gone missing. The Resistance, led by General Leia Organa (Carrie Fischer), sends their most daring X-Wing Fighter pilot, Poe Dameron (Oscar Isaac) and his trusty (and ridiculously adorable) droid, BB-8 to search for him. Along the way, they encounter a rogue Stormtrooper named Finn (John Boyega) and a mysterious scavenger named Rey (Daisy Ridley).
ADVERTISEMENT - CONTINUE READING BELOW
CONTINUE READING BELOW
Recommended Videos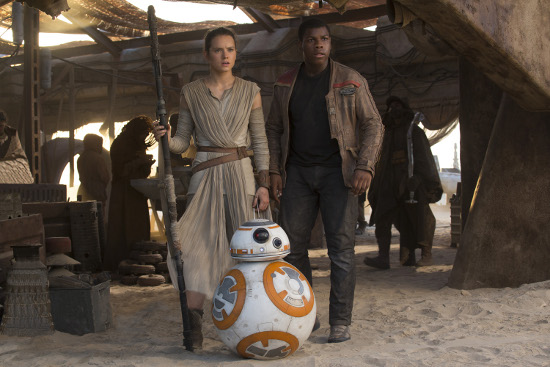 Abrams—who has always understood the delicate balance between comforting nostalgia and taking risks—doesn't disappoint. He takes all the cherished key elements of Star Wars that fans love and reassembles it with such careful and precise thought for its devoted audience. He is aided by veteran writer Lawrence Kadence, who taps into the same exhilarating sense of rebellion into their roster of characters. Together, they effortlessly give all their players equal room to take part in the breathtaking fun.
ADVERTISEMENT - CONTINUE READING BELOW
For instance, the quick back-and-forth banter between Finn and Rey feels both natural and familiar, with British actor Boyega lending just enough humor to elicit laughs between action sequences. Meanwhile, newcomer Ridley handles her first role like a champ, played with the same eager determination of a younger Keira Knightley. Isaac plays Poe Dameron with such charisma and likeability that it's easy to see him as a next-generation Han Solo—brave, loyal, and utterly charming.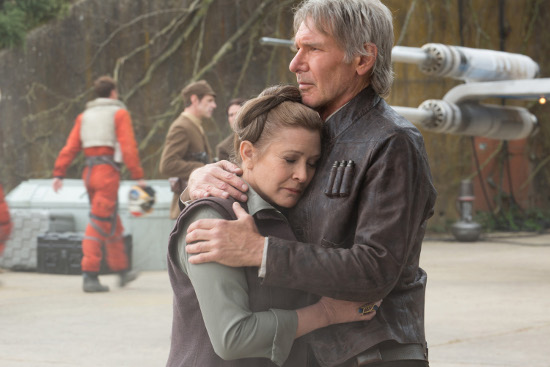 ADVERTISEMENT - CONTINUE READING BELOW
Speaking of Han Solo, nothing will bring on the cheers (and tears) more than Harrison Ford's gruff first lines, "Chewie, we're home." This is where the emotions really kick in, particularly in Han's scenes with Leia, giving the audience a true sense of just how much time has passed. There's a lot of bitterness between them, but there's a glimmer of old love just simmering beneath the weathered surface. Ford is as magnetic as ever, playing his famous role with the same roguish wit, but burdened with history we wouldn't dare reveal.
Amid all the sentimental excitement is a new villain, Kylo Ren (Adam Driver). He's no Darth Vader, but he is however, a worthy and equally interesting heir. There is a sense of adolescence about him, whether it's his gangly posture or his petulant rage, giving viewers the idea that this is a kid who is desperately trying to fit in much-bigger shoes. That, of course, doesn't mean he can't wield the Force just as impressively as the villain before him.
ADVERTISEMENT - CONTINUE READING BELOW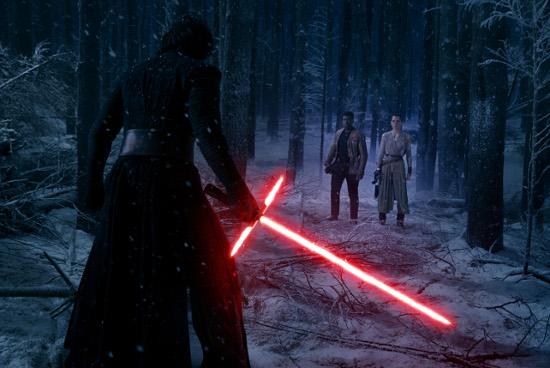 Although the script gets the characters right, its plot may feel a little too thin. The First Order's motivations are rather opaque, and some background stories are less robust than others...but understandably so, considering the film is still laying the groundwork for succeeding movies. In terms of visuals, Abrams renders sleek camerawork into fast-paced yet visceral action sequences, whether its a nerve-wracking lightsaber battle in the middle of a snowy terrain, or a soaring X-Wing Fighter sequence punctuated with one explosion after another. Still, the film doesn't feel CGI-heavy (thanks to production design by Rick Carter and Darren Gilford), visually taking audiences from the parched desert of Jakku to the vividly green forest of Yavin.
ADVERTISEMENT - CONTINUE READING BELOW
The Force Awakens carves out a formidable space in a franchise that has been asleep for decades, brimming with the same energy and potential that resonated with audiences 30 years ago. This is a wonderfully diverse Star Wars for a new generation, a rousing return to a universe you hadn't realized you had missed so much.
RATING: 5 out of 5 spots
Star Wars: The Force Awakens opens in theaters on Thursday, December 17. Photos courtesy of Walt Disney Studios.
Load More Stories