10 Scariest Christmas Movies
'Tis the season for...horror?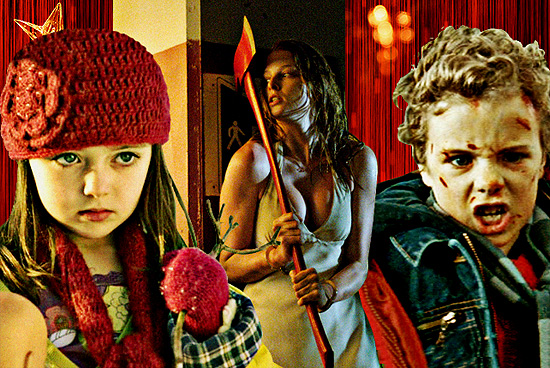 (SPOT.ph) We often associate the holiday season with lighthearted cheer and festive celebrations, and leave the grisly horror flicks for Halloween. If you want to switch up your Christmas movie marathon this year and go for something a little more macabre, these 10 movies should be right up your alley. Don't forget the holiday-themed snacks!
Gremlins (1984)
Director: Joe Dante
This 1984 film is a cross between a comedy, a horror, and a Christmas film, and pokes fun at the commercialism behind the holiday season. A struggling inventor visits an antique shop in Chinatown to buy a Christmas present for his son. He ends up buying a creature called a mogwai, despite being told to never expose him to bright light, water, or to feed him after midnight. His son inadvertly breaks the rules and unleashes a horde of malevolent monsters onto their small town.
Black Christmas (1974)
Director: Bob Clark
If you're up for a slasher movie, Black Christmas should do the trick—in fact, the '70s film kickstarted the classic horror trope of "mysterious phone calls inside the house" a la Scream or When a Stranger Calls. In the film, a group of sorority sisters begin to receive a series of anonymous phone calls that quickly go from lascivious to threatening. Things escalate further when one of the girls disappear from the house and a murderous onslaught begins.
Silent Night, Deadly Night (1984)
Director: Charles Sellier
This film is widely credited for starting the killer Santa craze that followed its release, spawning five punny sequels and a remake in 2006. As a young boy, Andy witnesses the brutal murders of his parents and spends his childhood in an abusive orphanage. When he grows up, he channels his pent-up rage into a Santa costume, and decides to kill anyone whom he deems naughty—which is, well, everyone.
ADVERTISEMENT - CONTINUE READING BELOW
P2 (2007)
Director: Franck Khalfoun
This movie is enough to convince anyone not to work overtime, especially during the holidays. Angela (Rachel Nichols) just happens to be working late on Christmas Eve, but finds herself stuck in the parking garage after her car refuses to start. A psychopathic security guard (Wes Bentley) offers help...with terrifying consequences.
Christmas Evil (1980)
Director: Lewis Jackson
This movie is all sorts of campy, but that doesn't make it any less horrific. This time, the killer is born after a young child witnesses his mom having way more than just a kiss from Santa and later, leads to his strange obsession with the holiday. He's calculated, too: He writes up an annual list of who's been naughty during the year so by the time Christmas rolls around, he's ready to go on a killing spree.
CONTINUE READING BELOW
Recommended Videos
Dead End (2003)
Directed by: Jean-Baptiste Andrea and Fabrice Canepa
A bickering family on a drive to a Christmas Eve gathering decides to takes a shortcut down a wooded road, kickstarting a series of eerie events. After nearly colliding with an oncoming car, they pick up a ghostly hitchhiker and her infant child, leading to plenty of frights within the confines of their car and a darkly lit highway.
The Children (2008)
Director: Tom Shankland
We have plenty of horror movies dedicated to scary kids, and even the holiday season isn't spared from the tradition. The film zeroes on the winter vacation of two families in an upscale English estate. When they arrive, the children fall sick one by one and begin to exhibit strange (and murderous) behavior.
ADVERTISEMENT - CONTINUE READING BELOW
The Mothman Prophecies (2002)
Director: Mark Pellington
It's not exactly Christmas-themed, but the bizarre events in the film take place during Christmas Eve. Based on true events, it revolves around a reporter (Richard Gere) who investigates the mysterious circumstances surrounding his wife's death and eventually, how they might be connected to the creepy happenings in a town in Virginia.
Psycho (1960)
Directed by: Alfred Hitchcock
Like the aforementioned film, the bone-chilling events in Alfred Hitchcock's horror masterpiece take place during the holiday season but there are no direct references to Christmas. A secretary named Marion Crane (Janet Leigh) is on the run after she steals from her boss. Along the way, she makes a pitstop at the Bates Motel where she meets the highstrung Norman Bates (Anthony Perkins), who has a very complicated relationship with his mother.
The Shining (1980)
Directed by: Stanley Kubrick
Next to Psycho, nothing will likely scare you more in this list than Stanley Kubrick's chilling take on Stephen King's psychological horror. Despite all the warnings, Jack Torrance (Jack Nicholson) takes the job of being the winter caretaker for an isolated hotel in the hopes of curing his writer's block. He settles in with his wife, Wendy (Shelley Duvall) and his son, Danny (Danny Lloyd), with the latter being plagued by terrifying premonitions. As Danny's visions become more disturbing, Jack begins to unravel into madness.
---
Help us make Spot.ph better!
Take the short survey
Load More Stories