10 Must-Watch Sitcoms to Marathon This Holiday Season
Kill time between reunions and LOL with these hilarious TV picks.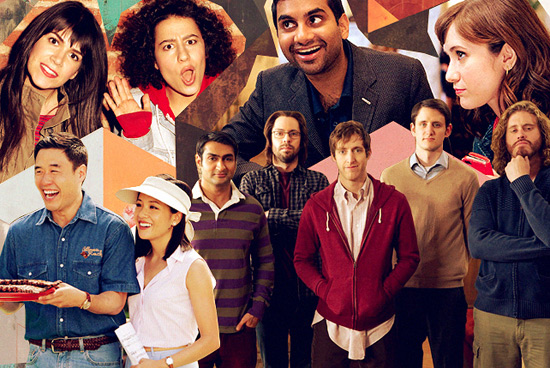 (SPOT.ph) It's the holiday season which means it's the perfect time to catch up on all the TV you've missed during the year. Whether you only have a handful of hours to kill or a lot of time on your hands, cozy up with these 10 TV shows. Best of all, they're all sitcoms so you can keep binge-watching without being exhausted of all the drama, and at the same time, keep that cheery Christmas spirit alive.
This list only considers currently airing comedy shows with three seasons and below.
Also read:
10 Snacks That are Perfect for Movie Marathons
10 Great Movies to Marathon Over the Long Weekend
10 TV Series You Can Marathon this Long Weekend
Master of None
Estimated time to kill: 5 hours
If you only have a couple of hours to spare, Master of None is your best bet. Created by and starring Parks and Recreation alum, Aziz Anzari, the show revolves around a 30-year-old struggling actor and second-generation Indian immigrant in the U.S. It might sound like a familiar (or tired) premise, but the show's honest and off-beat take on everyday topics like food, family, and long-distance relationships is both refreshing and addictive. If you needed any more convincing, its first season currently holds a rating of 100% on Rotten Tomatoes.
Unbreakable Kimmy Schmidt
Estimated time to kill: 5 hours and 30 minutes
You can always trust creator Tina Fey to come up with a roster of colorful and immensely likeable characters that will keep you laughing for hours. The series follows Kimmy Schmidt (Ellie Kemper), a woman who must adjust to life in New York City after being trapped in a doomsday cult for 15 years. Armed with an upbeat attitude (and a lot of confusion), she befriends a hilarious struggling actor named Titus (Tituss Burgess) and takes a job as a nanny for an out-of-touch socialite named Jacqueline Voorhees (Jane Krakowski). The critically acclaimed show was recently nominated for seven Primetime Emmy Awards, including Outstanding Comedy Series.
ADVERTISEMENT - CONTINUE READING BELOW
Crazy Ex-Girlfriend
Estimated time to kill: 5 hours and 45 minutes
Rebecca Bunch (Rachel Bloom) is a single woman who is still madly in love with her ex, Josh, whom she briefly dated 10 years ago. After a chance meeting with him, she impulsively decides to leave her successful life in New York and move to California on a crazy quest for love. Its premise might sound like typical rom-com material, but the charming show was met with positive reviews from critics, particularly for the lively, original musical numbers that are performed twice or thrice in every episode.
CONTINUE READING BELOW
Recommended Videos
Broad City
Estimated time to kill: 7 hours and 20 minutes
If raunchy comedies are your thing, Broad City's brand of humor is the way to go. It revolves around two slackers-slash-best friends (Ilana Glazer and Abbi Jacobson) and pokes fun at their carefree misadventures as millenials in New York City. The show, which originally began as a web series, also has Amy Poehler as one of its executive producers.
Fresh Off the Boat
Estimated time to kill: 8 hours
Loosely inspired by the life of chef and food personality Eddie Huang, Fresh Off the Boat stars an Asian-American family (led by Randall Park and Constance Wu) adjusting to life in the U.S. Louis (Park) happily embraces the American dream, while one of their sons, Eddie (Hudson Yang) struggles to fit in at school. Meanwhile, you'll likely see your mom in Jessica (Wu), who constantly experiences a clash between her Chinese culture and the American community.
ADVERTISEMENT - CONTINUE READING BELOW
Silicon Valley
Estimated time to kill: 8 hours and 40 minutes
This HBO comedy series pokes fun at the high-tech world of California's Silicon Valley. Its premise mainly follows Richard Hendricks (Thomas Middleditch), an introverted but brilliant programmer who develops a powerful data compression algorithm. Soon, he and his group of brainy and colorful friends find themselves in the middle of a bidding war between a wealthy venture capitalist and his boss (who runs a massive tech company a la Google and offers him an eight-figure buyout). Since its debut in 2014, the show has bagged multiple and consecutive nominations from the Critics' Choice Awards, the Golden Globes, and the Primetime Emmy Awards.
You're the Worst
Estimated time to kill: 10 hours
If you're a fan of dark comedies like It's Always Sunny in Philadelphia, you're going to enjoy this series from FX. Its plot centers on two toxic people—Jimmy, a self-involved writer and Gretchen, a self-destructive PR executive—who fall in love and embark on a relationship. Don't worry about the show's realistic (and rather pessimistic tone): it balances all the serious stuff with copious amounts of comedy and chemistry between its two leads, Chris Geere and Aya Cash.
BoJack Horseman
Estimated time to kill: 10 hours and 50 minutes
This eccentric, animated sitcom stars Will Arnett as the titular character, a washed-up TV actor from the '90s whose star has long faded. The story kicks off when he plans his big Hollywood comeback with a tell-all autobiography. The wacky and sharply clever satire on American pop culture also stars the voice talents of Amy Sedaris, Alison Brie, and Aaron Paul. You'll also see (or rather, hear) some notable celebrity guest appearances, including Stanley Tucci, Olivia Wilde, Lisa Kudrow, and Daniel Radcliffe.
ADVERTISEMENT - CONTINUE READING BELOW
Brooklyn Nine-Nine
Estimated time to kill: 20 hours and 9 minutes
This sitcom is a refreshing spin on the usual cop show format, centering on Jake Peralta (Andy Samberg), a talented but immature New York detective and the hilarious misadventures of the rest of the members of the 99th Precinct. In 2014, the series took home the Best Actor and Best Television Series for Comedy awards at the Golden Globes. It was also nominated for a number of other awards in the Critics' Choice, Screen Actors Guild Awards, and the Primetime Emmys.
Jane the Virgin
Estimated time to kill: 21 hours
This rom-com series stars newcomer Gina Rodriguez as Jane, a Latina woman whose vow to save her virginity until marriage is shattered when she is artificially inseminated by mistake. To make matters worse, the biological father is a married man who is not only the new owner of the hotel where Jane works, but also her former teenage crush. The show won Rodriguez a Best Actress award at the 2014 Golden Globes, as well as recognition from the American Film Institute and the George Foster Peabody Awards.
Also read:
10 Snacks That are Perfect for Movie Marathons
10 Great Movies to Marathon Over the Long Weekend
10 TV Series You Can Marathon this Long Weekend
---
Help us make Spot.ph better!
Take the short survey
Load More Stories