10 Christmas Songs for the Sawi
...that aren't Christmas songs.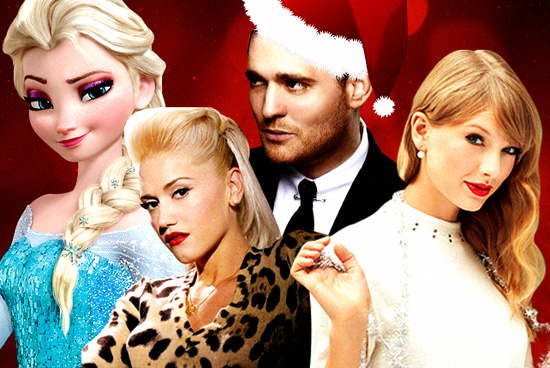 (SPOT.ph) Hello there, SMPs! Feeling cold today? We may not have snow here, but being single and sad this Christmas is more than enough to make us shiver. If you're tired of the holiday tunes and just want that release through music, here are 10 non-Christmas songs you can listen to for when you just want to cover yourself with a blanket, sip some tea, and sulk in your internal, endless winter.
Also read:
10 Songs for Your Almost-Boyfriend...or Girlfriend
10 Sad Christmas Songs For Every Heartbroken Soul
#SingleBells: 10 Bitter Lines From Ampalaya Monologues
Song: "Back to December"
Artist: Taylor Swift
Hugot lyrics: "It turns out freedom ain't nothing but missing you, wishing I'd realized what I had when you were mine. I'd go back to December, turn around and change my own mind. I go back to December all the time."
Taylor Swift does it again—writes the kind of lyrics that lingers around your thoughts more than the song itself. It's a regretful song that is melancholic in a very Swift-y way. If, unlike most of the girls that are bitter over their ex-lovers, you blame yourself for your own heartbreak, this is your Christmas song.
Song: "Cool"
Artist: Gwen Stefani
Hugot lyrics: "And I'll be happy for you if you can be happy for me. Circles and triangles, and now we're hangin' out with your new girlfriend. So far from where we've been, I know we're cool."
We're not really sure what Gwen was thinking. But yeah, if you belong to the .0001% of the entire human race who can handle being friends with their exes—and their exes' current lovers, we salute you! We're sure this is your jam. Gwen is right: "It's such a miracle that you and I are still good friends." How...cool.
ADVERTISEMENT - CONTINUE READING BELOW
Song: "River"
Artist: Joni Mitchell
Hugot lyrics: "I'm so hard to handle. I'm selfish and I'm sad. Now I've gone and lost the best baby that I've ever had. Oh, I wish I had a river I could skate away on."
For many of us, Christmas is the most festive time of the year. But Joni Mitchell just wants to be anywhere else than in the middle of a celebration in this song. Listen to the Canadian songwriter as she sings about losing the love of her life and wishing she could teach herself to leave.
Song: "Frozen"
Artist: Madonna
Hugot lyrics: "You're frozen when your heart's not open. If I could melt your heart, we'd never be apart. Give yourself to me, you hold the key."
CONTINUE READING BELOW
Recommended Videos
The lyrics of "Frozen" is uncomplicated but its statement is grand. Its bewitching melody and cinematic arrangement really evokes a deep freeze—which is basically what you need to listen to if your lover's heart is as cold as Madonna says it is.
Song: "I Miss You"
Artist: Blink-182
Hugot lyrics: "We can live like Jack and Sally if we want. Where you can always find me and we'll have Halloween on Christmas. And in the night we'll wish this never ends, we'll wish this never ends."
This somber track was reportedly inspired by The Cure's "The Lovecats." We still can't put our hands on whether the song is about a failed relationship or death. Still, you can count on Blink-182 to haunt you by celebrating "holiday on Christmas," which is a reference to Tim Burton's The Nightmare Before Christmas.
ADVERTISEMENT - CONTINUE READING BELOW
Song: "A Long December"
Artist: Counting Crows
Hugot lyrics: "A long December and there's reason to believe. Maybe this year will be better than the last. I can't remember the last thing that you said as you were leaving. Now the days go by so fast."
December feels like the fastest month when you feel festive the entire time. It's a different story when you're battling your own demons. Lament with Adam Duritz if you feel like the last month of the year is dragging. Can't it just be January already? Oh wait…there's still February.
Song: "Sweater Weather"
Artist: The Neighbourhood
Hugot lyrics: "'Cause it's too cold for you here and now. So let me hold both your hands in the holes of my sweater."
This is for those who are not really sad and torn, but are single and abangers. The song title is also probably one of the most overused Instagram captions during chilly weather. Don't just listen to this song, people need to return the art of jacket-lending!
Song: "Winter Song"
Artist: Sara Bareilles and Ingrid Michaelson
Hugot lyrics: "This is my winter song. December never felt so wrong 'cause you're not where you belong: inside my arms."
At those extreme moments when hushed, weepy desperation takes over you, listen to "Winter Song" to keep yourself sane. It will, because you're not the only one asking, "Is love alive?" Excuse us as we put on a hoodie and eat our feelings with a box of pizza…
Song: "Let It Go"
Artist: Idina Menzel
Hugot lyrics: "Here I stand in the light of day. Let the storm rage on. The cold never bothered me anyway!"
ADVERTISEMENT - CONTINUE READING BELOW
This song isn't really about love for another, but more for one's self. If you want a little push, play Elsa's famous song and convince yourself that the cold doesn't really bother you. So go ahead, let go of your hugot and let your inner queen stand tall!
Song: "Four Seasons of Loneliness"
Artist: Boyz II Men
Hugot lyrics: "In comes the winter breeze that chills the air and drifts the snow. And I imagine kissing you under the mistletoe."
This Boyz II Men song covers all seasons, so it's always in any breakup playlist. But in the spirit of the tropical seasons in the Philippines, these guys will still make you want to curl up into a ball and question all the decisions you've made. Where could she be today? Who is she fooling now?
Also read:
10 Songs for Your Almost-Boyfriend...or Girlfriend
10 Sad Christmas Songs For Every Heartbroken Soul
#SingleBells: 10 Bitter Lines From Ampalaya Monologues
Art by Warren Espejo
---
Help us make Spot.ph better!
Take the short survey
Load More Stories