Top 10 Movie Musicals That Deserve a Re-Watch
Movie musicals that will (still) make you want to burst into song and dance down the streets!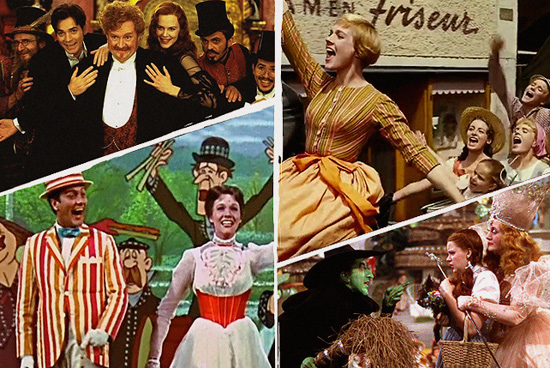 (SPOT.ph) Before flash mobs were even a thing, movie musicals already had hundreds of people dancing together out of nowhere. People burst into song, and expertly perform a choreographed routine with strangers, and it's what makes these kinds of movies stand out. A movie musical is one of the biggest and most fun movie going experiences an audience can have, and if the musical is terrific and has great songs, people will be tapping and singing along as they head home.
This list does not include animated films.
Also read: 10 Plays and Musicals We Want to See in Manila
10. Les Misérables (2012)
Directed by: Tom Hooper
If you're looking for epic movie musicals, look no further than the film adaptation of the dramatic and emotional stage sensation, Les Misérables. The grand film version boasts an A-list cast that includes Hugh Jackman, Russell Crowe, Eddie Redmayne, Helena Bonham Carter, and Anne Hathaway, who won an Oscar for her role as the down-on-her-luck Fantine. The singing is non-stop, the drama gets higher and higher, and the recognizable songs take on new life with Hooper's unusual directing. It's not the happiest of musicals, but it's one of the most well-known, and one of the most endearing.
ADVERTISEMENT - CONTINUE READING BELOW
We're big fans of the film already, but we're more excited to see the play when it finally arrives on the Manila stage in March.
9. I Do Bidoo Bidoo: Heto nAPO Sila! (2012)
Directed by: Chris Martinez
In the vein of Mamma Mia! (which was one of the inspirations for the film), I Do Bidoo Bidoo uses songs from one of OPM's most famous musical groups, the APO Hiking Society. The film itself is a romantic-comedy film about several couples, including ones played by Eugene Domingo and Ogie Alcasid, and Gary V. and Zsa Zsa Padilla, and APO songs like "Panalangin" are used very well throughout the film to tell their stories. It's Filipino-at-heart through and through, and your hearts will be full and singing loudly after hearing some of the country's brightest original music.
CONTINUE READING BELOW
Recommended Videos
8. Grease (1978)
Directed by: Randal Kleiser
When you think about a romantic couple in movie musicals, Sandy Olsson and Danny Zuko come to mind before any other. With catchy songs, a story about young love, and some "electrifying" musical numbers, Grease is the rebellious teen musical that's bound to make you smile. While based on a Broadway show, the film introduced some its more memorable songs, including "Greased Lightning," and chart-topping hits "Hopelessly Devoted to You," and "You're the One That I Want," all of which are now included in most stage productions. This is a musical that will have you singing away those summer nights.
ADVERTISEMENT - CONTINUE READING BELOW
7. Moulin Rouge! (2001)
Directed by: Baz Luhrmann
Musicals came roaring back to theaters in a big, bold way with Baz Luhrmann's spectacular and gorgeous Moulin Rouge!. The film uses remixed pop and rock songs like "Smells Like Teen Spirit" and "Like a Virgin," and has an eye-popping visual style, and these made it stand out from any musicals that came before it. It's loud, sexy, heartbreaking, and funny, commanding the viewer to look at it and listen to it. While it does have its sadder parts, the film celebrates love, music, and performance in the biggest ways possible. Why wouldn't you want to dance around a giant elephant atop a brightly lit Paris singing love songs?
6. Elvis and James (1989)
Directed by: Tony Y. Reyes
The Philippines doesn't have the longest of histories when it comes to movie musicals as they are few and far between. But in 1989, a rollicking musical satire came to theaters in the form of Elvis and James. Parodying American musicals as well as high school comedies, Elvis and James mixed slapstick humor with witty songs (using Elvis Presley music but with original, hilarious Tagalog lyrics), and real heart. There are few Filipino musical comedies out there, but here is one that will make you stand and applaud—and dance.
ADVERTISEMENT - CONTINUE READING BELOW
5. Singin' in the Rain (1952)
Directed by: Gene Kelly and Stanley Donen
Gene Kelly is the quintessential movie musical star of the '40s and '50s, but perhaps his most memorable movie moment comes from an exuberant dance sequence in the rain in a film that he himself directed. Playing a silent film star moving into sound film, it's a wonderful meta piece on Hollywood as well as a joyous musical that celebrates it. The songs are actually from earlier musicals made by the same studio (MGM), but Singin' in the Rain made the likes of the title song and "Make 'Em Laugh" their own.
4. Mary Poppins (1964)
Directed by: Robert Stevenson
The film world introduced Julie Andrews to audiences in the best way possible—through a colorful and exciting Disney movie musical about a nanny, Mary Poppins. Together with Dick Van Dyke, another important name in movie musicals, Andrews soared like a kite in the film, with her cheeky personality and incredible singing voice. Each time you see the film, it's hard not to sing along to Sherman Brothers' songs like "A Spoonful of Sugar" or trying to say "Supercalifragilisticexpialidocious" backwards.
ADVERTISEMENT - CONTINUE READING BELOW
3. The Sound of Music (1965)
Directed by: Robert Wise
Julie Andrews was not finished conquering the musical world just yet, as one year after her debut in Mary Poppins, she starred as the nun-turned-governess Maria in the film adaptation of the Rodgers & Hammerstein Broadway musical,The Sound of Music. One of the most recognizable movie musicals in film history, The Sound of Music is about the Von Trapp family and how Maria transforms their lives right around World War II. It may not be the most historically accurate, or even that fun when you think about the Nazis, but the Von Trapps and Maria sure now how to sing! Songs from the production have become classics: "My Favorite Things," "Edelweiss," "Sixteen Going on Seventeen," "Do-Re-Mi," and of course the titular song. The hills are most definitely alive in this film.
2. The Wizard of Oz (1939)
Directed by: Victor Fleming
A film about a land called Oz changed the game for cinema in the Golden Age of Hollywood musicals. With the use of the brightest of Technicolor, as well as the most extravagant of costumes and sets, The Wizard of Oz was a visual feast for moviegoers in 1939. Lucky for them, the music was wonderful as well, and even today, the film stands as one of the best musical films ever made. Audiences will want to skip down the yellow brick road with Dorothy and the gang, and then sing "Over the Rainbow" on their way home.
ADVERTISEMENT - CONTINUE READING BELOW
1. Chicago (2002)
Directed by: Rob Marshall
It took 34 years after Oliver! for a movie musical to win the Best Picture Oscar once again, and it was Rob Marshall's crime-dramedy musical film Chicago that did it. The film is about two murderesses spending jail time together, while trying to become famous in the Chicago jazz scene as well. Known for jaw-dropping vaudeville-style production numbers like "Cell Block Tango" and "Razzle Dazzle," Chicago is the definition of a modern movie musical, and stands as one of the best in the genre. It deserves to be seen multiple times, and why wouldn't you want to revisit this sultry, exciting, blood-red world again? Jazz hands, everybody!
Share this story with your friends!
---
Help us make Spot.ph better!
Take the short survey
Load More Stories