MOVIE REVIEW: Honor Thy Father
A gripping commentary on faith, family, and the lengths one must go to appease both.
(SPOT.ph) In a country where the lack of belief in a higher power is almost unthinkable, Honor Thy Father dares to be different. It steers clear of preaching values and promising happy endings and instead, unabashedly strips humanity down to its raw, primal core.
At the center of this bleak, sobering tale of survival is Edgar (John Lloyd Cruz). He is a man of few words, silently standing by with an incredulous look on his face as his wife, Kaye (Meryll Soriano), sings praises to the Church of Yeshua. He mostly takes the backseat as Kaye promotes her father's convoluted investment scheme to their friends and fellow churchgoers. But the comfortable world they've painstakingly built quickly unravels when her father turns up dead and the money disappears. As the swindled investors violently go after the couple, Edgar must do whatever it takes to protect his family.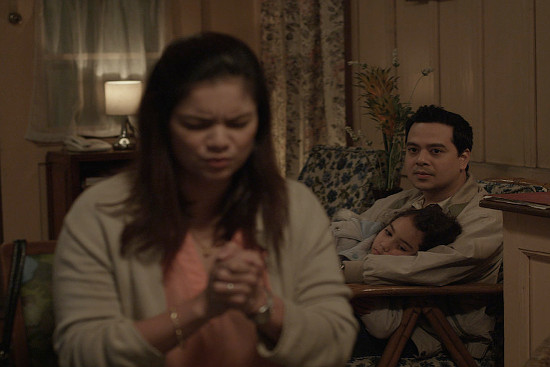 Its relatively simple premise is backed by a roster of compelling performances. This is a Cruz we have never seen before, portraying a weary, mild-mannered family man who endures hell to transform into a dangerous man backed into a corner and clawing his way out. Cruz plays his role with remarkable subtlety, letting a clenched jaw, a slight furrow between his brows or sheer panic in his eyes speak volumes. And when he finally realizes the lines he must cross, he injects a raw physicality into Edgar, constantly on edge and on the verge of exploding.
ADVERTISEMENT - CONTINUE READING BELOW
Meanwhile, Tirso Cruz III is absolutely infuriating to watch—and that's the point. As the minister of the church, he chants and preaches his way into the hearts (and more importantly, the pockets) of his followers. Honor Thy Father admirably skewers organized religion and the ridiculous hypocrisy that surrounds it, unafraid to portray churchgoers as blind and cultish, ministry leaders as greedy, money-hungry men, and faith as a worthless bastion we so desperately cling to in times of need. It's through Edgar's eyes that we realize that ultimately, it's not faith that drives us to find solutions. It's family. It's the base desire to protect those that matter most to us.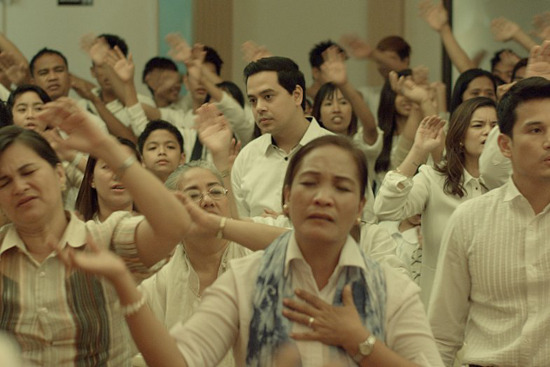 The film is further bolstered by truly stellar work from director Erik Matti. For instance, in one scene, he deftly uses the camera to repeatedly change focus between Soriano and Cruz to subtly highlight their contrasting views on their get-rich scheme. He employs unique camera angles to signal the transformation of Edgar. He zeroes in on Cruz's crazed and panicked eyes to elicit the same panic in audiences. His lighting switches from a dull, monotonous color palette to a stark white during church scenes. It's all very technical, but it heightens the unfolding tension, as well as the various dynamics between characters.
CONTINUE READING BELOW
Recommended Videos
The script by Michiko Yamamoto echoes the same themes of family, materialism, and religion through dialogue. And while it succeeds on those fronts, it doesn't quite make the same impact when Edgar's backstory is revealed. There's a little hint here and there, and while it could have made scenes between him and his estranged family more compelling, his character history is dropped in favor of long-winded tunneling sequences. There was simply no time to build on characters and instead, we are launched directly into the escalating suspense.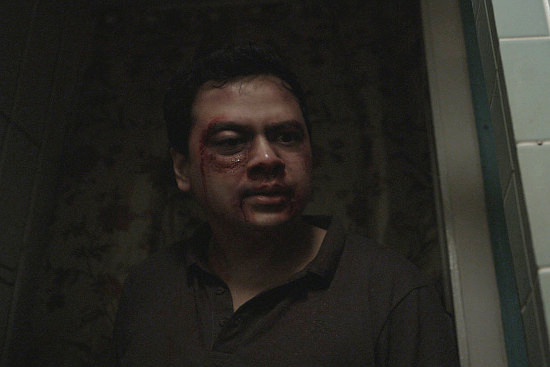 The beauty in Honor Thy Father is that it doesn't offer a neat resolution, as we so often expect in Filipino cinema. As emotionally wrenching as it gets, its unflinching portrayal of morality leaves you feeling hollow, much like the "Yeshua will provide" mantra that resounds throughout the film. More than that, it's a powerful drama that leaves room to ponder beyond the end credits. In this day and age, that, most of all, is a necessity.
ADVERTISEMENT - CONTINUE READING BELOW
RATING: 4 out of 5 spots
Honor Thy Father is currently in showing in theaters as part of the 2015 Metro Manila Film Festival.
Share this story with your friends!
---
Help us make Spot.ph better!
Take the short survey
Load More Stories