MOVIE REVIEW: The Big Short is a daring, whip-smart comedy that skewers capitalism and Wall Street
Brad Pitt, Ryan Gosling, Christian Bale, and Steve Carell, plus surprise celebrity cameos? Yes, please.
(SPOT.ph) The 2008 global collapse of the economy is, admittedly, difficult to understand—much less explain to an audience who are likely to zone out at the first mention of "housing loans" and "credit default swaps." And yet, The Big Short manages to do just that, with the help of a daring narrative, energetic performances from an all-star cast, and a frenetic script that is both whip-smart and engagingly funny. But be warned, this is no Wolf of Wall Street.
Based on the 2008 book by Michael Lewis, the film revolves around a handful of outsiders who predict the impending collapse of the housing market, and devise ways to immensely profit from it. The script intertwines three separate storylines, starting off with Michael Burry (Christian Bale), an eccentric, socially inept genius who runs a hedge fund. After crunching the numbers and discovering the terrifying truth, he uses over a billion dollars of his investors' money to bet against the housing market. If he's right, he stands to gain billions, but for as long as the market remains stable, he and his company must continuously pay the banks in premiums.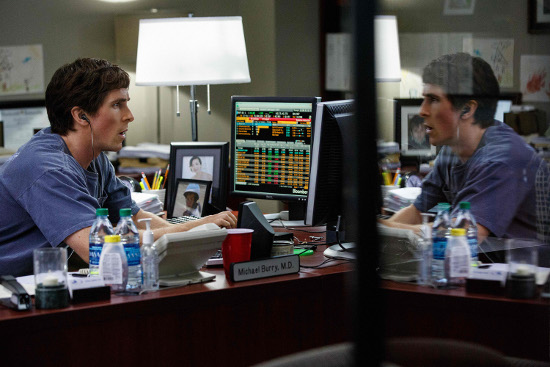 ADVERTISEMENT - CONTINUE READING BELOW
His seemingly insane gamble becomes the talk of Wall Street, eventually reaching the ears of a cocky banker named Jared Vennett (Ryan Gosling), who teams up with Mark Baum (Steve Carell) so they, too, can cash in on the impending disaster. Meanwhile, two finance neophytes (Finn Witrock and John Magaro) enlist the help of a retired and disillusioned banker (Brad Pitt) to, as they say, "earn a spot at the grown-ups' table."
The sharply witty script penned by Charles Randolph and director Adam McKay piles on the technical jargon, but throws in a charismatic, foul-mouthed narration by Gosling that occasionally breaks the fourth wall. If the terminology flies over your head—and trust us, it will—the script cleverly enlists the help of onscreen text and surprise celebrity cameos who will explain the jargon in layman's terms. Frenzied camerwork by Barry Ackroyd and editor Hank Corwin keeps the momentum going by splicing in pop culture-filled montages, as if to balance out the dry and dizzying terminology.
CONTINUE READING BELOW
Recommended Videos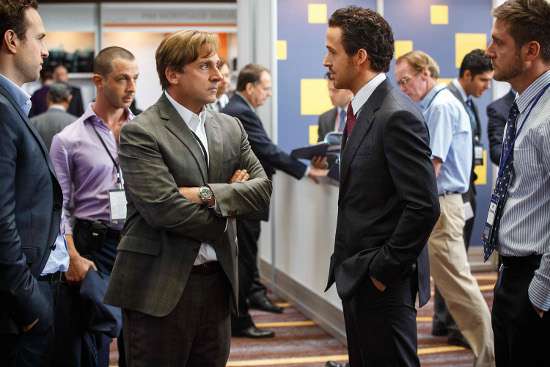 ADVERTISEMENT - CONTINUE READING BELOW
That being said, it's the quieter moments between uproarious, lightning-fast dialogue that really sinks in. While the all-star trio of Gosling, Pitt, and Bale deliver solid turns that match the film's crackling energy, it's Carell's nuanced and genuine performance that leaves a lump in your throat. His character, Baum, is the angry, ethical conscience of the film, the voice for the 99% who will eventually lose their homes, jobs, and everything they possess as the wolves of Wall Street tighten their hold on their wealth.
Perhaps nothing solidifies this sobering reality more than a conversation between Baum and one of his associates. "They're going to blame this on the immigrants and poor people," he says in a quiet voice, and it resounds. It resounds to this very day.
RATING: 4 out of 5 spots
The Big Short is in theaters January 20. Photos courtesy of United International Pictures,
Share this story with your friends!
---
Help us make Spot.ph better!
Take the short survey
Load More Stories