10 Best Shows to Stream Right Now
We list the must-sees on Netflix, iflix, HOOQ, and HBO Go!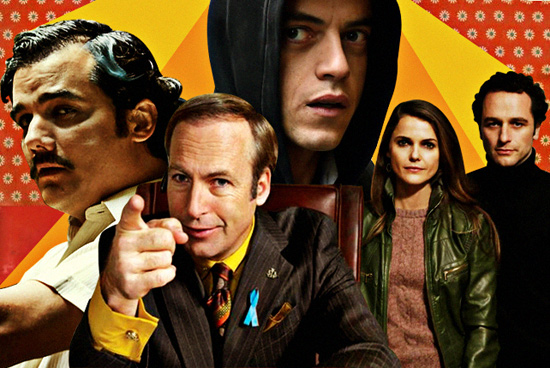 (SPOT.ph) There was once a time when our TV-watching habits revolved around...well, an actual TV schedule. These days, all you need is a decent Internet connection and a computer, and you're all set for a night of binge-watching. Grab a bowl of popcorn and get ready to settle in; we've found 10 great shows that you need to start streaming—stat!
ADVERTISEMENT - CONTINUE READING BELOW
CONTINUE READING BELOW
Recommended Videos
Also read:
Smackdown: iflix vs. HOOQ vs. HBO Go
10 Must-Watch Sitcoms to Marathon This Holiday Season
10 TV Series You Can Marathon this Long Weekend
Mr. Robot
Stream it on: iflix
If tense, psychological drama is your thing, this show is your best bet. Its plot revolves around an anti-social computer programmer named Elliot (Rami Malek), who is recruited by a mysterious leader of an underground hacker group (Christian Slater). Their goal? To destroy a massive company that Elliot is paid to protect. If you need any further convincing, the show set the record for having a perfect, 100% rating on Rotten Tomatoes for each episode of the season. Oh, and it has racked up dozens of awards and nominations, including two Golden Globe wins for Best TV Drama and Best Performance by an Actor in a Supporting Role.
Manhattan
Stream it on: HOOQ
It's 1943 and countries are racing to build the world's first atomic bomb. In the U.S., the government has set up the Manhattan Project, a clandestine effort to recruit the best scientists to live in a secret location while they build nuclear weapons. The federal government tells the scientists only what they need to know, while the scientists are forced to hide the truth from their families.
ADVERTISEMENT - CONTINUE READING BELOW
Narcos
Stream it on: Netflix
In this original Netflix series, Wagner Moura plays the infamous Colombian drug kingpin Pablo Escobar. The gritty drama traces the origins of the Medellin drug cartel and his meteoric rise to power as he is hunted by a U.S. Drug Enforcement Agency (DEA) agent (Boyd Holbrook).
Silicon Valley
Stream it on: HBO Go
This comedy mainly follows Richard Hendricks (Thomas Middleditch), an introverted but brilliant programmer who develops a powerful data compression algorithm. He and his group of brainy and colorful friends soon find themselves in the middle of a bidding war between a wealthy venture capitalist and his boss (who offers him an eight-figure buyout). Since its debut in 2014, the show has bagged multiple and consecutive nominations from the Critics' Choice Television Awards, the Golden Globes, and the Primetime Emmy Awards.
The Americans
Stream it on: iflix
Set in the early 1980s at the height of the Cold War, Philip and Elizabeth Jennings (Matthew Rhys and Keri Russell) are two Soviet KGB spies posing as an American married couple living with their two unsuspecting children. Tensions arise when they realize their next-door neighbor is an FBI agent working in counterintelligence (Noah Emmerich). This critically acclaimed drama has won its fair share of awards since its debut, including the Critics' Choice Television Awards, the Primetime Emmys, and the Peabody Awards.
ADVERTISEMENT - CONTINUE READING BELOW
Making a Murderer
Stream it on: Netflix
There's a good reason everyone's talking about Making a Murderer—even celebrities! This highly popular documentary zeroes in on the real case of Steven Avery, a man who served 18 years in prison for the sexual assault and attempted murder of a woman. He was proven to be innocent in 2003, but was later imprisoned again for the alleged murder of another woman. The series, filmed over the course of 10 years, investigates the ins-and-outs of the grisly crime.
Better Call Saul
Stream it on: Netflix
If you're one of the many viewers who tuned in to Breaking Bad while it was still airing, this prequel-slash-spinoff is right up your alley. (You'll love the cheeky references and surprise cameos, too!) The plot follows the origin story of small-time lawyer Jimmy McGill (Bob Odenkirk), six years before he appears in Breaking Bad as the smooth-talking attorney, Saul Goodman. The show's first season has racked up dozens of awards and nominations across the board, from the Primetime Emmys to the Golden Globes.
ADVERTISEMENT - CONTINUE READING BELOW
UnREAL
Stream it on: iflix
Nothing prompts binge-watching like some good ol' reality television. UnREAL takes on the ridiculous world of reality dating shows through the eyes of TV producer, Rachel Goldberg (Shiri Appleby). She must swallow her integrity and skillfully manipulate contestants to create outrageous drama for a fictional show's avid fanbase. This thought-provoking series has already earned plenty of fans in critics, with a 98% rating on Rotten Tomatoes for its first season.
The Knick
Stream it on: HBO Go
The Knick stars Clive Owen as Dr. John W. Thackery, a brilliant yet drug-addicted physician who leads the surgery staff of an innovative hospital in 1900. The show also tackles the professional and personal lives of other staff members, including an African-American assistant chief surgeon (Andre Holland), who must fight for respect within an all-white populated hospital and community. Be warned: You might not want to watch this while you're eating, as it can get really, really graphic.
ADVERTISEMENT - CONTINUE READING BELOW
Master of None
Stream it on: Netflix
Created by and starring Parks and Recreation alum, Aziz Anzari, the comedy revolves around a 30-year-old struggling actor and second-generation Indian immigrant in the U.S. Its honest and offbeat take on everyday topics like food, family, and dating is both refreshing and relatable. If you needed any more reason to press "play," its first season currently holds a rating of 100% on Rotten Tomatoes. It was also recently nominated at this year's Golden Globes!
Also read:
Smackdown: iflix vs. HOOQ vs. HBO Go
10 Must-Watch Sitcoms to Marathon This Holiday Season
10 TV Series You Can Marathon this Long Weekend
Load More Stories