Best In Show: Madonna Made the Titos and Titas of Manila Come Out and Play
Pardon the pun, but the Rebel Heart concert was Like a Prayer meeting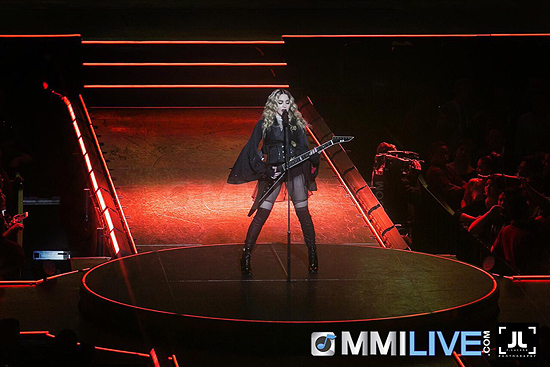 (SPOT.ph) Could it be accurate that the average Pinoy at Madonna's Rebel Heart Tour is 41 and 1/2 years old? My Excel calculation offered that figure based on estimated concertgoer age range of 23 to 60.
I got curious about the statistic after a quick scan of the crowd pre-show on the Queen of Pop's first of two performance nights in Manila. The lobby was packed with ticketholders who looked like they were already past the age of clubbing, music festival-hopping, and pa-morningan sessions. They looked more like your cool and well-off aunt, her teenage sweetheart, and their high school batch lining up for an alumni homecoming.
"It's a Titas of Manila event!" said a gregarious lady to her girlfriends while buying pre-concert fuel of hotdogs and popcorn. They all laughed kolehiyala style, in the same way their discreet designer bags, black leggings, and polished ponytails gave off the vibe of a pre-midlife uniform. I could imagine that they also ledge-danced to "Deeper and Deeper" when Madonna dropped the single in 1992—and perhaps they did.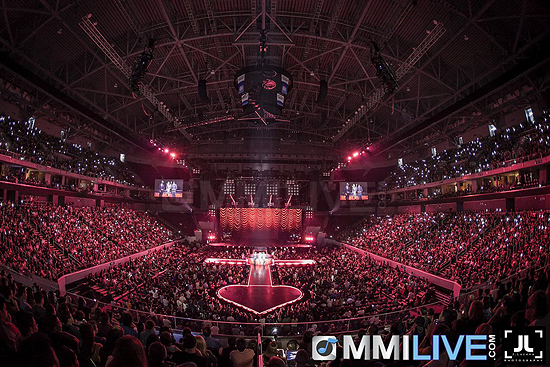 ADVERTISEMENT - CONTINUE READING BELOW
The bekis came in hordes. This is, after all, their first Manila facetime with their original life-peg. An entire barkada wore customized Rebel Heart-emblazoned shirts in either black or white. Another arrived decked in designer fashion. Gucci sling? Check. Lanvin sneakers? Great for dancing. Y3 top? Sweat-proof. The hallways were filled with their banter, ranging from their knowledge of the songs in the night's set list to where they'll have late dinner after.
And then there were the bold and the beautiful—fans dressed in their favorite Madonna look from the last 30 years or so. Each true-blue aficionado strutted their version of bodacious, bullfighter, and bridal along MOA Arena's corridors. "The last time I was in drag was at a Madonnathon 11 years ago," blurted one costumed fan to another at the escalator, recalling the famed Malate all-nighter where Madonna's rich discography played nonstop.
Malate's nightlife has since folded up but that night, it was Madonnathon all over again—and Madonna was hosting it herself.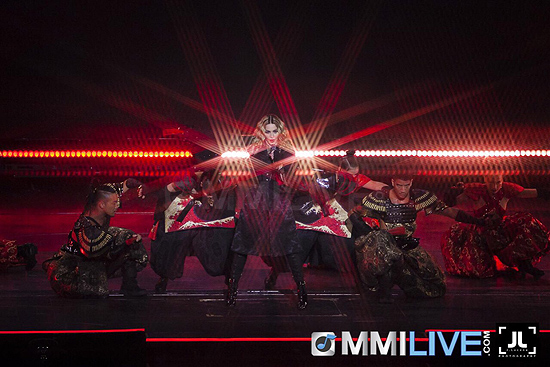 CONTINUE READING BELOW
Recommended Videos
Concert opener DJ Mary Mac struggled in prepping the predominantly Gen X and Y pack with club and Top 40 hits. It was only when she played Hotdog's seminal hit "Manila" that the revelry started to pick up. Then came the party pooper: a voice over announced that the concert was to be delayed by another 30 minutes. Sighs and restroom trips ensued. "It is way past our bedtime," said a man behind me. "Hayaan mo na! Minsan lang naman ito," said his date.
At that point, the DJ knew that Rihanna's songs were not the right pre-Madonna fix. She then wisely transitioned to the hits of the Queen's departed peers—Michael Jackson's "Wanna Be Starting Something" and Whitney Houston's "Wanna Dance With Somebody"—and almost magically, the energy became palpable. The Day 1 crowd was officially ready.
Of course, Madonna did not disappoint. How often are we treated to a production as jaw-dropping and provocative as hers? Her references to religious iconography, the Far East, bullfighting, and the flapper era provided the backdrop to the four sets she performed for over two hours.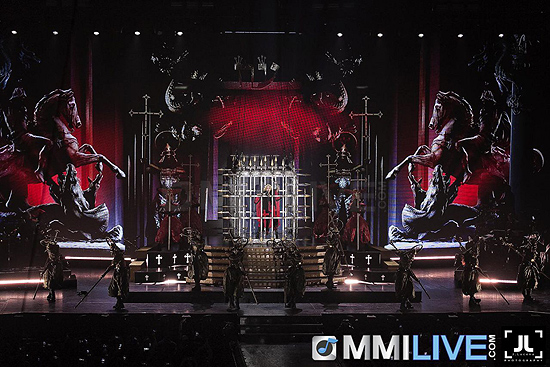 ADVERTISEMENT - CONTINUE READING BELOW
She emerged from a suspended cage, pole danced on a crucifix, L.A. Walked on a runway that resembled a crucifix that stood on a heart that resembled...uhm, never mind, and partook of a last supper with gyrating dancers for apostles. Oh, and that number where her dancers were dressed in the world's most familiar religious vestments? It's like seeing world peace come true for a night. May budget. Pinag-isipan.
And while her first time in Manila was intended to promote the Rebel Heart album, songs from which are known down to the syllable by diehards and much younger fans, it was the classics that brought out the inner child in everyone. "Material Girl", "Like A Prayer," and "Crazy For You" transported the audience to the '80s when little girls and some little boys endeavored to become her someday, and wearing a crucifix as an everyday accessory was on trend. Nineties hit "Vogue" reminded today's grown-ups of a time when sneaking out a little past midnight to go to Euphoria or Mars was akin to the adventure of a lifetime.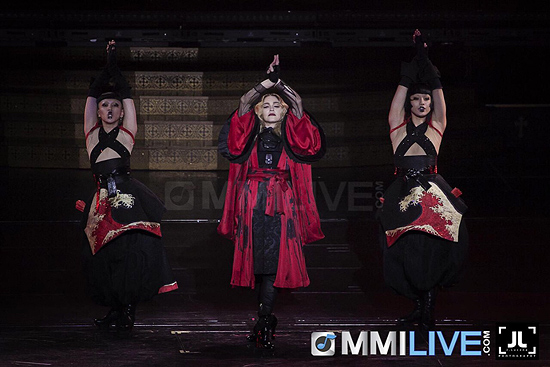 ADVERTISEMENT - CONTINUE READING BELOW
"I came to bring this city down!" she announced that evening—and yet I feared for a backlash. The clergy thinks that the Madonna is the evil one and the concert is her evil one's handiwork. And when she wrapped herself with the Philippine flag and a couple of her dancers mistakenly held the same upside down, I tried to recall the penalties stipulated in RA 8491: Flag and Heraldic Code of the Philippines that may apply to her. Fortunately, no one climbed up the stage to interrupt her or command a protest. "Nobody fucks with the Queen," she warned.
Madonna still has the power to make you do things—in the same way that she had something to do with your childhood ambition or teenage rebellion. At every opportunity, she commanded us to scream "Fuck, yeah!" each time we agreed with her. I got a little uncomfortable for the (much) older audience around me, but after seeing on giant screens what looked like 50-year-olds passionately hurling said expletive, I knew that the Titos and Titas were merely following the Queen's orders. And that they were willing to shell out more than P50,000 for the best seat and go home past midnight? Maliit na bagay.
The Madonna Rebel Heart Tour was presented by Globe Telecom together with major sponsor Huawei. Show photos are courtesy of MMI.
Also read: Meet the two Pinoy fans who were lucky enough to dance with Madonna onstage
Share this story with your friends!
---
Help us make Spot.ph better!
Take the short survey
Load More Stories