10 Films That Will Make You Hungry (2016 Edition)
We apologize in advance, because this list will leave you very, very hungry.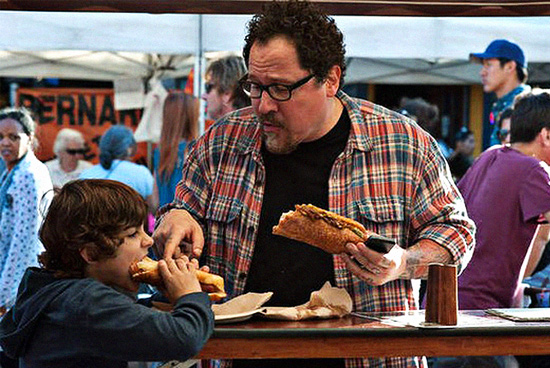 (SPOT.ph) One of the great things about cinema is its innate ability to take us to new worlds and new places, for us to experience things we probably won't be able to through sound and visuals. In the same way, the best kind of food, whether it's Chinese, Japanese, French or something else, can also transport us, the only way well-made, beautiful food can.
The best films about food can make the viewer feel like they are there smelling, experiencing, even tasting the food that is so wonderfully presented on screen. There are many movies that feature food, but only some that present them in such a beautiful, scrumptious, appetizing way that you hope one day, Taste-O-Vision will be created and the world will become a better place.
There have been more food films since our last list in 2014, so here are 10 more foodie films that feature different cuisines from all over the world that will leave you very hungry.
Also read: 10 Movies That Will Make You Hungry
Chef (2014)
Directed by: Jon Favreau
Food: L.A., Miami, and "food truck" cuisine
If you're going to call your movie "Chef," you better have some incredible scenes with food that would make even the pickiest eaters hungry. Jon Favreau's Chef doesn't disappoint in the "food porn" department. Whether the lead character (a chef, of course) is teaching his son how to create Cubano sandwiches in a food truck, touring the U.S.' best food spots, preparing a full course L.A. restaurant dinner, or making the most mouth-watering grilled cheese you've ever seen, Chef's gorgeous, lush food photography leaves you so hungry until the end. Favreau (who had directed Iron Man 1 and 2 prior to Chef) created the sequences and the recipes with the guidance of California-based chef Roy Choi, who is famous for being integral to the rise of food truck cuisine.
ADVERTISEMENT - CONTINUE READING BELOW
The Hundred-Foot Journey (2014)
Directed by: Lasse Hallström
Food: Indian and French cuisine
In The Hundred-Foot Journey, two cuisines have a culinary clash when a loud, soulful Indian restaurant opens across the way from a Michelin-starred classical French restaurant run by Helen Mirren's character. The heat rises when one of the Indian chefs jumps ship to the French kitchen. The winner? The viewer, as we are treated to beautiful cooking sequences and gorgeously plated food of two different cultures, as well as a scrumptious fusion of the two (the cooking of an Indian-style omelette is a highlight). Producers made sure all food on set was edible, which sometimes caused Indian-born chef Floyd Cardoz and other chefs-slash-consultants to make multiple dishes of the same thing for several takes and shots. The crew must have never been hungry throughout that shoot!
CONTINUE READING BELOW
Recommended Videos
Ratatouille (2007)
Directed by: Brad Bird
Food: French cuisine
Food in animated film can be just as tempting as food in a live action film (just watch Beauty and the Beast, Cloudy with a Chance of Meatballs, or Spirited Away), but nothing tops Ratatouille in the "make-you-hungry" criteria. If you can get past the idea that a rat is cooking your food, then you're in for a treat with one of Pixar's best films. A rat named Remy dreams of being a cook, and he manages to find himself in a high-end Parisian restaurant. Using the human Alfredo, he makes his dreams come true. Pixar's animators went to several chefs to be able to animate delicious-looking food well, but ultimately hired award-winning chef Thomas Keller, known for his restaurants The French Laundry and Per Se, to create the title recipe.
ADVERTISEMENT - CONTINUE READING BELOW
Kailangan Kita (2002)
Directed by: Rory Quintos
Food: Filipino/Bicolano cuisine
There aren't a lot of films that feature Filipino food and the making of it quite as appetizing as Star Cinema's 2002 drama, Kailangan Kita starring Aga Muhlach and Claudine Barretto. With Mount Mayon in the background, this Bicol-set story is about Americanized chef Carl (Muhlach) who comes home to marry his fiancé, but falls for his fiancé's sister Lena (Barretto) who has a passion for cooking. While Carl offers up fusion food, Lena prefers traditional Filipino and Bicolano dishes made the old-fashioned way. With its spice, coconut milk, and all the good stuff, we are treated to some gorgeous local cuisine presented in the simplest way, and with a lot of love.
Eat Drink Man Woman (1994)
Directed by: Ang Lee
Food: Chinese cuisine
Food is incredibly important to Chinese culture and their cinema. Chinese cinema almost always lovingly depicts its cuisine. The opening sequence of Eat Drink Man Woman features some of the most breathtaking depictions of traditional Chinese cooking. Ang Lee's 1994 film revolves around a typical Chinese family lead by a retired master chef who has a tradition of having a huge feast that they prepare on Sundays. This dinner is also when the family discusses the most significant moments of their lives, again showing the importance of food in Chinese culture. Ang hired three world-class chefs and several food consultants, including culinary designer Theresa Lin to choreograph as perfectly as they could the making, presenting, and eating of the food.
ADVERTISEMENT - CONTINUE READING BELOW
Tampopo (1985)
Directed by: Juzo Itami
Food: Japanese cuisine
Japanese cuisine has so much depth. We'll see sushi, katsu, and tempura on a typical Japanese restaurant menu, but in its native country, chefs often practice and perfect only one kind of food to prepare (Jiro Ono is a master sushi chef, for example). In Tampopo, the specialized food is ramen. A group of misfits hope to improve their product, and with a little teamwork (and stealing), manage to do so. Amusing and funny, this film not only makes ramen-making and eating a fun (and kind of sexy) time, but in its own tasty way teaches you the best way to enjoy the noodle soup dish. The food was designed by Izumi Ishimori and the cooking styled by Seiko Ogawa.
The Trip to Italy (2014)
Directed by: Michael Winterbottom
Food: Italian cuisine
The Trip to Italy is a sequel to the equally hunger-inducing The Trip, a film about two friends (played by British comedians Steve Coogan and Rob Brydon) who travel across a country eating at different restaurants and enjoying the scenery. In the first film, the two take a trip around Michelin-starred U.K. restaurants. In the sequel, the pair travels across Italy, hitting spots in Tuscany, the Amalfi Coast, and Capri, as they try the best Italian dishes by chefs like Oliver Glowig. Not only do you get real, documentary-style shots of Italian cooking, you also get to see magnificent locations along the Italian countryside. Coogan and Brydon also improvise their dialogue, making for a funny and enjoyable meal full of great food, good wine, marvellous locales, and the most hilarious Michael Caine impressions.
ADVERTISEMENT - CONTINUE READING BELOW
I Am Love (2009)
Directed by: Luca Gaudagnino
Food: Russian, Italian, and French cuisine
The way to a person's heart is through their stomach. The Italian film I Am Love takes this quote to another level. Married woman Emma, played by Tilda Swinton, falls in love (and lust) with an Italian chef after eating one of his shrimp dishes. He then makes her ukha, a Russian fish soup Emma loved when she lived in Russia. Inspired and created by famous Italian chef Carlo Cracco, the Russian, Italian, and fine French dining dishes presented in this film are scene-stealing metaphors for seduction and sex, elevating the dishes to a sensual level.
Toast (2010)
Directed by: S.J. Clarkson
Food: Cakes, pies, and bread
Ready for some dessert? In S.J. Clarkson's film Toast, he tells the early life story of Nigel Slater, who in real life is a food writer and journalist. Nigel (Freddie Highmore) has a love for cooking, and as he grows up learns how to make some pretty cakes, pies, and other baked goods. Everything changes when his mother dies and his father is seduced by their new housekeeper Joan, played by Helena Bonham Carter. Joan bakes luscious apple and lemon meringue pies, which causes Nigel to fight Joan for his father's affection through food. There is some brilliant food cinematography here (greatly helped by food stylist Katherine Tidy's creations) that is going to make you want to reach for the nearest cake slice, but Toast is also a dramatic story about fighting for your dreams.
ADVERTISEMENT - CONTINUE READING BELOW
The Grand Budapest Hotel  (2014)
Directed by: Wes Anderson
Food: Pastries
Wes Anderson, known for his distinct and colorful style, is no stranger to making things, food or otherwise, look special and whimsical. In GBH, Anderson and production designer Adam Stockhausen create a fanciful world with the quirkiest characters, props, and food. Enter the courtesan au chocolat, the fictional Mendl bakery's star pastry. The courtesan au chocolat is a three-tiered chocolate-creme-filled pastry, glazed with pastel colored icing. German pastry chef Anemone Müller-Grossmann created the dessert centerpiece for the film (yes, it is a unique creation for Anderson's world!) that Saoirse Ronan's Agatha bakes and delivers to characters in the film. While the film isn't about food, the courtesan au chocolat is one of its most memorable "props," and many have since hoped to recreate and taste this unique and delightful-looking pastry.
Share this story with your friends!
---
Help us make Spot.ph better!
Take the short survey
Load More Stories