10 Fresh Tunes to Listen to This March
Kick off a sizzling summer with tracks by Beyonce, Rihanna feat. Drake, Daughter, Franco, Clara Benin with Ryoku, and more!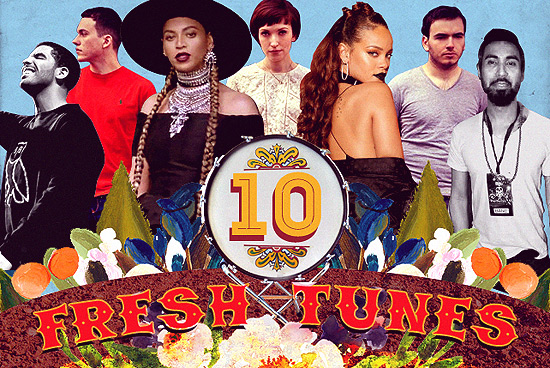 (SPOT.ph) Complete your summer essentials with a playlist you can bring on your next road trip. Listen to Beyonce's fierce new single, Drake and Rihanna's sexy collab, Daughter's latest track, The Jezabel's haunting tune, and Troye Sivan's radio-friendly ditty. Don't miss out on the cool local songs you should be including, too, by Franco, Ryoku and Clara Benin, Tandems '91, Curtis the Devil, and shaw. Happy listening!
Song: "Formation"
Artist: Beyonce
Queen Bey of course slays in her surprise single, "Formation," which, with its references, many consider to be a political track. The video for the mid-tempo, bounce tune features a pretty sick (and we mean that in a good way) choreography.
Fun fact: "Formation" was released a day before Beyonce's 2016 Super Bowl Halftime Show performance.
Song: "Mondaze"
Artist: Franco
"Mondaze" can kick-start any day with its solid guitar riffs and uplifting lyrics like, "This pain is temporary. Don't let it rule today. Stand up and rise against this. Here's to a brighter day."
Fun fact: According to Tower of Doom, "the band is currently writing new music," so that should be something to watch for.
Song: "Work"
Artist: Rihanna feat. Drake
Rihanna + Drake seems like an interesting collaboration, and it's proven in "Work." Both their vocals sound cool, calm, effortless, almost monotonous—which somehow depicts what work life is like.
Fun fact: "Work" is off Rihanna's eighth studio album, ANTI.
Song: "Here Comes the Feeling"
Artist: Ryoku feat. Clara Benin
ADVERTISEMENT - CONTINUE READING BELOW
Producer Ryoku (Richard Ken Matsuyama) teams up with indie-folk artist Clara Benin for "Here Comes the Feeling," a groovy, subdued electronic creation that puts the spotlight on both artists: Benin for her cool vocals and Ryoku for the seamless blend of beats.
Fun fact: Benin wrote the lyrics, while Ryoku produced and arranged the track.
Song: "How"
Artist: Daughter
The indie-folk band from England again features their contemplative sound in "How." Elena Tonra's vocals breathe life into the words that are accompanied by rich instrumentation. Let this cathartic single keep you company on your slow days.
Fun fact: "How" is off Daughter's new album, Not to Disappear.
CONTINUE READING BELOW
Recommended Videos
Song: "You're the One"
Artist: Tandems '91
It's not too late to start listening to Tandems '91, and you can begin with the latest release, "You're the One." Like past singles, "You're the One" is a refreshing combination of retro and future electro sounds (think Daft Punk and Giorgio Moroder) that makes getting lost in the music so easy.
Fun fact: Tandems '91 is the brainchild of Aaron David Cruz.
Song: "Pleasure Drive"
Artist: The Jezabels
The Australian indie rockers are starting off their 2016 right with "Pleasure Drive." The new single features Hayley Mary's haunting and powerful vocals, a rather dark arrangement, and one creepy music video.
Fun fact: The Jezabel's third album, Synthia, was released in February.
Song: "Over"
Artist: Curtis the Devil
"Over" is like a dose of tough love. It's brutally honest in its acceptance of things past, effectively interpreted through its wailing guitars, superb bass, and smooth vocals (Kara Decenteceo). It's dark, it stings, but it's a delight to listen to.
ADVERTISEMENT - CONTINUE READING BELOW
Fun fact: Curtis The Devil is a collaboration of and a new artist collective founded by guitarist Briggs Baritugo and bassist Paolo Legaspi.
Song: "YOUTH"
Artist: Troye Sivan
"YOUTH," off Sivan's new album titled Blue Neighbourhood, is a catchy, radio-friendly ditty that lets the young artist shine in the verses and then paves the way for a musical explosion during the chorus.
Fun fact: Sivan is also an actor. He appears in the films X-Men Origins: Wolverine as the young James Howlett and the Spud trilogy as the titular character.
Song: "Styro"
Artist: shaw
We stumbled upon "Styro"—a track by a local trio that goes by the name of shaw—and were absolutely pleased by its post/math rock sound. The track begins with upbeat guitars that can easily get stuck in your head, and reaches a mellow yet solid finish. It's a pretty spot-on tune to add to your summer road trip playlist.
Fun fact: This demo was recorded at the This Is Where I Make Music studio and was engineered by Rico Leonardo.
Share this story with your friends!
---
Help us make Spot.ph better!
Take the short survey
Load More Stories