PHOTOS: Bon Iver, Death Cab for Cutie + more artists who rocked Wanderland 2016
Wanderland had an epic lineup this year, and we tell you all the details.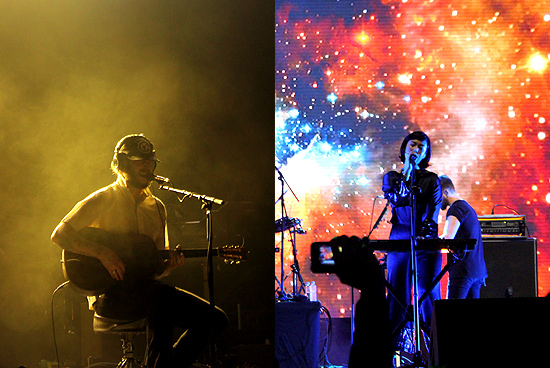 (SPOT.ph) It was little past 12 and the unforgiving sun was blazing; still, that didn't stop music fans from eagerly falling in line outside the Globe Circuit Event Grounds. Amid the constant chatter, it was easy to make out familiar names: Panama...San Cisco...Death Cab for Cutie...Bon Iver.
It didn't take long before the crowd finally trickled into the venue. Many immediately settled in front of the stage's barrier for that much-coveted view. Others roamed the grounds, grabbed a snack, or tried their hand at the activity stalls. The first two bands, Oh, Flamingo and Jensen & The Flips, got the music started.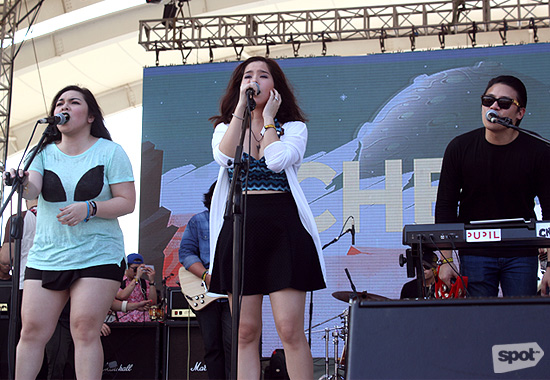 Cheats
It was around 2:30 when local indie band, Cheats, took the stage. They're a local favorite for a reason, belting out one familiar tune after another. At the end of the set, they couldn't resist taking an epic selfie with the pumped crowd.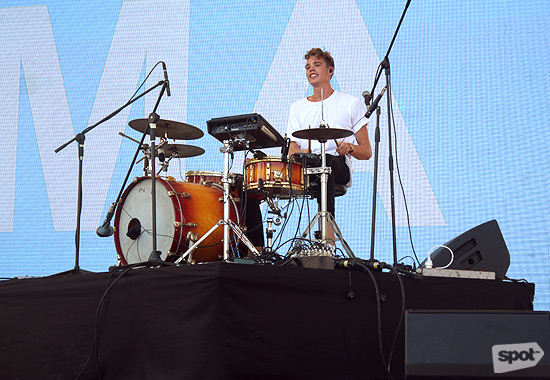 ADVERTISEMENT - CONTINUE READING BELOW
Tim Commandeur of Panama
Australian electronic band Panama was up next. It was almost hard to believe that they were a two-man band; the energy wasn't any less infectious and soon, more people began to crowd the main stage to catch a glimpse of them.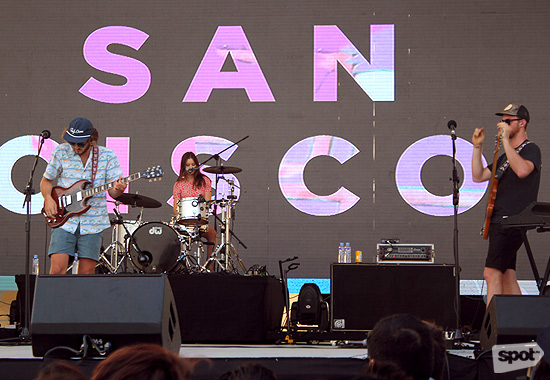 CONTINUE READING BELOW
Recommended Videos
San Cisco
By the time Australian indie group San Cisco got onstage, there was barely any room on the grass to spread a blanket and sit. Still, fans of the band navigated their way through the crowd to get a closer look.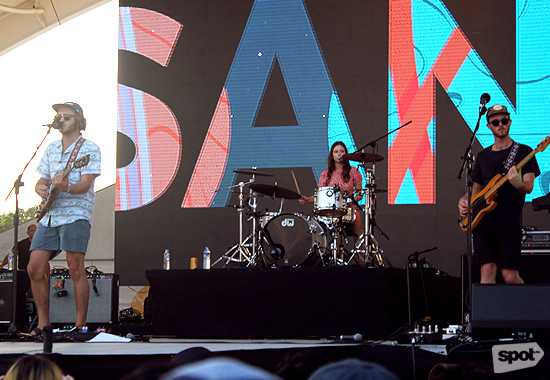 ADVERTISEMENT - CONTINUE READING BELOW
The band performed over 10 songs, including fan-favorites like "Awkward" and "Too Much Time Together." They ended their set with a rousing performance of "Fred Astaire."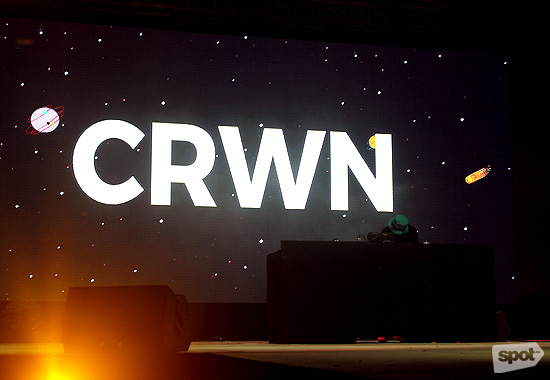 CRWN
It was a little past six when Manila-based producer CRWN performed; his hypnotic beats were the perfect way to watch the sunset. He was soon joined by Jess Connelly, whose soothing voice even had hungry concertgoers bopping their heads while in line at the food stalls.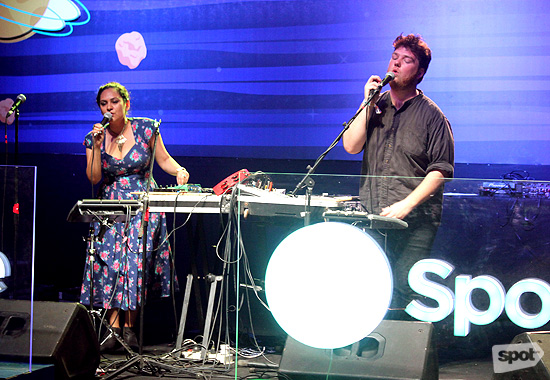 ADVERTISEMENT - CONTINUE READING BELOW
Chad Valley
Electronic artist Hugo Manuel, who is better known as Chad Valley, took the Globe Stage to perform a handful of his LSS-worthy songs, including "Fall 4 U" and "I Owe You This."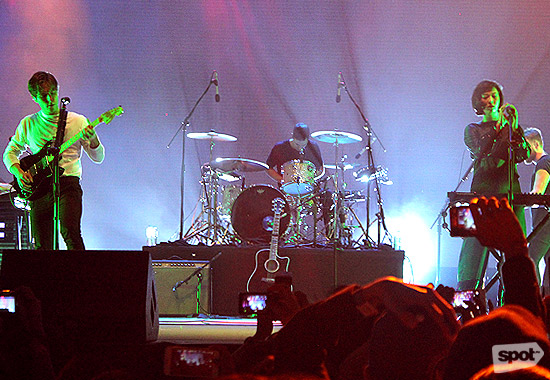 The Naked and Famous
The Naked and Famous immediately had the crowd rushing back to the main stage. Lead vocalist Alisa Xayalith excitedly shared that this was their first time in Manila.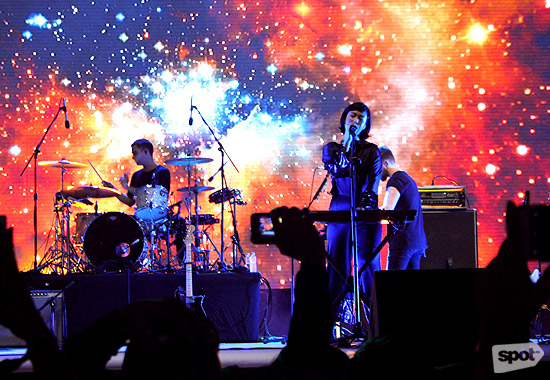 ADVERTISEMENT - CONTINUE READING BELOW
The crowd erupted into cheers as soon as their hit song, "Punching in a Dream" started blaring through the speakers. The band's colorful space-inspired backdrop went perfectly with the festival theme, as they sang songs like "A Stillness" and "I Kill Giants."
By the time 9 p.m. rolled around, there was barely any space to breathe on the grounds. It seemed as though every concertgoer (yes, even the ones at the other end of the venue) made their way to the front, just to catch a glimpse of the long-awaited performance of Bon Iver.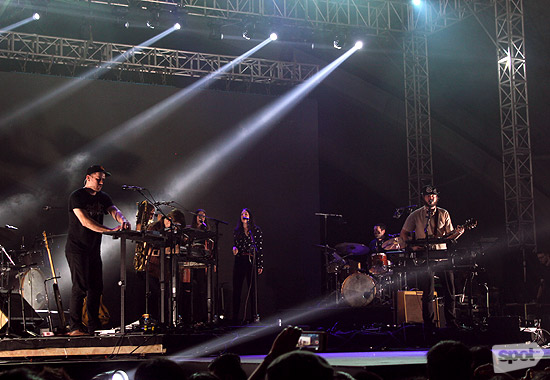 Bon Iver
"I hope it rains while they're singing, so it matches the mood," whispered one fan excitedly. (We really hoped otherwise.) "Do you think they'll sing 'I Can't Make You Love Me'? Kanta ko 'yon, eh," said another. It was hopeful, enthusiastic chatter that kept fans eagerly on their feet, despite the long wait that seemed to drag on.
ADVERTISEMENT - CONTINUE READING BELOW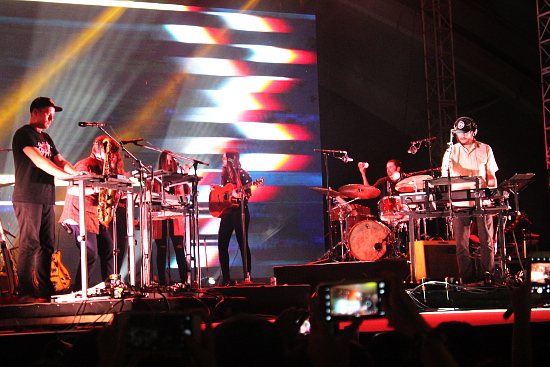 And then, the lights dimmed. It was time, and the crowd burst into earsplitting cheers. Phones and cameras immediately popped into the air the moment Justin Vernon's distinct voice starts playing. (One fan behind us yelled, "Put down your phones!" to no avail. Everyone needed to capture the moment.)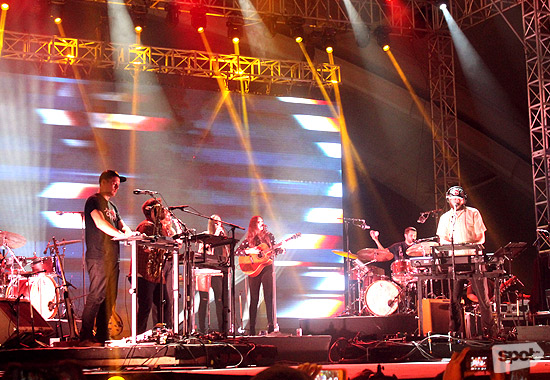 ADVERTISEMENT - CONTINUE READING BELOW
It was a massive set that occupied the entire Wanderland main stage, with two drummers, two female vocalists, and two musicians working the guitars, synths, and keyboards. It was a spectacular show of lights and sound, the backdrop and lights matching every drum beat. Fans happily sang in unison to songs like "Perth," "Flume," and more.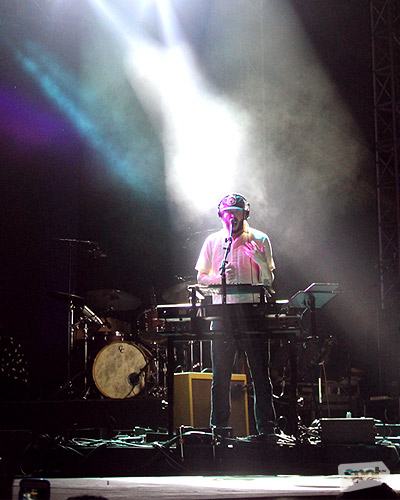 Justin Vernon singing "Woods"
Two songs stood out that night: First was the arresting performance of "Woods," which had Justin Vernon in the middle of the stage, with white and bright pink light shining on him. The robotic a cappella sounded exactly the way it would on record, beautifully performed and almost impossible to believe it was even real.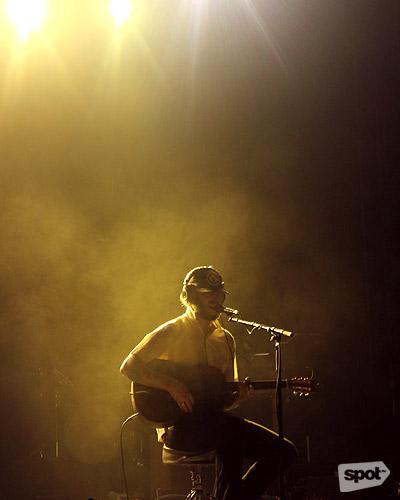 ADVERTISEMENT - CONTINUE READING BELOW
Justin Vernon singing "Skinny Love"
The second song was the highly anticipated "Skinny Love": A heartfelt performance stripped to the bare essentials of Vernon and his guitar, with nothing but a hazy light illuminating his outline. It was the kind of song that struck a chord with many Filipino fans, who came even more alive at the first handful of guitar chords.
About midway through Bon Iver's set, Vernon apologized for not interacting more with the crowd as they had limited time onstage. "We are so very far from home, and yet, we feel so very at home," he said and it couldn't have been more true, especially for those who came a long way to see them in the flesh.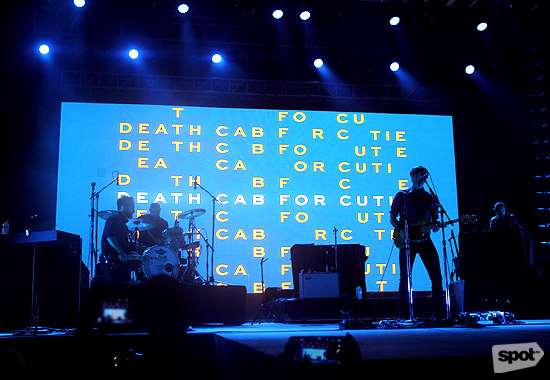 Death Cab for Cutie
"One of my favorite bands is coming up," Vernon said right before their set ended, and the energy went up a notch higher. The lights dimmed and the words Death Cab for Cutie were emblazoned on the screen. And although Filipino fans haven't seen them live since 2012, the love was still there.
ADVERTISEMENT - CONTINUE READING BELOW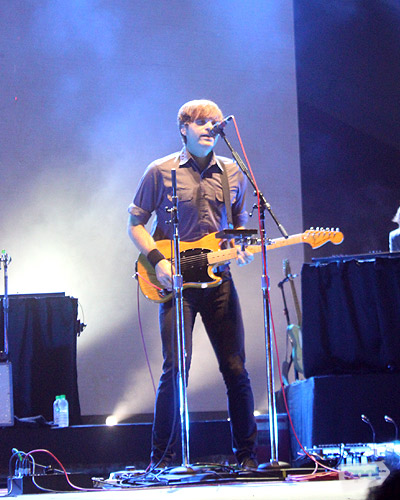 Ben Gibbard
We surveyed the crowd, and it was a mix of all ages, everyone from music fans who look fresh into college, to folks who are probably pushing 30 and grew up with The Photo Album and Transatlanticism. It's impossible to listen to this band and not be transported to long-forgotten moments from youth, like your first crush or your first taste of heartbreak.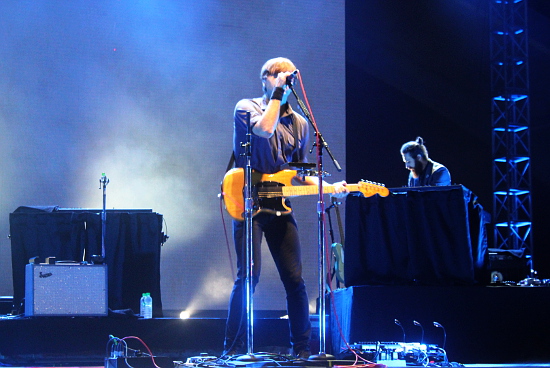 ADVERTISEMENT - CONTINUE READING BELOW
It's this nostalgic feeling that made all the hours of standing on your feet or endlessly falling in line throughout the day worth it. "I need you so much closer," lead vocalist Ben Gibbard crooned, and the crowd all agreed. They all felt a little closer that night, to the people they once dedicated DCFC's songs to, to the friends who showed up to the festival with them...maybe even to the stranger who was pressing uncomfortably close to their side.
The lights dimmed, and the last note trailed off. The crowd erupted into enthusiastic claps and shouting, with many already eager for what's in store for next year.
Photos by Jamie Doble
Share this story with your friends!
---
Help us make Spot.ph better!
Take the short survey
Load More Stories