MOVIE REVIEW: The Divergent Series: Allegiant challenges the viewer before the big finale
Fans who've pledged allegiance to the Divergent series will have moments to adore, but others will have little else worth seeing.
(SPOT.ph) The last time we saw Tris, her friends, and the people of future-Chicago at the end of the series' second installment titled Insurgent, they were heading out of the city's massive walls for the first time in 200 years. You can say that the first scene in Allegiant, where new leader Evelyn (Naomi Watts) closes the walls right away, is a metaphor for this third film. Viewers have seen the light at the end of this Divergent tunnel, but for some ridiculous reason, we don't get that ending. Instead, the film features tired YA dystopian storylines, and characters who have gotten less interesting over time. While Allegiant has strong points throughout, it's hard to not feel like this is an unnecessary, lackluster stop before the big finale (The Divergent Series: Ascendant) coming in 2017.
Based on the final, controversial novel by Veronica Roth, Allegiant is the film that diverges the most from its source material. The writers and Roth herself needed to elongate the story into two films, and add some other ideas and change some character's fates, setting up one final film. We begin right where the second film left off: Tris (Shailene Woodley) and Tobias a.k.a. Four (Theo James) are together again, factions have been completely disbanded, Evelyn has killed Jeanine (Kate Winslet) and is putting Jeanine's former allies on trial including Tris' brother Caleb (Ansel Elgort), and people like former Amity leader Johanna (Octavia Spencer) are itching for new governance.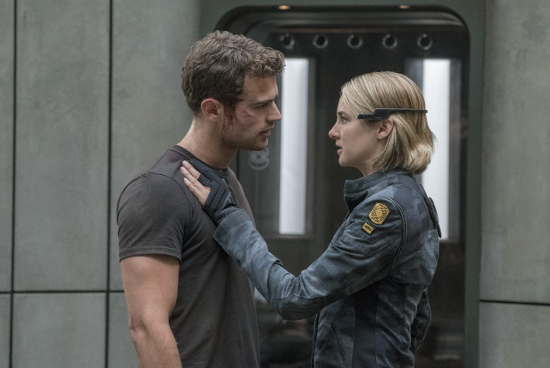 ADVERTISEMENT - CONTINUE READING BELOW
Tris and Four break Caleb out of jail, and with Tris' BFF Christina (Zoë Kravitz), the trustworthy Tori (Maggie Q), and the sly Peter (Miles Teller), they climb the wall and go over to the other side. The "other side" brings its own unique challenges—a deserted post-apocalyptic land called the Fringe, and a mysterious organization run by a man named David (Jeff Daniels). Under David, Tris and company find out that years before, a group tried to eliminate the "bad genes" from people, only to create destructive humans. Civilization was destroyed, and the home that Tris knew of, Chicago, is an isolated place.
CONTINUE READING BELOW
Recommended Videos
When the most unique aspect of a young adult story is taken out (the "arena" in Hunger Games, the maze in Maze Runner, and in Divergent's case, the factions), the story suffers. The "Allegiant" in the film is a group of rebels lead by Johanna trying to take down Evelyn. This is already not as interesting as the Dauntless training montages, and it doesn't help that the film paints this story with the broadest of strokes, barely constructing it as something we should care about. We spend most of the time with Tris and the others in a new place. Even so, Tris, who has been the shining star of the series, loses some of her luster. This is not to any fault of Woodley, who does her best with mediocre material. There is little reason to root for Tris in this film with her questionble decisions and a predictable storyline. Four takes a more thrilling place in the spotlight (just like in the novel), showing some badass fighting skills and a much more emotional story.
ADVERTISEMENT - CONTINUE READING BELOW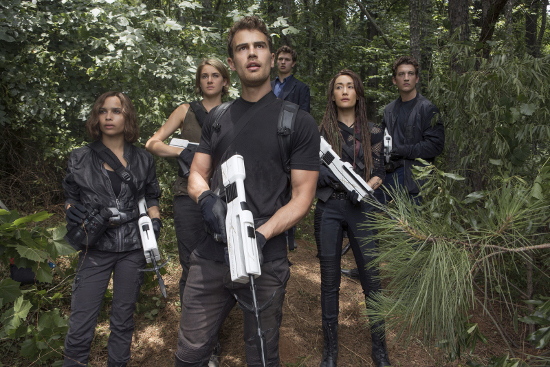 Director Robert Schwentke doesn't do much wrong, either, as he solidly films a screenplay that just lacks any sort of thrill. The visuals are mostly good (except for some silly VFX—for example, a laughable orange bubble effect), and the action sequences are pretty well shot. It's the aforementioned screenplay that doesn't quite work. If you've watched any dystopian film, you'll see every scene, every twist, every beat from miles away in Allegiant. The action set pieces are conceptually uninventive and unexciting, like how a not-particulary-thrilling action sequence involving orange gas takes up major screentime.
Story-wise, there's nothing new, but at least we get to see Tris, one of the strongest female characters in young adult literature, actually kick some butt. With the final film looming, there is a sense that this film series just needs to end. Allegiant ends on a quiet cliffhanger that challenges the viewer to why they should even return, but for those who have more patience and belief, there is hope that Ascendant will be a far more interesting and better film that sticks the landing for the Divergent crew.
ADVERTISEMENT - CONTINUE READING BELOW
RATING: 2.5 out of 5 spots
The Divergent Series: Allegiant opens in theaters today, March 9. Photos courtesy of Pioneer Films.
Share this story with your friends!
---
Help us make Spot.ph better!
Take the short survey
Load More Stories