10 Very Pinoy Things About Crazy Ex-Girlfriend
If you haven't checked out this show yet, here's why you should.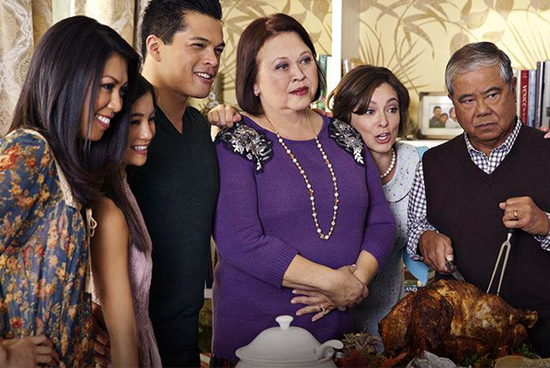 (SPOT.ph) On the surface, Crazy Ex-Girlfriend tells the story of a Harvard-educated lawyer named Rebecca Bunch. On a whim, she leaves her successful career in New York in order to move to a small California town and somehow make her ex-boyfriend from 10 years ago fall in love with her. Beyond its peppy rom-com premise, however, the Golden Globe-winning show has been praised for its representation of the Asian-American community—admittedly, a rarity on U.S. TV.
You see, the hunky ex-boyfriend is Josh Chan, a Filipino character played by Filipino actor Vincent Rodriguez III. The Golden Globe-winning musical comedy has earned praise from critics for its portrayal of Josh and the Filipino community. Here are 10 cool Pinoy references from the show—both behind and in front of the cameras.
— Crazy Ex-Girlfriend (@CW_CrazyXGF) February 2, 2016
It was a conscious decision to make its male lead a Filipino.
In an interview with co-creator and star Rachel Bloom, she said that the show always planned to cast an Asian male lead. The decision to make Josh Chan a Filipino came after they cast Rodriguez in the role. The show is set in West Covina, California, where Filipinos make up the largest minority group in the community.
The show also hired a Filipino writer to get the authenticity right.
In the same interview above, Bloom said that it was "very important" for them to have a Filipino writer on board. According to her, their Pinoy writer, Rene Gube, makes sure everything about their portrayal of the culture is authentic, from the accents down to the food (more on that later).
ADVERTISEMENT - CONTINUE READING BELOW
— Crazy Ex-Girlfriend (@CW_CrazyXGF) November 26, 2015
Josh isn't the only Filipino character on the show.
The show's Thanksgiving episode reportedly broke barriers for being the first American TV show to portray an entire Filipino family. They also include plenty of Filipino and Asian background characters, including a Filipino priest played by writer Rene Gube. Father Joseph (who gets the cool nickname Father Brah) also happens to be Josh's childhood friend and confidante.
Its portrayal of a Pinoy family is pretty spot-on.
Although Pinoys don't celebrate Thanksgiving, Josh's massive, extended family still celebrate the holiday by traveling from all over the country to join a get-together. It's like Christmas back home, complete with nosy titas and lolas, as well as nieces, nephews, and inaanaks running around. Plus, all of Josh's siblings have names that start with the letter J—which is very Pinoy, if you ask us. Bonus: All of the Chan family members are played by Filipino-American actors!
CONTINUE READING BELOW
Recommended Videos
— Crazy Ex-Girlfriend (@CW_CrazyXGF) November 16, 2015
Pinoys and their food
Speaking of Thanksgiving, despite lechon being a party staple, there was sadly no sign of the glistening pork skin at Josh's house. Instead, they had dinuguan, pork adobo, and arroz caldo...which are the next best things, really. If you ask us, they should've had Pinoy spaghetti and fried chicken, too.
Pinoy hospitality
Rebecca ends up spending the holiday in Josh's house after she runs into his mom at the grocery store. In true Filipino fashion, she immediately offers Rebecca to join them for dinner. After the party, she asks Rebecca to join the entire family for mass and later, even packs away leftovers for her guests. (She also has matching tupperware in different sizes, just like mom at home!)
ADVERTISEMENT - CONTINUE READING BELOW
— Crazy Ex-Girlfriend (@CW_CrazyXGF) November 10, 2015
Filipinos and religion
Don't expect a pious portrayal of religion here: Father Joseph is less of a priest and more of a really cool friend you'd want to have. He hosts confessions over a game of basketball, gives hilarious marriage advice, and even gets stoned in one episode. In a scene from the fifth episode, Josh and Rebecca are chatting about their time in summer camp from 10 years ago. Rebecca mentions that Josh was the only kid who visited the camp's chapel. "I know it's not cool to believe in God, but I do," he casually explains.
The show doesn't make light of Pinoy culture.
You don't hear anyone making a big deal about Josh and Rebecca's interracial romance. It doesn't make a big fuss about Josh being Filipino, either. Instead, it throws in a handful of subtle but recognizable references to make him well-rounded. He doesn't play a stereotyped Asian character with a funny accent: Josh is every bit as charming, laidback, and swoon-worthy as any other romantic male lead you'd normally see on TV. He just happens to be Pinoy, too.
— Vince Rodriguez III (@VRodriguezIII) February 19, 2016
The show has cast Lea Salonga for its season finale.
The finale has yet to air, but Lea Salonga is a perfect fit for the musical sitcom. The episode. which will reportedly be about Josh's sister getting married, will feature a singing performance from the Tony-winning actress. Maybe she'll play one of his sisters?
Filipinos and basketball
Basketball is practically synonymous to Pinoy culture, especially considering there's probably a basketball court on every corner of the Philippines. The show couldn't resist throwing in the sporty reference by making Josh and Father Joseph play one-on-one in the basketball court behind the church. Father Joseph's parish even has an aptly witty team name: The Disciples.
ADVERTISEMENT - CONTINUE READING BELOW
Share this story with your friends!
---
Help us make Spot.ph better!
Take the short survey
Load More Stories