10 Kilig Summer Romances in Pinoy Movies
Have some fun in the sun with these Pinoy summer romance films!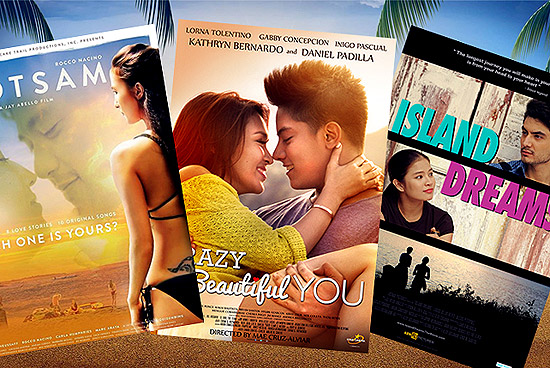 (SPOT.ph) The sun, the sea, the waves, the solitude, the freedom—who doesn't feel like they can fall in love during the summer? Summer romances are near-staples in Philippine cinema, ranging from long-time loves finding each other again during a summer trip, or two strangers discovering one another at the right time in the right place. "Summer loving had me a blast," Danny Zuko sings, and that rings true for Philippine cinema. Below, we've compiled 10 Pinoy romance flicks that will make you want to fall in love this summer!
Crazy Beautiful You (2015)
Directed by: Mae Cruz-Alviar
Set in: Zambales and Tarlac
Daniel Padilla and Kathryn Bernardo, or KathNiel to their adoring fans, star in this teen romantic dramedy that also imbues stories about family. Jackie (Bernardo), a troubled drag-racing teenager, is forced to spend time at a medical mission camp in Tarlac, in the hopes of changing her attitude. Here she meets Kiko (Padilla), one of the coordinators of the said mission camp. Throughout the film, Kiko helps Jackie change for the better, and Jackie opens up her heart not only to Kiko, but to the suffering people who they have come to help, while keeping a humorous tone throughout.
Just One Summer (2012)
Directed by: Mac Alejandre
Set in: Bulacan and Laguna
When made to live with his estranged father for the summer, Nyel (Elmo Magalona) broods and moans as he hopes to get through the summer as quick as possible. While at his father's house, though, he reconnects with a childhood friend, Beto (Julie Ann San Jose). Beto is struggling because her family depends too much on her success in school, which hasn't gone well as of late and she must deal with the consequences as school ends. Beto and Nyel turn to each other for comfort while enjoying the solitude of their summer getaway, both hoping to extend the hot summer days they once dreaded.
ADVERTISEMENT - CONTINUE READING BELOW
All My Life (2004)
Directed by: Laurenti Dyogi
Set in: Malaysia, Thailand, Singapore, and Manila
Opposites attract in Laurenti Dyogi's All My Life, which is first set aboard a cruise ship where Sam (Aga Muhlach) and Louie (Kristine Hermosa) cross paths. Sam is free-spirited and fun-loving, while Louie is more careful. The two become friends first, then realize they have deeper feelings for each other, despite things keeping them apart. They meet repeatedly as they make pitstops around Asia, and when they finally settle in Manila, the two give their romance a chance.
Kay Tagal Kang Hinintay (1998)
CONTINUE READING BELOW
Recommended Videos
Directed by: Rory Quintos
Set in: Vigan, Ilocos Sur
The set-up of this film isn't something new—a humble breadwinner of her family falls in love with a wealthy, upper-class guy. What sets this film apart is the memorable love team of Judy Ann Santos and the late Rico Yan, bringing not just great chemistry as a couple, but powerful drama when it comes to the troubles their characters are facing in their lives. Meeting while on a trip to Vigan, Alex (Yan) and Anna (Santos) make an instant connection, and even through the difficulties in Anna's home life and Alex' work life, the two always end up finding each other.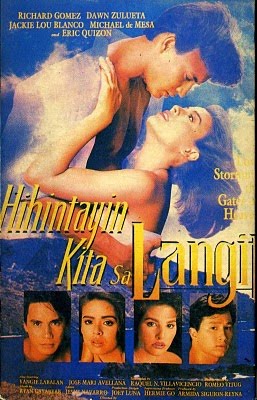 ADVERTISEMENT - CONTINUE READING BELOW
Hihintayin Kita Sa Langit (1991)
Directed by: Carlos Siguion-Reyna
Set in: Batanes
Carlos Siguion-Reyna's Philippine adaptation of Emily Brontë's Wuthering Heights stars the the immensely popular CharDawn love team pairing. Transplanting the story from the mysterious moors of England in Brontë's novel to the cliffsides and beaches of tropical Batanes, we're treated to a tragic, but romantic and passionate love story between Gabriel (Richard Gomez) and Carmina (Dawn Zulueta), that also includes heavy discussions on social class and traditions. Some of the most famous scenes from this movie include the two lovebirds frolicking on the beach, and Carmina running towards Gabriel and him lifting her up in the air as he romantically spins around, a moment they've since recreated numerous times in other films and shows.
Summer Love (1981)
Directed by: Elwood Perez
Set in: Taal, Batangas
For years, copies of Elwood Perez's Summer Love was considered by film archivists as "lost" because its prints got burned; a single copy was found again in 2011. Though this might make the film harder to find than others on this list, the search should be worth it. It was one of the first Pinoy films to put teenage love teams at the forefront of feature films (Maricel Soriano and William Martinez; Snooky Serna and Gabby Concepcion). The plot follows four teenagers as they dance, sing, swim, roll in the sand, and fall in love during the summer—even singing the hit song "Summer Nights" from Grease! This hit classic helped pave the way for all the summer rom-coms that followed.
ADVERTISEMENT - CONTINUE READING BELOW
Island Dreams (2013)
Directed by: Gino M. Santos
Set in: Batangas
On a trip to Batangas, Zach (Alexis Petitprez), a heartbroken tourist meets what he believes is a tour guide in Julie (Louise delos Reyes). It turns out, Julie is unaccredited, and this causes a landslide of several events that bring Zach and Julie apart, and then closer together. With wondrous Batangas scenery showcased here, and an uncommon love team between delos Reyes and the French Petitprez, Gino Santos' island getaway is something different: Something the indie crowd familiar with Santos' #Y and The Animals may want to look into and fall in love with.
Flotsam (2015)
Directed by: Jay Abello
Set in: San Juan, La Union
Set along the shores of the stunning surf town of La Union, Flotsam (the word itself meaning either a shipwreck or just general trash or debris) is about several "lost" lovers trying to escape from their problems. This is more about the atmosphere than the actual stories, which range from figuring out if their current partners are the one, to just looking to have some fun in the sun. Either way, Flotsam has beautiful sun-kissed beach imagery, and beautiful sun-kissed actors that populate them, showing off their summer bodies throughout. Love can also be about the sexiness of just escaping somewhere and seeing what happens, like it is for the characters in this film.
Forevermore (2002)
Directed by: John D. Lazatin
Set in: Bulacan
Jericho Rosales and Kristine Hermosa were one of the hottest love teams in the early 2000s. In John Lazatin's 2002 film, Rosales plays Anton, who pays a visit to his ailing grandfather in the province. His grandfather's assistant, Marian (Hermosa) has been in love with Anton since they were kids. Because nothing says summer love like mangoes, Marian believes a story told by Anton's grandfather that the sweetness of their hacienda's mangoes relies on a beautiful, true love. Marian and Anton look to make the formerly prosperous hacienda great again.
ADVERTISEMENT - CONTINUE READING BELOW
For The First Time (2008)
Directed by: Joyce Bernal
Set in: Santorini, Greece
Stepping away from the Philippine locales for a bit, For the First Time takes us on a wonderful trip to the gorgeous island of Santorini, Greece, where Seth (Richard Gutierrez) and Sophia (KC Concepcion) spend a fun, romantic summer together. They dine and dance, and quickly fall in love. Seth, however, is afraid of commitment, and runs away before things get more serious. As both head back to Manila, this summer love tries to find its way back together, despite numerous circumstances keeping them apart.
Share this story with your friends!
---
Help us make Spot.ph better!
Take the short survey
Load More Stories