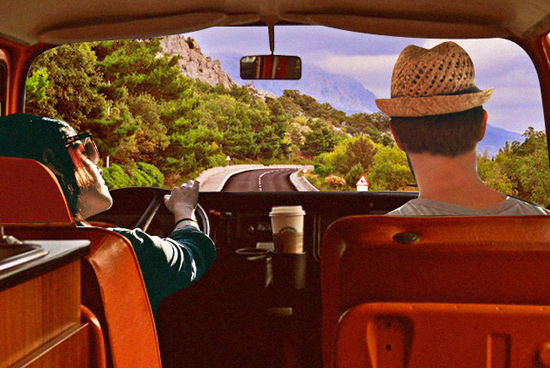 (SPOT.ph) Temperatures are rising, and that's never a good thing when you're in a city like Manila. This is why road trips seem to be in order now more than ever. For your next long drive, we're compiling a few road trip songs from the Philippines. So pack your bags, gas up your car, and belt out these tunes.
Also read:
10 Songs for Your Road Trip Playlist
10 Cover Songs That Will Blow Your Mind
10 Perfect Songs for Every Manila Situation
Title: "Overdrive"
Artist: Eraserheads
Best for: A road trip with your old high school buddies
This Eraserheads classic is a must for your road trip playlist. Aside from that old Pinoy rock sound we all miss, "Overdrive" is a pretty nostalgic track. Grab your best friends and reminisce about the days when you were young and broke, but happy.
Title: "Sunburn"
Artist: Sandwich
Best for: A long drive to the beach
ADVERTISEMENT - CONTINUE READING BELOW
With this heat, who wouldn't want to be on the beach? "Sunburn" is the go-to anthem of those who just want to escape the city, the work, and the horrendous traffic. The kick-ass rock sound is also a mood-booster that will get you more psyched to leave town.
Title: "Swimming Beach"
Artist: Parokya ni Edgar
Best for: A very early morning drive out of town
If you prefer a more relaxed tune for that really early drive, play this Parokya ni Edgar song. "Swimming Beach" is more soothing but just as pleasing to the ears. We agree with the boys of Parokya when they say, "Kalimutan muna natin ang trabaho. Masisira na ang ating ulo."
Title: "All the Good Things"
Artist: Up Dharma Down
Best for: Taking over unexplored towns
The feel-good UDD track is great motivation to conquer the unfamiliar towns you'll find yourself in this summer. Let UDD keep you company as you hit the road to see all the good things. Don't worry about getting lost; it makes the journey all the more exciting.
Title: "Pretty Car"
Artist: BP Valenzuela
Best for: Driving through the night
The hip, sonic sound of BP Valenzuela might just be your best buddy while driving late at night with all your friends fast asleep. The electro-pop track is one you can sing to as it brings you to a totally new dimension.
Title: "First of Summer"
Artist: Urbandub
Best for: A midnight escape with your "Summer"
Urbandub may have disbanded, but we'll always remember them for their great contribution to the local music scene. "First of Summer" is rebellious but honest, and it reminds us of the thrill of first love. If you ever find yourself on a spontaneous road trip with your favorite person, you might want to play this one.
Title: "Summertime"
Artist: June Marieezy
Best for: Cruising through clear roads
June Marieezy's cool and soulful vocals will really get you in the mood to chill. "Summertime" is the song to play as you drive through little towns, windows down with the fresh provincial breeze caressing your face.
ADVERTISEMENT - CONTINUE READING BELOW
Title: "Better Days"
Artist: Franco
Best for: Your next surfing trip
Driving to Zambales, La Union, or Baler anytime soon? You need to add this rock-reggae track to your playlist. "Better Days" combines irresistible reggae beats with spot-on guitar riffs, and features positive lyrics that are sure to bring you nothing but good vibes.
Title: "One Look"
Artist: Kjwan
Best for: A getaway with special someone
"One Look" also has that reggae vibe that's perfect for summer getaways. If you've got no date to join you on your next road trip, we say just look forward to all the beautiful people you'll be meeting during your vacation.
Title: "Sobrang Init"
Artist: Kamikazee
Best for: When you're stuck in heavy traffic under the heat of the sun
Road trips are not always fun. To get to your destination, you'll have to brave the killer traffic and bear with the intense heat. Instead of letting road rage get the best of you, we suggest releasing your anger through this Kamikazee song.
ADVERTISEMENT - CONTINUE READING BELOW
Also read:
10 Songs for Your Road Trip Playlist
10 Cover Songs That Will Blow Your Mind
10 Perfect Songs for Every Manila Situation
Share this story with your friends!
---
Help us make Spot.ph better!
Take the short survey
More Videos You Can Watch
Load More Stories