MOVIE REVIEW: 10 Cloverfield Lane is an original thriller that keeps you guessing
Psychological horror and straight-up scares are the name of the game in this thrill ride.
(SPOT.ph) In 2007, a mysterious campaign for a film popped up out of nowhere. This was just at the beginning of people taking notice of YouTube and online media, and this mysterious film from the creator and studio of the TV show Lost was all the rage. In 2008, the film turned out to be the monster movie Cloverfield, a balls-to-the-wall crazy film that, along with Paranormal Activity and District 9, made found-footage films mainstream and even cool. Fast forward to eight years later, and a trailer pops up bearing the name 10 Cloverfield Lane.
Billed as a "spiritual successor," and not exactly a sequel to the surprise 2008 hit, the new film plays the same game: keep as much information away from audiences and keep this cloud of mystery around it. 10 Cloverfield Lane is an exciting, pulse-pounding thriller that blends Hitchcockian suspense with pscyhological horror and modern-day scares, making for a breathtaking time at the movies.
ADVERTISEMENT - CONTINUE READING BELOW
CONTINUE READING BELOW
Recommended Videos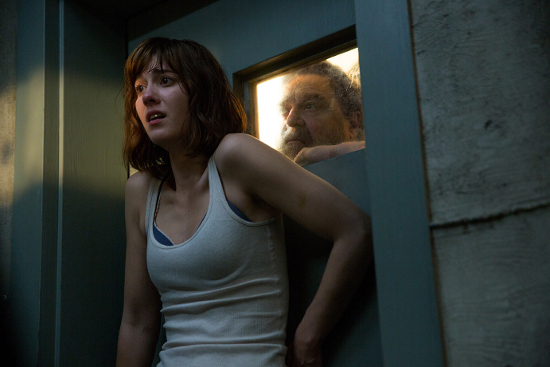 Trading its shaky, dizzying found-footage style for precise, fluid camerawork, 10 Cloverfield Lane is a far more conventional film, but that doesn't mean it is not excellent and original in its own way. The film begins in a dialogue-less prologue of sorts that follows Michelle (a phenomenal Mary Elizabeth Winstead) as she grabs her things and leaves her apartment over a fight with her boyfriend. Suddenly, while driving, she gets into an accident. Later, she wakes up inside an apocalypse bunker. The man who took her in, Howard (an extraordinary John Goodman), claims he saved her life. He says that the world above has been destroyed and it is no longer safe to go outside, so he has kept her in a bunker that he built for this very moment. There is also another man in the bunker, Emmett (John Gallagher Jr.), who believes the world is destroyed as well and that the bunker is safe, but Michelle thinks otherwise. Three people stuck in a bunker, what could go wrong?
ADVERTISEMENT - CONTINUE READING BELOW
The film is a masterclass in tension and psychological horror—you fear both the unknown and the known, and how the camera plays with the audience is genius. Director Dan Trachtenberg, in his feature film debut, exudes a confidence in his vision you don't often see with first time directors. The camera shows you what it wants you to see, and if it's not time for you to see what's going on, you won't see it. Every reveal, every little detail, every sound is intricately designed for maximum tension inside this little bunker. The camera moves fluidly to reveal things at the right time, and the story also unveils something that pieces together the puzzle at the time when the film needs it to. Much credit goes to Trachtenberg's skillful and precise direction, for keeping the tension at a high throughout; as well as the film's clever writers, Josh Campbell, Matthew Stucken, and Damien Chazelle (the latter best known for the Oscar nominated film Whiplash).
ADVERTISEMENT - CONTINUE READING BELOW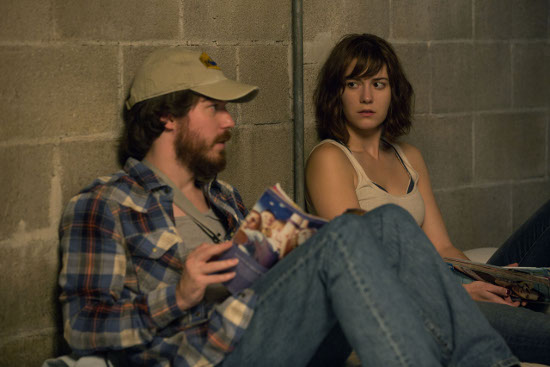 Winstead is an indie darling, giving excellent dramatic performances in films like Smashed and The Spectacular Now, but is probably best known to modern audiences as Ramona Flowers in Scott Pilgrim vs. the World. She is ferocious and beautiful as Michelle. Gallagher Jr. is great throughout, despite being a tad underwritten. He keeps you wondering who Emmett really is. Then there's John Goodman, ever the good guy, playing someone you're never quite sure of. What are this man's intentions? Is he telling the truth? Is he crazy? Is he smart? Goodman plays off these mysteries perfectly, and he is a force of nature. Essentially, the film is a three-hander, and this terrific trio of actors deliver on all fronts.
ADVERTISEMENT - CONTINUE READING BELOW
This is a film that seems so simple and little, but actually works because it's so intricately made and neatly put together. The audience gets to experience the film like Michelle as revelations come out slowly but surely one after another. It's a roller coaster ride that keeps you guessing if it'll turn left, right, or throw you in for a loop. Radical changes in tone aren't mistakes, but instead are creative ways to throw viewers off and to add just another level of tension and suspense, and it works astoundingly well. You never know quite what to think of everything that's going on, and that's what makes it a fun viewing experience, but it's also a film made with precision and skill.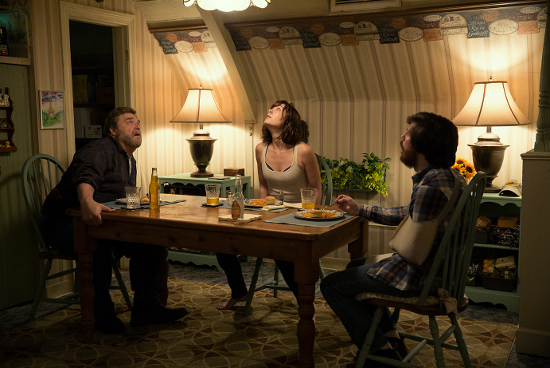 ADVERTISEMENT - CONTINUE READING BELOW
It's a story that keeps audiences' minds at work as you yourself try to put the little clues together, while at the same time trying not to panic. It may only have a fleeting relation to its 2008 predecessor, but that's not a bad thing at all. 10 Cloverfield Lane stands on its own as one of the smartest, best-acted, and most thrilling films of the year.
RATING; 4.5 out of 5 spots
10 Cloverfield Lane is now showing in theaters. Photos courtesy of Paramount Pictures.
Load More Stories