MOVIE REVIEW: The Jungle Book is an awe-inspiring update of the classic Disney film
Stunning visuals and an excellent voice cast make for a fun, wonderful experience.
(SPOT.ph) For the past few years, Disney has been reinventing and reimagining their classic animated features into live-action films that boast eye-popping costumes, production design, and stunning visual effects, and their latest effort is another step in the right direction for the Mouse House. The Jungle Book is an amazing visual spectacle, with some of the most photorealistic depictions of flora and fauna, as well as some beautiful CGI animals ever seen in film. The VFX eye candy in this film overflows, recreating with gorgeous flair some of the memorable scenes from the 1967 animated film this one is partly based on, and director Jon Favreau and his team have done a job that is nothing short of spectacular.
Taking from the 1960s classic, Rudyard Kipling's short stories, and some original plot points, The Jungle Book still tells the story of the young "man cub" named Mowgli (newcomer Neel Sethi), who was abandoned in the jungle and is raised by wolves. He's partly a wild boy, but because he isn't a wolf either, he is told off by his wolf-parents when he attempts something human-like (such as building contraptions), and he never quite fits in.
ADVERTISEMENT - CONTINUE READING BELOW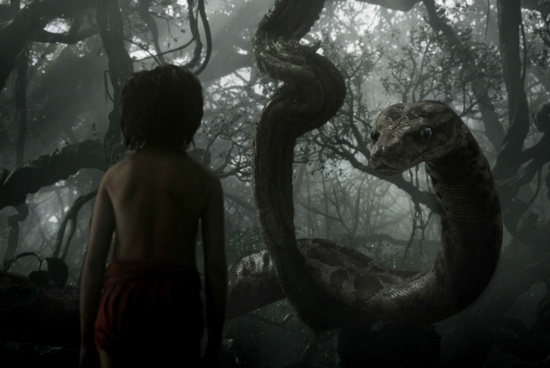 CONTINUE READING BELOW
Recommended Videos
A man-hating tiger by the name of Shere Khan (a perfectly cast Idris Elba) threatens to kill Mowgli before he becomes more threatening because he believes the latter will bring man's greatest weapon—the "red flower," a code name for fire that can burn down all the trees—to destroy them all. Mowgli is helped by Bagheera (voiced beautifully by Ben Kingsley), the panther who found him, escape. Mowgli, innocent but curious, as well as extremely street-, or well, jungle-smart, explores the rest of the jungle, meeting several other animals along the way, including the bear Baloo (a hilarious Bill Murray), the snake Kaa (a seductive Scarlett Johansson), and the gigantopithecus King Louis (a strong Christopher Walken).
ADVERTISEMENT - CONTINUE READING BELOW
Because of director Favreau's vision, and what his team of artists were able to create, the film succeeds visually—realistic and beautiful, but also never too heavy or overbearing, while keeping a lightness despite all the CGI. Though Favreau's most recent film prior to this was the small-but-wonderful Chef, he's had quite a lot of experience with insane visual effects, like when he helmed the first two Iron Man films. He and the visual effects studio Moving Picture Company (who also worked on Batman v. Superman: Dawn of Justice), along with cinematographer Bill Pope (the Matrix and the Spider-Man films among many others) have created a luscious, beautiful, very detailed jungle-world and inhabitants that move, feel, and breathe like real animals.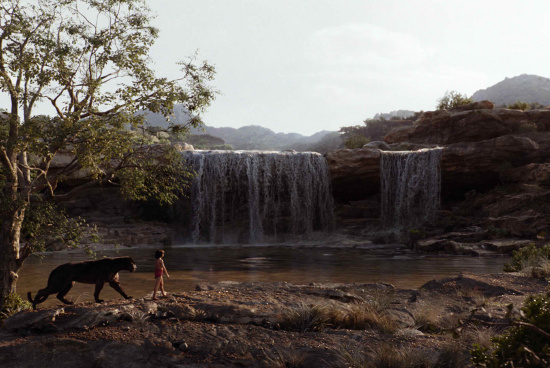 ADVERTISEMENT - CONTINUE READING BELOW
It's really amazing to see the work done here, and shocking to think that all of this film was shot in a building in downtown Los Angeles, when it has so effectively recreated a dense and populated Indian jungle. Unlike the vast space in Gravity, or the fictional Pandora in Avatar, The Jungle Book has to digitally evoke something familiar, and they succeeded incredibly well. Every animal has its own quirks and twitches, every leaf in the tree is moving, and the film just looks stunning all throughout, with certain stills looking like the most beautiful photographs taken by a National Geographic photographer on an Indian jungle expedition.
The voice cast is excellent, and brings the life needed to these beautifully animated characters. Elba is the standout, with his trademark fierce, ferocious, and fearsome voice being lent to the villain Shere Kahn. Some of his line readings send deep chills down even adults' spines. Murray is terrific as well, with his recognizable voice making Baloo so wonderful. Johansson, Walken, Kingsley all do lovely work, but Lupita Nyong'o's motherly and strong voice and Giancarlo Esposito's calming tone as Mowgli's wolf-parents Raksha and Akela, respectively, are also worth noting. Being the only actual live-action character in a film and spending all your days acting opposite nothing inside a room decorated with only blue cloth is a challenge for even the greatest of actors, but for 11-year old newbie actor Sethi, it's a mighty challenge, and even if it's not the stand-out performance in this film, he does an okay and admirable job.
ADVERTISEMENT - CONTINUE READING BELOW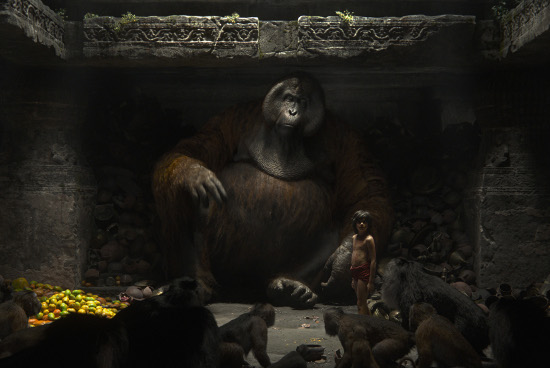 That being said, the story can be a bit of a struggle. Like the recent Disney live-action reboots, there seems to be a need to be a bit darker. Thankfully, Favreau's light touch never lets it get too dark, despite some really intense and scary moments. However, because of the realistic tone, it can't compare to the light silliness of the original. When it finally circles back around to its source material, it feels as though the scenes were taken from a different movie. Because the film is fairly concerned about creating a visual and audial experience for the audience (and it does), it becomes a chapter-by-chapter retelling of Mowgli's adventures instead of a very cohesive story that fleshes out its characters and their motivations. Certain plot details are never quite clear, such as why Baloo, who starts off conning Mowgli, is so attached to the man cub, or why any of these animals besides Raksha care so much for Mowgli that they're willing to put their lives on the line.
ADVERTISEMENT - CONTINUE READING BELOW
Favreau and screenwriter Justin Marks may have messed around a bit with storytelling, but what the film is supposed to feel like and how it's supposed to look like are the winners here. Each set piece is magnificently detailed, and every sequence has its own little quirks that make it memorable, beautiful, and special. This film brings us closer to a fully realistic CGI depiction of our world, and that's always a good thing.
RATING: 3.5 out of 5 spots
The Jungle Book is now showing in theaters. Photos courtesy of Walt Disney Studios.
Share this story with your friends!
---
Help us make Spot.ph better!
Take the short survey
Load More Stories