10 Must-See Pinoy Indie Romance Movies
Get ready for some major feels.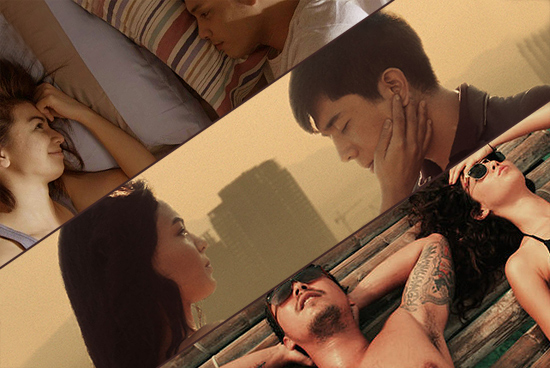 (SPOT.ph) Pinoy romance films aren't just about love teams, syrupy one-liners, and cheesy theme songs. Not that there's anything wrong with that, mind you, but sometimes you just want to swoon over something different. We round up 10 Filipino indie films that put the spotlight on romance and all its painful, heart-wrenching complexities.
ADVERTISEMENT - CONTINUE READING BELOW
CONTINUE READING BELOW
Recommended Videos
Also read:
10 Pinoy Indie Films You Can Stream Now
10 Classic Pinoy Romance Films You Can Stream Now
10 Kilig Summer Romances in Pinoy Movies
Sana Dati (2013)
Stars: Lovi Poe, Paulo Avelino, and TJ Trinidad
The bittersweet third installment of writer and director Jerrold Tarog's "Camera Trilogy" zeroes in on Andrea (Poe), a young woman who is set to marry Robert (Trinidad). On the day of her wedding, she purposely stalls her nuptials and meets a mysterious wedding photographer (Avelino) who reminds her of the man she once loved.
Sleepless (2015)
Stars: Glaiza de Castro and Dominic Roco
Set amid the skyscrapers of Metro Manila, this intimate, off-beat film zeroes in on the budding romance of Gem (de Castro) and Barry (Roco). While everyone is asleep, the two are wide awake, having conversations on rooftops and in convenience stores. They talk about everything, from zombies to superpowers and their deep-seated fears.
1st Ko Si Third (2014)
ADVERTISEMENT - CONTINUE READING BELOW
Stars: Nova Villa, Freddie Webb, and Dante Rivero
This Cinemalaya entry tells the story of Cory (Villa), who settles into a quiet, retired life with her husband (Rivero). She immediately grows restless of her newfound and rather monotonous life, but things change when she unexpectedly runs into her first love, Third (Webb).
Ang Sayaw ng Dalawang Kaliwang Paa (2011)
Stars: Jean Garcia, Paulo Avelino, and Rocco Nacino
This film uses Filipino poetry in its soundtrack to tell the unfolding story of a dance teacher (Garcia) and her two students. One of the students is Marlon (Avelino), who has a crush on her. He signs up for private dance lessons with Dennis (Nacino), in the hopes of impressing his teacher, but Dennis secretly harbors feelings for Marlon.
Sakaling Hindi Makarating (2016)
Stars: Alessandra de Rossi and Pepe Herrera
Cielo's (de Rossi) life is shattered after her boyfriend of 11 years abruptly breaks off their engagement just weeks before their wedding. She decides to live a life of isolation until she begins receiving a series of anonymous, hand-painted postcards from all over the Philippines. This pushes her to embark on a journey around the Philippines in search of her mysterious pen pal, with nothing but the colorful postcards as her guide.
ADVERTISEMENT - CONTINUE READING BELOW
Waves (2015)
Stars: Baron Geisler and Ilona Struzik
Shot in the picture-perfect beaches of Cebu and Palawan, Waves revolves around the love story between Ross (Geisler) and Sofia (Struzik), who rekindle their romance from years ago. It turns out that there's more to their past relationship than meets the eye.
Ang Nawawala (2012)
Stars: Dominic Roco, Felix Roco, and Dawn Zulueta
This film by Maria Jamora tells the story of Gibson (Dominic Roco), a 20-year-old who has been mute since childhood. He returns to Manila for the holidays, which also happens to be the death anniversary of his twin brother. Set against the backdrop of the colorful local music scene, Gibson explores his relationship with his family and unexpectedly finds a chance at love.
Muli (2010)
Stars: Sid Lucero and Cogie Domingo
Set in the turbulent '70s and directed by Adolfo Alix Jr., the film follows the decades-long love affair between an inn keeper-slash-activist and a lawyer who visits the former's inn once a year. The screenplay is based on the Palanca-winning screenplay of playwright, writer, and artist, Jerry Gracio.
ADVERTISEMENT - CONTINUE READING BELOW
Ang Huling Cha-Cha ni Anita (2013)
Stars: Teri Malvar and Angel Aquino
A beautiful woman named Pilar (Aquino) sparks gossip when her mysterious past scandalizes the residents of her small, conservative hometown in Bulacan. She befriends a 12-year-old named Anita (Malvar), who develops a sweet and innocent childhood crush on her.
Relaks, It's Just Pag-Ibig (2014)
Stars: Iñigo Pascual, Julian Estrada, and Sofia Andres
Directed by Antoinette Jadaone, this rom-com revolves around Sari (Andres), who stumbles upon a love letter that includes a vow that the two would meet under the blue moon at a beach in Leyte. Determined to make the letter's promise come true, Sari enlists the help of her best friend Kiko (Estrada), who is secretly in love with her, and a reluctant (and cynical) stranger named Josh (Pascual).
Also read:
10 Pinoy Indie Films You Can Stream Now
10 Classic Pinoy Romance Films You Can Stream Now
10 Kilig Summer Romances in Pinoy Movies
ADVERTISEMENT - CONTINUE READING BELOW
Load More Stories