MOVIE REVIEW: Captain America: Civil War is easily one of Marvel's best films yet
It may be Avengers in scope, but it cements Captain America as the MCU's greatest superhero trilogy.
(SPOT.ph) As a whole, the Marvel Cinematic Universe has a pretty formidable lineup of quality stand-alone films and blockbuster gems. And yet, its latest colossal offering proves that even with its ever-expanding roster of comic book characters, there's no other franchise better understood, embraced, and portrayed by the studio than Captain America.
Steve Rogers has come a long way from 2012's The First Avenger, both literally and figuratively. He's a sturdily moral hero who remains steadfast in his beliefs despite an ever-changing modern world. He's no anti-hero either, as he fervently sees the good in people, despite going through immense loss, pain, and trauma. It's this characterization that has driven Steve's narrative throughout his three films; a genuinely decent man who consciously chooses to do the right thing in a world that will not always agree with him.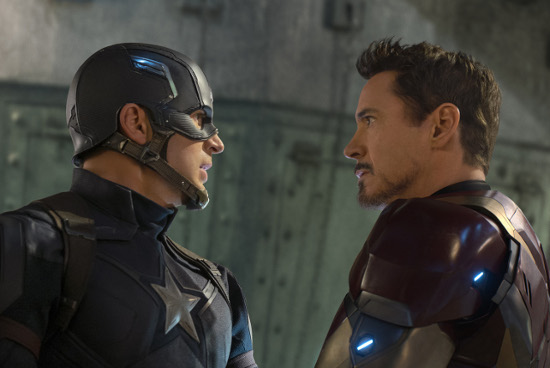 These themes are central to Captain America: Civil War, which doubles as a sequel for both Captain America: The Winter Soldier and Avengers: Age of Ultron. And if you're at all familiar with its source material, then you know it's even bigger than Avengers in scope. Although the studio dialed down on the number of heroes, it still packs far more characters into a 146-minute running time than any of the MCU's previous offerings.
ADVERTISEMENT - CONTINUE READING BELOW
Now, the Avengers are operating unchecked, seeing as the super-spy organization S.H.I.E.L.D. was dismantled in The Winter Soldier. A routine mission led by Captain America (Chris Evans) leads to tragic, mass destruction, and the team suddenly finds itself the subject of global scrutiny. In order to keep Earth's Mightiest Heroes in check, they must now sign a document that forces them to answer to a United Nations panel. Haunted by his own role in civilian deaths from Age of Ultron, Tony Stark/Iron Man (Robert Downey Jr.) quickly signs the dotted line, backed by War Machine (Don Cheadle), Black Widow (Scarlett Johansson), and Vision (Paul Bettany).
CONTINUE READING BELOW
Recommended Videos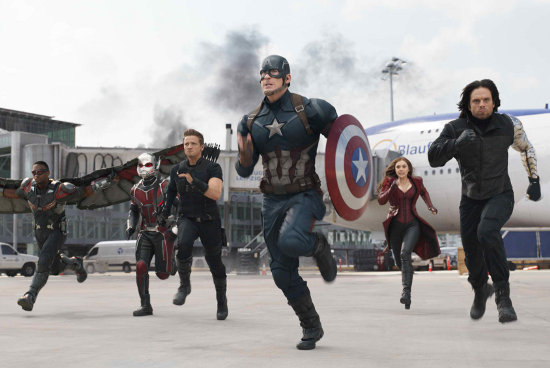 Steve Rogers disagrees, and his defiance only intensifies further when his childhood best friend-turned-deadly assassin Bucky Barnes/Winter Soldier (a heart-wrenching Sebastian Stan) is implicated in a terrorist attack. Determined to protect his friend and still distrustful of modern-day "authority," Steve goes rogue. While all of this is happening, a mysterious man named Helmut Zemo (an unnerving Daniel Bruhl) stealthily operates in the shadows, slowly uncovering information about the Winter Soldier's dark past.
ADVERTISEMENT - CONTINUE READING BELOW
Writers Christopher Markus and Stephen McFeely juggle multiple characters and their unique dynamics with finesse, managing to give each player ample screentime. Yes, this also includes Scarlet Witch (Elizabeth Olsen), the first big-screen incarnation of Black Panther (a magnetic Chadwick Boseman), a much-welcome comic relief in Ant-Man (Paul Rudd), and an overly eager Spider-Man (a scene-stealing Tom Holland, who will likely make fans of the webbed superhero excited for his own stand-alone film). Each character encapsulates what fans adore about the Marvel Universe, upholding its playful spirit yet still injecting gravitas that makes them compelling and relatable.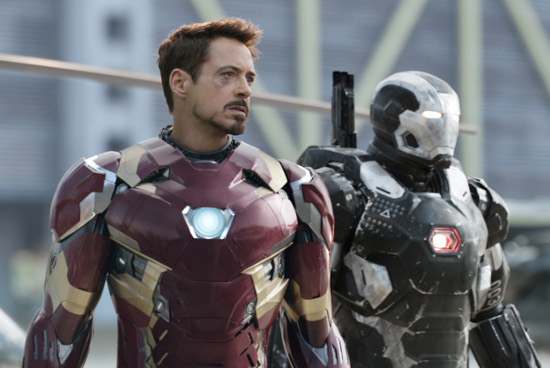 All this being said, the script never steers away from the film's central conflict, raising questions about freedom, responsibility, heroism, friendship, and deep, personal loss. And yes, this is still a Captain America movie, so there is much of Steve and Bucky's complex relationship to touch on. It's a relationship that has stretched all the way back to the first film, and one that will still tug at heartstrings at every turn. It's worth noting that Evans, who has effortlessly owned his role for over five movies, still pushes his character to new depths: Uncompromising in his ideals, but with an added dangerous, unrelenting edge. Nothing captures this more than a line from the film, not delivered by Steve Rogers, but resonates with him just the same: "Compromise where you can. And where you can't, don't."
ADVERTISEMENT - CONTINUE READING BELOW
Even more spectacular than its writing is the work of directors Anthony and Joe Russo, who bring the same thoughtful and emotional approach that audiences previously saw in Winter Soldier. And like the previous film, the Russos handle the superhero action with impeccable confidence and creativity. No set piece is too large or small for these heroes; instead of the usual crumbling skyscrapers in a metropolis, we get intricately shot fight sequences in stairwells and sprawling airport grounds. Its camerawork easily shifts from shaky and fast-paced (almost like a Bourne film) to smooth transitions for bigger, more explosive action sequences.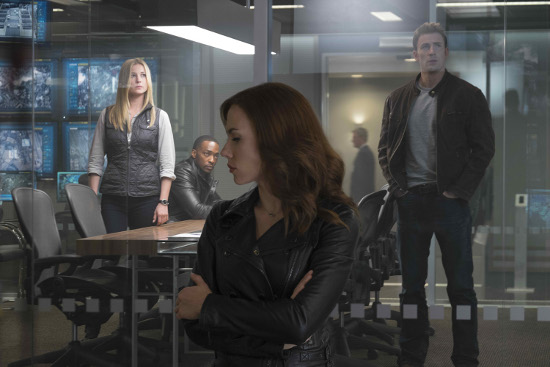 Civil War is a film that raises the bar, not just for comic book storytelling, but for its characters. No matter the superhero showdown—big or small—you know this is a franchise that takes the time to understand and slowly build these larger-than-life heroes...so much so that when thrown against each other, you can expect far more than just mind-numbing showdowns.
ADVERTISEMENT - CONTINUE READING BELOW
RATING: 5 out of 5 spots
Captain America: Civil War is in theaters April 27. Photos courtesy of Marvel Studios.
Share this story with your friends!
---
Help us make Spot.ph better!
Take the short survey
Load More Stories