10 Classic TV Shows You Can Stream Right Now
No more waiting for DVD releases!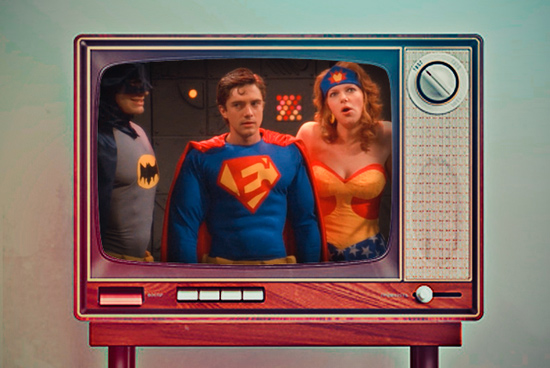 (SPOT.ph) Have you ever wanted to start watching a TV show but for some reason, you decided to put it off? Suddenly, eight seasons have passed, and you don't even know where to get your hands on a Season 1 DVD. Thanks to online streaming sites, however, you can now catch up on all those TV shows you've missed—yes, from Season 1 all the way to the series finale. Time to gear up for your weekend binge-watch!
ADVERTISEMENT - CONTINUE READING BELOW
This list only includes completed shows with all seasons available for streaming.
Also read:
10 Gritty Pinoy Dramas You Can Stream Right Now
10 Classic Pinoy Romance Films You Can Stream Now
10 Classic Teleseryes You Can Stream Now
10 Pinoy Indie Films You Can Stream Now
10 Best Shows to Stream Right Now
Comedies
The IT Crowd (2006 to 2013)
Number of seasons: Five
Watch it on: Netflix
This British sitcom revolves around three staff members of a fictional IT department: Geeky genius Maurice (Richard Ayoade), socially inept Roy (Chris O'Dowd), and tech-illiterate department head Jen (Katherine Parkinson). The show has won awards from the BAFTAs, the International Emmys, and the British Comedy Awards.
That '70s Show (1998 to 2006)
Number of seasons: Eight
Watch it on: Netflix
Set in the late '70s, this sitcom focuses on the lives of teenage kids and their colorful parents in Wisconsin. The show is best known for its hilarious running gags, including the infamous "circle" (where they smoke weed while talking). It has a lot of '70s references, too, like Star Wars and the Pong video game. The show stars Topher Grace, Mila Kunis, Ashton Kutcher, and more.
ADVERTISEMENT - CONTINUE READING BELOW
Sci-Fi/Fantasy
Lost (2004 to 2010)
Number of seasons: Six
Watch it on: iflix
This critically acclaimed sci-fi series centers around a group of passengers who survive after their plane crashes on a remote island. They soon find out that there's more to the mysterious island than meets the eye, including unseen creatures, a sequence of numbers that frequently appear in the lives of each character, and malevolent inhabitants called "The Others." The drama earned plenty of awards and nominations throughout its run, such as the Emmy Award for Outstanding Drama Series in 2005, and the Golden Globe for Best Drama in 2006.
Buffy The Vampire Slayer (1997 to 2003)
Number of seasons: Seven
Watch it on: iflix
This '90s to early '00s classic from Joss Whedon is a great trip down memory lane for nostalgic fans. For curious audiences who have yet to delve into the supernatural world of Slayers, it stars Sarah Michelle Gellar as the titular character, who is fated to battle evil forces like vampires and demons. Its widespread success didn't just lead to numerous "Best Series" lists; it also spawned novels, comics, and video games.
ADVERTISEMENT - CONTINUE READING BELOW
The X-Files (1993 to 2002)
Number of seasons: Nine
Watch it on: iflix
This show revolves around two FBI special agents (David Duchovny and Gillian Anderson) who investigate unsolved cases that involve the paranormal. To top off all the intriguing myseries, Mulder and Scully's will-they-or-won't-they relationship will definitely help you power through all nine seasons. The series is so successful that it has led to a spin-off, two feature films in 1998 and 2008, and a six-episode revival in 2016.
Dramas
Prison Break (2005 to 2009)
Number of seasons: Four
Watch it on: iflix
Prison Break centers around two brothers: Lincoln (Dominic Purcell) and Michael (Wentworth Miller). When Lincoln is accused of murder and sentenced to death, Michael (a brilliant structural engineer) formulates a plan to help him escape prison. How? He deliberately gets himself imprisoned in order to break both of them out.
Breaking Bad (2008 to 2013)
Number of seasons: Five
Watch it on: Netflix
ADVERTISEMENT - CONTINUE READING BELOW
Although it may be one of the more recent shows on this list, Breaking Bad is an instant, critically acclaimed classic that every TV fan should check out. It stars Bryan Cranston as Walter White, a brilliant yet struggling high school chemistry teacher diagnosed with cancer. Driven by financial desperation, he joins forces with his former student (Aaron Paul) to cook crystal meth and navigate the dangerous drug underworld.
Mad Men (2007 to 2015)
Number of seasons: Seven
Watch it on: iflix, HOOQ
Primarily set in the '60s, Mad Men zeroes in on the fictional Sterling Cooper ad agency in New York's Madison Avenue. Its main protagonist is Jon Hamm's Don Draper, a suave and successful ad executive with a shadowy past. The widely acclaimed show also features a stellar ensemble cast of characters representing different parts of society in the '60s.
Teleseryes
Encantadia (May to December 2005)
Number of seasons: One (160 episodes)
ADVERTISEMENT - CONTINUE READING BELOW
Watch it on: iflix
GMA Network's ambitious and much-celebrated fantaserye tells the story of four sisters Pirena (Sunshine Dizon), Alena (Karylle), Amihan (Iza Calzado), and Danaya (Diana Zubiri), who guard four gems that protect and give life to their mythical world. The show was such a hit with audiences, that it spawned two spin-offs that you can also stream on iflix!
Sana'y Wala Nang Wakas (2003 to 2004)
Number of seasons: One (100 episodes)
Watch it on: iflix, HOOQ
After a ship encounters a freak accident, two survivors named Christian (Jericho Rosales) and Ana (Kristine Hermosa) are stranded on a remote island. They eventually fall in love despite their starkly different backgrounds, but things change when they are rescued. It turns out that Ana's family may have something to do with Christian's painful and scarring past.
Also read:
10 Gritty Pinoy Dramas You Can Stream Right Now
10 Classic Pinoy Romance Films You Can Stream Now
10 Classic TeleseryesYou Can Stream Now
10 Pinoy Indie Films You Can Stream Now
10 Best Shows to Stream Right Now
ADVERTISEMENT - CONTINUE READING BELOW
Recommended Videos
Load More Stories